About this Event
Understanding Your Carbon Footprint: Save Resources and Money
Environmental/Planet Pillar 1: Focus on the Built Environment
Attendees will learn about the environmental pillar of sustainability which often gets the most attention. Many businesses already understand that having a beneficial impact on the planet can also have a positive financial impact. In this session we will address some of the key elements of the built environment: Energy efficiency, water conservation and emissions/carbon footprint. With so many standards and 'green products' in construction, we will explore the differences and learn the top priorities to preserve our Florida Way of Life. Many of the strategies presented can also be used in the home environment so whether you work from home, a small office or a large corporate building, these tips and free resources will save you money!
Topics Covered
Zero cost ways to conserve resources and save money - finding the low hanging fruit and energy use vampires
Understanding solar and alternative energy options
Local nonprofit programs to help you finance solar and other energy efficient upgrades
Understanding green building terms: LEED, WELL, Florida Green Building, Passive House, Living Building
Easy ways to save on water usage, inside and outside
Audits: how to access free public resource to help you understand your current usage
What is a Carbon Footprint? Tools to help you measure your carbon footprint and tips to reduce it.
This workshop is part one of our focus on the environmental pillar and specifically the built environment. The second environmental workshop on May 14th will focus on REDUCING WASTE. Other topics will be covered in the remaining workshops. You may attend one, a few ,or all of the workshops and can view the full schedule below: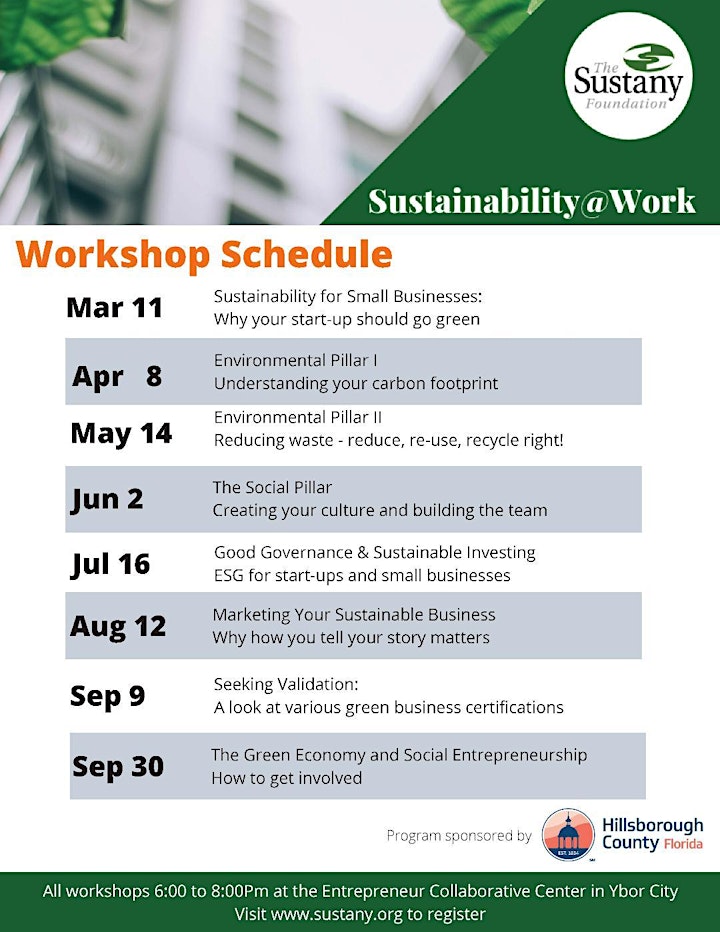 About the Program
Sustainability @Work is a series of workshops designed for start-ups and small businesses interested in learning more about how to become more sustainable and why it is not only important, but profitable. Each workshop will cover an important aspect of becoming a sustainable business.
The workshops are designed as stand-alone sessions and attendees may choose to attend one or all of them depending on their particular challenge or interest. The program is also designed to work as a cohesive series so a participant attending all sessions will be well prepared to create a comprehensive sustainability plan or work towards one of many certifications in the industry upon completion.
Attendees who are interested in pursuing a certification or getting a more formal assessment are eligible to apply for a free one-on-one consultation.
THIS PROGRAM IS MADE POSSIBLE WITH THE GENEROUS SUPPORT OF HILLSBOROUGH COUNTY GOVERNMENT