Engaging and informative conversations about the film industry in Florida!
About this event
For the first time the Fort Lauderdale Art & Design Week will feature film in the series of events that will be happening January 16-24, 2021.
As a filmmaker it is imperative that you know and understand the world and the people who surround you. It is crucial you know trends, resources and how to utilize these things to your advantage. It takes money, talent, time, scripts, permits, equipment, staffing, locations, crew and the passion and perseverance to see a project through to the end.
Hosted by M. Denise Simmons, an award-winning, Haitian-American, filmmaker and the female powerhouse behind MD Simmons Productions, a forward-thinking production company based in South Florida. With more than 15 years of experience and excellence, her team works relentlessly to educate, entertain and transform viewers. Her projects include "Agape" which was inspired by the hit movie, "If Beale Street Could Talk," "Mirrors" a PSA for the #MeToo movement and the recent winner of Best Documentary Feature Film in the 2019 Urban Film Festival,"#BeforeYouShoot." Denise is currently working on a documentary entitled, "Rolle of an Icon: The Life and Legacy of Esther Rolle."
Recently recognized as one of South Florida's "Most Influential and Prominent Black Women in Business and Industry," M. Denise Simmons is a change-maker who is determined to revolutionize her community and the entertainment industry. She is also a proud member of Film Florida, a non-profit marketing and legislative support association for the entertainment industry and Women In Film & TV Florida (WIFT-FL).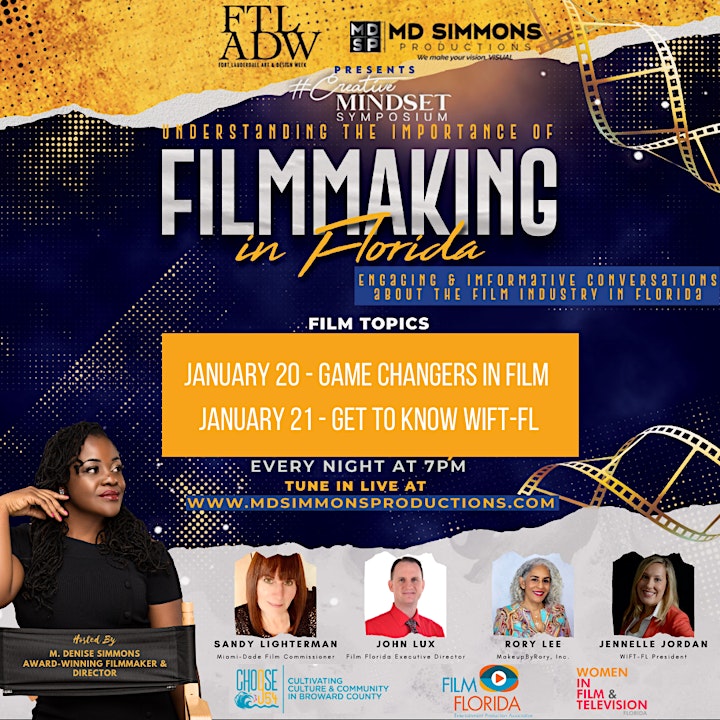 Insightful conversations with some of Florida's industry leaders in film:
Organizer of Understanding the Importance of Filmmaking in Florida