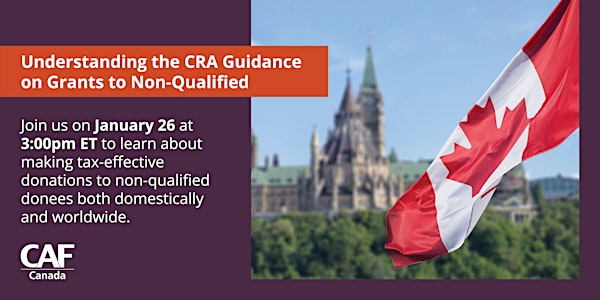 Understanding the CRA Guidance on Grants to Non-Qualified Donees
Join us to learn about making tax effective donations to non-qualified donees both domestically and worldwide.
About this event
On November 30, 2022, the Canada Revenue Agency (CRA) released its long-awaited draft guidance on registered charities making grants to non-qualified donees. The guidance has significant implications, and will affect how both charities and donors will be able to support non-qualified donees without the need to exercise direction and control over the non-qualified donee's use of the charity's resources.
We invite you to join us for a webinar on Thursday, January 26, 2023 at 3:00pm ET, as CAF Canada's President & CEO, Ted Hart, ACFRE, CDE, CAP, and Senior Vice President of External Affairs, Jessie Krafft, share what charities and donors need to know about these new regulations, including a breakdown of the process for providing tax-effective support to non-qualified donees around the world.
The changes resulting from this updated guidance will provide exciting new opportunities for registered charities and non-qualified donees to partner together. Please join us on January 26 to learn more!
—
If you are unable to attend on January 26, we encourage you to register for this webinar anyway as we will share the recording and slide deck with each registered guest after the event.