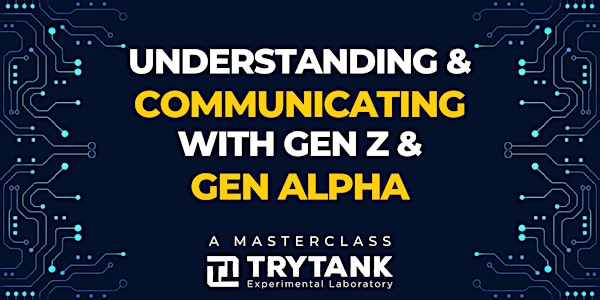 Understanding & Communicating with Gen Z & Gen Alpha: A Masterclass
Learn from industry experts about Gen Z and Gen Alpha and what that means for your youth ministry context today in this masterclass webinar!
By Virginia Theological Seminary
Date and time
Thursday, April 20 · 10am - 1pm PDT
Refund Policy
Refunds up to 1 day before event
About this event
This event is brought to you by TryTank and the department of Lifelong Learning at Virginia Theological Seminary
This Thursday afternoon Zoom webinar will take place on April 20 from 1 - 4 p.m. eastern.*
*This program is being recorded, so even if you can't make it live, registering will ensure access to the recording and resources!
Do you sometimes scratch your head trying to understand the younger generations?
Are there ways we can reach them to tell them about Jesus? If so, how?
The good news is that you can make smarter decisions about your ministry with actionable intelligence about what makes Generation Z and Generation Alpha tick.
In this 3-hour masterclass, you will hear from those who track everything there is to know about Gen Z, including the core characteristics that drive this generation. We'll also talk about Gen Alpha (they come after Gen Z) and what trends are emerging about them. You'll also learn from Christian formation experts about what this means for your youth ministry context today.
Beyond the live event, you'll also have access to specially curated resources from VTS and Lifelong Learning:
Articles to deepen your understanding
Tools to get to know these generations better
Activities and more for faith formation at home
Downloadable faith journals
And more!
This masterclass is for anyone who currently works with youth or has an interest in reaching the next generation for the gospel.
Meet our distinguished speakers!
Antonin Ficatier
Anto has a portfolio career at the crossroad of entrepreneurship, youth culture, and academic work. He co-founded Chinese Institute, today one of France's leading training centers dedicated to teaching Chinese. Anto went to Business School in France, studied Economics in China, and completed a Master's Degree in Christian Education at Princeton Seminary. He worked for 6 years with youth and young adults in Hong Kong and England, before joining YPulse (the world's best youth intelligence company) as the Director for Western Europe in 2022. His hope is to one day finish his Ph.D. in experimental theology that he started a while back at the University of Birmingham (UK). Originally from France, Anto lives in south London with his wife Jess and their baby Leo.
Kevin Singer
An experienced educator, writer, and data journalist, Kevin is responsible for overseeing media communications for Springtide, including preparing articles, press kits, press releases, and other content initiatives. He has written on nationally-representative religion and political data for The Washington Post, Religion News Service, Religion & Politics, Sojourners, Christianity Today, The Hill, The Independent, and more. He's passionate about the ways data and story can help increase knowledge and reduce stereotypes about different populations, and was drawn to Springtide for the incredible quality and quantity of research on the lives of young people. In a moment when so many leaders and educators want to speak persuasively to Gen Z, Kevin is excited to see Springtide become a research brand that others trust.
Melina Luna Smith
Melina Smith is the founder of StoryMakers NYC, clergy wife, and mother of two. Drawing on her background in Social Work and Child Development and her eye for design, she reimagined an approach to formation. Melina's trademark commitment to whimsy and beauty comes through all her creative work. In 2018 with a team of writers, artists and jacks-of-all-trades, Melina transformed a Sunday School dream into StoryMakers, a series of Zines to foster connection and spark the imagination.
Mel is originally from Tucson, Arizona. She currently resides in New York City.
About the organizer
Led by the Holy Spirit, Virginia Theological Seminary forms and educates leaders who proclaim the Gospel of Jesus Christ and helps others participate in God's mission throughout the world. We are a racially and culturally diverse residential community of The Episcopal Church, devoted to worship & prayer; teaching & learning; and research & service to the wider church.