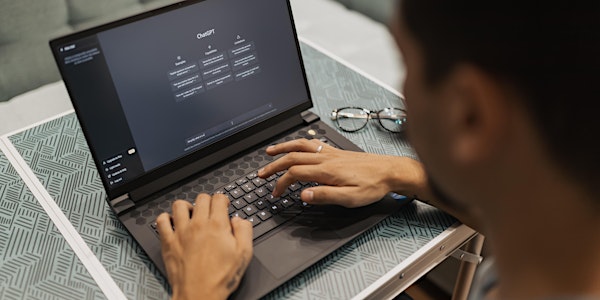 Understanding and Using Generative AI
Join the Austin Forum Tuesday, June 6, at 6:15 p.m. for a presentation and networking event about using generative AI.
By The Austin Forum on Technology & Society
Date and time
Tuesday, June 6 · 4:15 - 5:55pm PDT
About this event
1 hour 40 minutes

Mobile eTicket
On June 6, the Austin Forum on Technology & Society will be hosting an exciting event to teach you how to use generative AI tools in co-creation of content. more than a dozen AI experts will participate in leading this event. The evening will start with a presentation of the key concepts behind generative AI and how it can be used to create novel and innovative solutions in a variety of fields. We will highlight the growing importance of generative AI tools in industries such as graphic design, marketing, and content creation, and discuss some of the most promising applications of this technology.
Following the presentation, attendees will be given the opportunity to try out various generative AI tools for themselves--bring your laptops, smartphones, etc.! (We will have virtual tables for online attendees, too.) Attendees will be able to experiment with ChatGPT, an AI-powered chatbot that can generate human-like responses to user input, Bard, an AI writing assistant that can help generate creative writing, DALL-E, an AI image generation tool that can create images from textual descriptions, MidJourney, an AI tool that can generate music in real-time, GitHub Copilot for generating code, and many more!
Overall, this event promises to provide attendees with a deeper fundamental understanding of the possibilities of generative AI and the chance to experiment with some of the most promising tools in the field. The Austin Forum on Technology & Society continues to be at the forefront of exploring the intersection of technology and society, and generative AI is one of the highest potential impact technologies of 2023. Join us!
Event Details
Agenda
Catering provided for in-person attendees from 5:15-6:15pm
5:15-6:15pm - Networking (In-person only)
6:15-6:50pm - Presentation (In-person and virtual)
6:50-7:20pm demo/hands-on session 1 (In-person and virtual)
7:20-7:50pm demo/hands-on session 2 (In-person and virtual)
7:50-7:55pm Closing remarks (In-person and virtual)
8:00-10:00pm - Networking at Trifecta (In-person only)
Location
This is a hybrid event that will take place in-person and virtually via Zoom.
In-person Location: Austin Central Library, 710 W. César Chávez St.
Registration and Attendance Instructions
All participants must register for this event via Eventbrite.
In-person
Join us at the Austin Central Library, 710 W. César Chávez St. Parking information can be found here. In-person attendees, please join us from 5:15 to 6:15 for networking and food. We look forward to chatting with you face-to-face!
In-person attendees will also receive all the Zoom information in case for any reason you decide to attend virtually instead. Virtual attendance details can be found below.
Online via Zoom
Once you register via Eventbrite, you will receive the direct Zoom link on the confirmation page, and in your confirmation email. You will also receive the Zoom link in an email from Eventbrite two days before the event and at the event start time.
By registering you will also gain access to the Eventbrite Online Event Page, which will be accessible on this page at any time for anyone who is registered. Once registered, you will see an "Access link" button in the Location area to the right. You must be logged in to Eventbrite to access this link.
Featured speaker
Amina Al Sherif, Practice Lead- AI and Machine Learning, Google
Amina Al Sherif is a technical engineering lead in machine learning and generative AI at Google. She immigrated to the United States in 2010 as a first generation Arab-American. She has spent twelve years in the Department of Defense serving as an Army officer in the Reserves and North Carolina National Guard as a tactical cyber operator and cyber targeter.
Amina has previously worked as an early stage startup executive focused on artificial intelligence innovation and product. Prior to her startup experience, Amina worked at Google as a Cloud Engineer bringing the innovation and power of Google's capabilities to the Department of Defense and Intelligence Community. She focused on big data and machine learning, gaming and simulation, and data privacy and security in cloud computing and analytics.
Amina has worked with the Joint Special Operations Command (JSOC) as an Arabic, Farsi, and French language enabled Open Source Exploitation Analyst at Fort Belvoir, VA and Fort Bragg. She deployed under Operation Inherent Resolve to Baghdad, Iraq in 2015/2016. In 2016-2017 she deployed to Afghanistan supporting the Special Operations Community. Most recently Amina deployed to Iraq, Syria, Turkey and Israel for a Special Missions Unit out of Fort Bragg, North Carolina supporting cyber-HUMINT operations.
Jay Boisseau, Executive Director, ​Austin Forum on Technology & Society
​Jay is the executive director and founder of The Austin Forum on Technology & Society, which he started in 2006 and is now the leading monthly technology outreach and engagement event in Austin--and starting to attract national and even international attendees online. The Austin Forum is one of the pillars of the Austin tech scene, providing connections to information, ideas, collaborations, and community overall. Through Vizias, Jay also founded the Austin Smart City Alliance (July 2015, formerly Austin CityUP Consortium) and currently serves as the Executive Director, with a vision of creating an integrated smart city fabric throughout Austin—leveraging mobile devices and IoT data collectors, as well as supercomputers and AI for predictive analytics and scenario simulation—in the years ahead to address city issues, empower city planning, and improve city life in general.
John Lockman, Artificial Intelligence Research Specialist, Dell Technologies and ​CTO, Vizias
Skilled researcher, developer, and evangelist for containerized applications, John Lockman is CTO at Vizias and consults for the Dell Technologies HPC & AI Innovation Lab. John has over 15 years of experience working with academic and private research institutions covering network architectures, parallel file systems, accelerators, and containerization technologies. He has expertise in nature-inspired algorithms, deep learning, and large scale graphs with a passion for building tools that enable advanced computing.
Luke Wilson, Head of Global Research Infrastructure, ​Optiver
Luke is the Head of Global Research Infrastructure at Optiver, a global market making firm which works to provide liquidity and stability to financial markets around the world. Prior to Optiver, Luke served as a Distinguished Engineer at Dell Technologies, where he designed High Performance Computing (HPC) & AI solutions and served as the Chief Architect for Omnia, Dell's HPC/AI solution automation framework. Before that Luke held various roles at the University of Texas at Austin's Texas Advanced Computing Center (TACC) in HPC software development, performance optimization, and training. Luke received his PhD in Computer Science from The University of Texas at San Antonio, and both MS and BS in Computer Science from Texas A&M University – Corpus Christi.
Erik Summa, Innovation Experience Lead, Innovation Studio, Dell Technologies
Erik Summa is an award-winning Experience Designer, specializing in creating new and innovative experiences that leverage touch, voice, gaze, gestures, biometrics, and more. He has 15+ years of experience in the creative industry and spent over five years of teaching and mentoring future experience designers
Saurabh Jha, Director of Data Science, Dell Technologies
Saurabh Jha is an accomplished Director of Data Science with over 15.5 years of experience in Industry across data engineering, data visualization, Information Architecture, advanced analytics and building machine learning systems.
​He has strong background in machine learning with strong focus towards development of deep learning algorithms and is skilled in Computer Vision and NLP automating data driven decision making. He has a proven track record of leading successful complex transformation programs that drive Innovation at scale. As a Director of Data Science at Dell – Customer and Financial Services group he has built and grown the team ground up and leads the business unit with over 26+ talented data scientists, data engineers providing them with strategic direction and guidance to ensure team is equipped with the necessary tools and resources to succeed. In his current role he is responsible to drive operational efficiency and improve customer experience in Order to Cash, Customer Care, Disbursements and CFO Org by developing and integrating Intelligence as a Service into their operational business systems.
He is also Executive in Residence at UT, Austin and collaborates with University Professors and Students to drive joint Research. He has filed several patents in US Patent office and also has a paper published at NeurIps 2022.
Adam Ghetti, Founder, NewCo
Technologist, entrepreneur, and explorer founded Ionic Security (acquired by Twilio, Inc. in 2021) in 2011 to address the problem of trust in our machine-scale world. Nearly two decades of experience building large-scale systems in multiple internet-related markets. Extensive work in complex systems and task automation along with an applied knowledge of application security, network security, data security, and artificial neural networks.
Fmr. GM/VP of Emerging Businesses at Twilio, Inc. While there, had the opportunity to lead the R&D teams focusing on AI/ML, Enterprise Solutions, Healthcare & Life Sciences, and IoT/Wireless.
Member of the inaugural Global Future Council on Cybersecurity and member of founding Advisory Board for the Centre for Cybersecurity at the World Economic Forum. An elected member of the Council on Foreign Relations, advisory board member for the College of Computing and the Institute for Information Security and Privacy at Georgia Tech, a charter member of TiE, a Distinguished Lecturer for the Robson Program at Emory University, and as a board member for Savvy Cyber Kids a 501(c)(3) providing educational materials for families to better enable them in navigating the digital world safely.
Nature lover (https://www.ghetti.com), driver of equity in computing via the Constellations Center at Georgia Tech (http://constellations.gatech.edu/), and a constant explorer of the verities of life.
Aurora Quinn-Elmore, Co-Founder, Metamorph AI
Aurora Quinn-Elmore is a cofounder of Metamorph AI, a consultancy that helps companies leverage the newest AI capabilities as part of their core product innovation and business operations (sales, customer support, legal services etc). Aurora is an entrepreneur and product manager with over 7 years of experience leading cross-functional product development teams through user-centered product design, rapid prototyping, and experimentation.
Johnny Rodriguez, Director of Innovation, Fresh Consulting​
Johnny Rodriguez, Director of Innovation at Fresh Consulting, has over 18 years of experience in creating innovative products and experiences. He has a diverse background in AI/ML, Product & Interactive Design, Front-end Web & iOS Development, XR development, and AI product development. Currently leading Fresh Labs, Johnny and his team are exploring, testing, and pushing the boundaries of emerging technologies. During his tenure, he has deployed 20 products, patented Voice AI algorithms, and spearheaded cutting-edge tech projects. He is also the co-founder of Brancher.ai, a no-code platform that allows for the connection of AI models to build AI apps in minutes. Johnny is not only a tech innovator but also a multifaceted individual. He is a beatboxer, fluent in three languages, and enjoys spending time with his family and furry companions when not leading the charge at Fresh.
Praveen Nuthulapati, Senior Director of Integrations and Partnerships, Dataminr
Praveen Nuthulapati is passionate about using technology to bring about social change. Currently, he is a Senior Director of Integrations and Partnerships at Dataminr, a real-time information discovery platform that detects digital patterns of emerging cyber and physical events from public data signals.
Prior to Dataminr, Praveen spent over 15 years building intuitive user experiences and distributed systems that power marketplaces and financial technology at companies such as Amazon Web Services, PayPal, eBay, and the Texas Advanced Computing Center at The University of Texas at Austin. He holds a Master of Science degree in Computer Science and Information Security from Texas A&M University-Corpus Christi.
Joel Granoff, Entrepreneur
Joel has been in the Austin Tech community for over 20 years. He's a connector and community builder whose career has always been at the intersection of innovation, design, human behavior and technology.
He's a veteran of high-profile and high-growth businesses building new lines of business in large corporations and he's been an entrepreneur establishing new businesses and brands from idea to operation. Most recently he held roles at SAP, managing growth marketing and demand generation on both a North American and global scale.
Joel's true passion lies in leveraging technology to build and cultivate businesses and marketplaces. His keen interest in Generative AI and ML stems from their immense potential in accelerating the idea-to-execution process and refining lead-to-cash business workflows. Through his successful utilization of Generative AI, Joel has demonstrated the power of these technologies in streamlining content creation and optimizing growth marketing campaign performance, learning first-hand their significant capabilities.
Elizabeth Quintanilla, Fractional CMO
Elizabeth Quintanilla is a fractional CMO, marketing gunslinger, and speaker. As a respected consultant, Elizabeth is focused on helping business owners understand today's marketing which includes understanding the customer perspective, demand generation, and go-to-market strategies. She also rolls her sleeves up and implements the strategies and delivers high-quality, creative solutions to ensure success. Elizabeth is gifted with teaching complex concepts in understandable terms. Lastly, Elizabeth is a humorist who enjoys giving people belly laughs and races sailboats on the weekend.
Dylan Wu, Founder, One Person Co
Dylan is an expert GPT app developer whose recent projects include a tool for sales teams to scale the research and personalization needed for account based marketing, he's focused on creating apps that are easy to use and understand for newcomers, as well as teaching people how to start creating their own AI apps and get into the AI space."
Nylo Landis, Cyberprompt.ai
Nylo Landis is passionate about maximizing productivity through the use of generative AI and empowering others to harness the full potential of cutting-edge LLMs to achieve their objectives. She's developed expertise in a variety of AI tools and resources, specializing in prompt engineering through a variety of professional and personal projects using ChatGPT, Open AI's Plug-Ins, AutoGPT, and Bard.
Jay Williams​, Vice President, Frontier Marketplaces
Jay Williams has been a chief technology officer and consultant to many of the Fortune 500. As a consultant he has developed a highly refined process for managing a company's technology infrastructure, including applications, security, and network assets. Jay is a highly sought-after, enterprise systems architect and problem solver. He has advised a number of high profile technology companies on their products and is known for a rare combination of deep technology expertise, expert problem solving ability and business acumen. Jay is widely respected by peers and has influenced many pivotal technology consortia and industry steering groups. He regularly consults with senior technology and business executives and is frequently consulted by venture and capital investors for analyses of new technology strategies.
Ben Fauber, Senior AI Research Scientist and Distinguished Technical Staff, Dell Technologies
Ben Fauber is a Senior AI Research Scientist and Distinguished Technical Staff at Dell Technologies. He earned his B.Sc. from Colorado State University and Ph.D. from The University of Texas at Austin. Prior to joining Dell Technologies, he held scientific and leadership positions at Stanley Black & Decker, Genentech/Roche, AstraZeneca, and Pfizer. He is a co-inventor and author on more than 200 patents and peer-reviewed publications, including publications in the journals Nature, and Proceedings of the National Academy of Sciences. He currently serves on advisory boards for The University of Texas at Austin Dell Medical School and McCombs School of Business.
About the organizer
The Austin Forum on Technology & Society brings people together to learn about emerging and pervasive technologies and their importance, influence, and impact on society. Every month, hundreds  of technology leaders, innovators, creatives and other interested persons come to share information and stimulate collaborations to promote technology applications that advance society. 
Through our monthly events, the Austin Forum Upload podcast, and the Austin Forum Update blog, the Austin Forum on Technology & Society explores a wide variety of topics and stimulates discussions, collaborations, and partnerships on new technology opportunities. The Austin Forum explores technology applications, opportunities, and policies in all aspects of society: health/medicine, business/industry, science/research, education, government, entertainment, and social good.
The Austin Forum monthly events are free and open to the public.