Description
Kick off Summer with The GetDown!
---
The Underground GetDown!

Saturday, June 29th | 2-6pm
Opening Block Party and Celebration of new murals from The Underground Mural Project
Featuring Art By:
Dana Woulfe (Boston), GoFive (Boston), Greg Lamarche (NY), Indie184 (NY), Marka27 (NY/Boston), Matthew Zaremba (Boston), Muro (Spain), Silvia Lopez Chavez (Boston)
PROGRAM
1:00 - 2:00 pm
Special Pre- Party LIVE DJ / Fitness Class by TRILL FIT!
Please RSVP
2:00 - 6:00
DJ Braun Dapper +
Guest DJ's Presented by Red Bull
FOOD TRUCKS
GAMES
LIVE ART
And more!
This is a FREE all-ages event!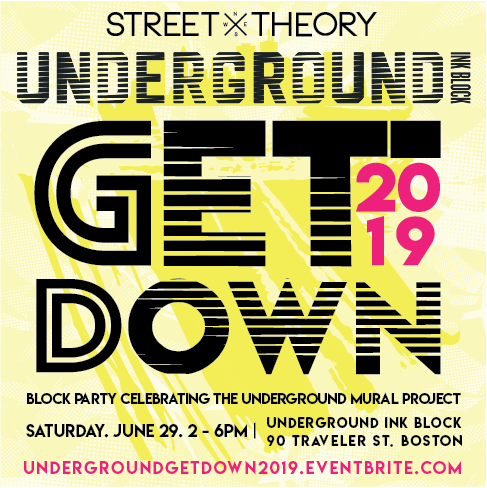 **The Underground GetDown is a safe space for all people. We do not accept racism, homophobia or discrimination in any form. Spread LOVE - Street Theory**