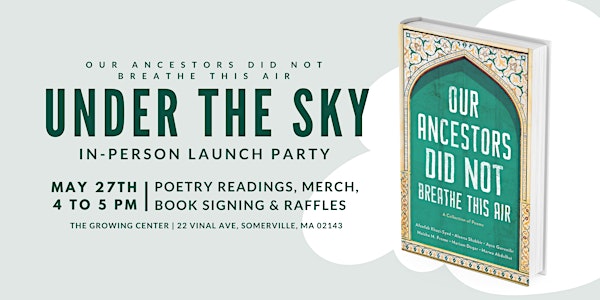 Under The Sky: Our Ancestors Did Not Breathe This Air In-Person Launch
Come celebrate Our Ancestors Did Not Breathe This Air, a new poetry book! Featuring poetry readings, merch, book signing, and raffles.
When and where
Location
Somerville Community Growing Center 22 Vinal Avenue Somerville, MA 02143
About this event
As undergrads at MIT, the poets of Our Ancestors Did Not Breathe This Air, friends from before, were brought closer together by their shared endeavors and journeys: the challenges of being women in STEM, their lifelong pursuits of becoming better Muslims, and the exhaustion of drinking from the academic firehose. The anthology centers on family, identity, and homeland—where they come from and how that shaped who they are now. They want to foster empathy and mutual reciprocity for those who don't often see someone like them within literary spaces, and through sharing their poetry, hope to provide a safe, acknowledged space to different underrepresented groups all over the world.
These six poets have not been in the same physical space together in more than 2 years, and are so excited to share this reunion with all of you. Come celebrate with us IN-PERSON! Get a chance to hear the poets' poetry, win raffles, and get your book signed! Books will be available for purchase. If you already have a copy, you are welcome to bring yours from home.
This event is in-person and we are still in the midsts of the COVID-19 pandemic. If you have COVID-19, have COVID-19 symptoms, or have been recently exposed to someone with COVID-19, please join us for another event sometime in the future. Due to expected number of attendees, even though the Growing Center is an outdoor space, we encourage attendees to mask. These suggestions are subject to change based on local COVID-19 policies and cases.
OADNBTA website: www.oadnbta-poetry.com
The Growing Center website: www.thegrowingcenter.org