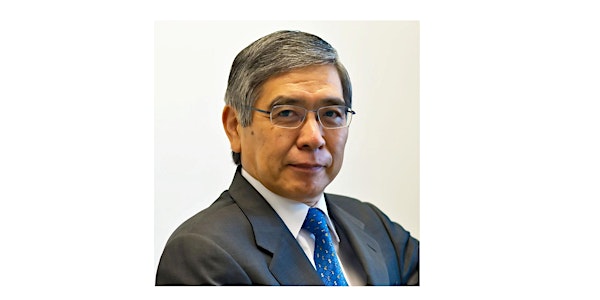 Unconventional Monetary Policy
Unconventional Monetary Policy
By Center on Japanese Economy and Business
Date and time
Wednesday, April 19 · 6 - 7:15pm EDT
Location
Cooperman Commons, Geffen Hall, Columbia Business School 645 West 130th Street New York, NY 10027
About this event
Unconventional Monetary Policy
Wednesday, April 19, 2023 | 6:00 – 7:15 PM (Reception to follow)
Cooperman Commons, Geffen Hall, Columbia Business School
(645 West 130th Street, New York, NY 10027)
Note: This in-person-only event is open to the public and is subject to change without notice.
Featuring:
Haruhiko Kuroda
Former Governor
Bank of Japan
Moderator:
Takatoshi Ito
Professor, School of International and Public Affairs, Columbia University
Director, Program on Public Pension and Sovereign Funds, Center on Japanese Economy and Business (CJEB), Columbia Business School
Welcoming Remarks:
David E. Weinstein
Director, CJEB; Carl S. Shoup Professor of the Japanese Economy, Columbia University
Synopsis:
Unconventional monetary policies have been employed by many central banks after the global financial crisis. The Bank of Japan may be unique in the sense that it had started quantitative easing in 2001, and introduced a negative interest rate policy and yield curve control in 2016. In this speech, Former Governor Kuroda will describe how various unconventional monetary policies were utilized by the Bank of Japan, in comparison with other central banks.
Biography:
Haruhiko Kuroda was Governor of the Bank of Japan from March 2013 to April 2023. Prior to his position at the BOJ, Mr. Kuroda served as President of the Asian Development Bank from 2005 to 2013. He was also Special Adviser to the Cabinet of Prime Minister Koizumi, while he was Professor at Hitotsubashi University in Tokyo from 2003 to 2005. During his career at Japan's Ministry of Finance from 1967 to 2003, Mr. Kuroda's responsibilities encompassed fields including international finance and tax policies. From 1999 to 2003, he represented the Ministry as Vice Minister of Finance for International Affairs at numerous international monetary conferences such as the G7 and G20 meetings. Mr. Kuroda holds a Bachelor of Arts in Law from The University of Tokyo, and a Master of Philosophy in Economics from the University of Oxford.
Admission and Contact:
This in-person-only event is open to the public and is subject to change without notice.
You must register to attend this in-person event.
Special Notes:
No large bags, luggage, or placards of any kind (such as posters or signs) are allowed inside the venue.
Please be advised that this event may be photographed, so your image may appear on our website or materials later. If this is an issue, please let us know.
Please note that due to current University guidelines in response to the COVID-19 pandemic, all visitors must be vaccinated and show proof of vaccination and ID as part of visitor attestation before entering Columbia University. We appreciate your understanding that these guidelines are subject to change.
Please be advised that Columbia Business School will be taking photos and videotaping at this event. Photos and videos taken will be owned by Columbia and may be used in whole or in part, for academic or other purposes.
We ask that the general audience not take photos or videos of this event or event materials.
If you have questions about the event, please contact us at cjeb@gsb.columbia.edu.
About the organizer
Established at Columbia Business School in 1986 under the direction of its founder, Professor Hugh Patrick, and led currently by its director, Professor David Weinstein, the Center on Japanese Economy and Business (CJEB) promotes knowledge and understanding of Japanese business and economics in an international context. CJEB is a research organization widely recognized for its vigorous research activities, international symposia, conferences, and lectures, held in New York City and Tokyo, which provide prominent speakers from the public and private sectors a forum for collaboration and reflection on Japan, the United States, and the global economy.