Unblock Tokyo: Ecosystem Fast Track
Largest Gathering of Global Blockchain Innovators in Tokyo - Meet the people behind OmiseGO, MakerDAO, Harmony, Ontology, Blockstack, RSK, D
When and where
Location
BINARYSTAR 1-8-19, Ginza Kirarito-ginza BLDG 11F Chuo-ku, Tokyo 104-0061 Japan
Refund Policy
Refunds up to 7 days before event
About this event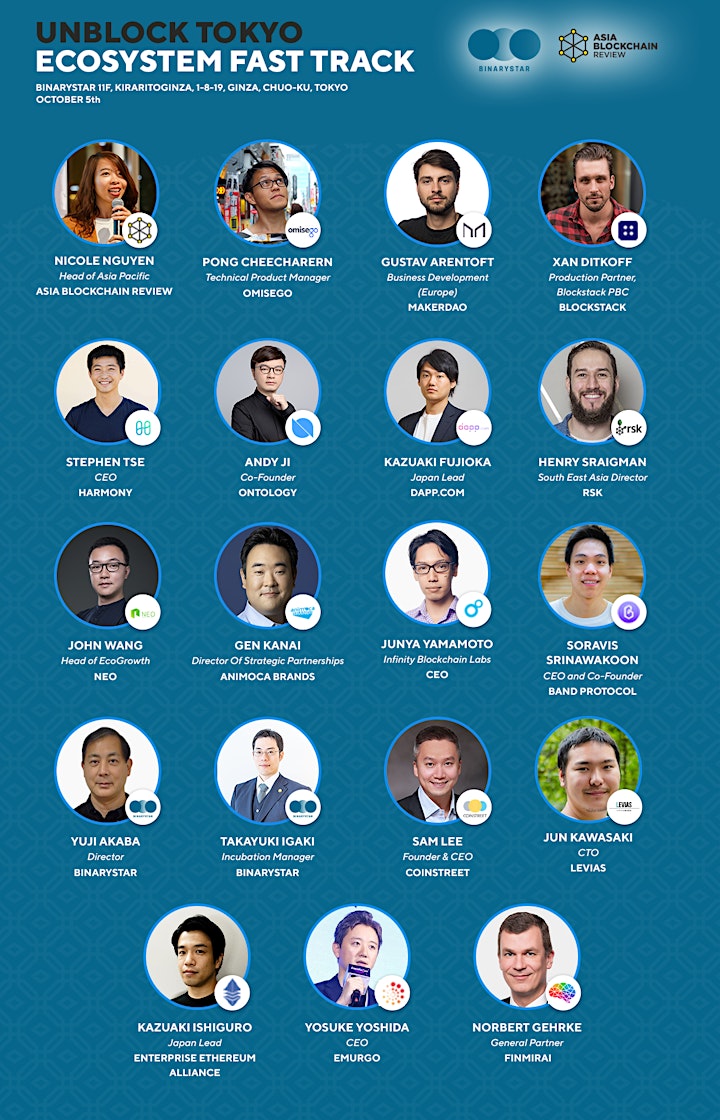 [ENGLISH BELOW]
**「UNBLOCK TOKYO」は、BINARYSTARとアジア最大級のブロックチェーンメディアである Asia Blockchain Review が共同で開催するブロックチェーンイベントです**
日本では滅多に繋がることのできない海外有力ブロックチェーンプロジェクトリーダーが10月5日、東京銀座に集結します!
BINARYSTARとAsia Blockhain Reviewが共催するブロックチェーンイベントー「ブロックチェーン・カンファレンス 2019 UNBLOCK TOKYO」において、業界をリードする世界のスタープレーヤー達が銀座に集結。ブロックチェーン・エコシステムについて活発な議論を交わします。
◆2019年10月 世界中のブロックチェーン関係者が日本に集結!!
2019年、日本では数々の主要なブロックチェーンイベントが開催されています。そこで、世界を牽引するブロックチェーン企業らを招集し、業界の最前線に立つ彼らのプロジェクトやブロックチェーンの動向について、アジア最大級のブロックチェーン・ビジネス・ハブであるBINARYSTAR(バイナリースター)と、タイ・バンコクを拠点にアジアを焦点においたメディアを運営するAsia Blockhain Review(アジア・ブロックチェーン・レビュー)が、イベントを開催します。
2018年の6月以来、 日本政府は規制のサンドボックスを導入し、ブロックチェーン、AI、IoT などの先端技術を実証し始めました。今年 3 月、金融庁は楽天や CoinCheck を含む 19 の団体に暗号資産取引所のライセンスを発行しました。そして先月、日本の企業 100 社が共同でデータをブロックチェーン上に記録し、業界間の連携を強化していくことを発表しました。
日本のこうした現状をブロックチェーン業界全体の将来について意見を交わす絶好の時機と捉え、今世界が注目する地域である東南アジアの主要都市―バンコク、ホーチミン、クアラルンプールにてAsia Blockhain Reviewが主催する月例イベント「UNBLOCK」の東京エディションとして、自社のアジアでのプレゼンスと世界各国のプレーヤーたちとのコネクションを活かし、彼らの基調講演やワークショップ、さらには交流夕食会をプログラムに加えた日本では機会の少ないミートアップ型のイベントを開催することになりました。
新世代のブロックチェーンプラットフォームを構築するNEOからはJohn Wang氏が「ブロックチェーン第三世代が生み出すエコシステムの全体像」について、
今ブロックチェーン業界で話題のDeFi(Decentralized Finance=分散型金融)の代表格プロジェクトであるMakerDAOからはGustav Arentoft氏が「オープンソース型、銀行のいらない経済とは」について、
またブロックチェーン業界全体が抱えるスケーラビリティー問題の解決を試みる次世代型ブロックチェーンプロジェクトのHarmonyからはJohn Whitton氏が「数億人単位が使うブロックチェーン技術とは?」について、
最前線で活躍する彼らがその知見を披露。また日本ではなかなか情報が伝わらずとも、有望なプロジェクトが数々誕生している東南アジア地区からは、タイを代表するプロジェクトであるBand ProtocolのCEO・Soravis Srinawakoon氏が彼らが提唱する「分散型データガバナンス」について講演します。
その他にもBlockstack、Consensys、OmiseGO、RSK、Animoca、Onotolgy、Dapp.com他、注目の企業をラインナップに迎えての「UNBLOCK TOKYO」、彼らと直に接触する機会をどうかお見逃しなく。
-------------------------------------------------------------------------------------------------------------------------------------
◆開催概要
日時:2019年10月5日 9:30 - 18:30
場所:東京都中央区銀座1丁目8-19 キラリトギンザ11F
費用:¥9,800-(懇親会費用込み)
※英→日の同時通訳を全ての講演に設けております。
-------------------------------------------------------------------------------------------------------------------------------------
◆UNBLOCK TOKYO タイムテーブル
※受付開始:9:00~ 順次対応※
*括弧内は公演の言語。当日は無料にて翻訳デバイスを会場にて貸し出します。
<1部>
1.はじめに|UNBLOCK TOKYO 開催の意義 (JP/ENG)
9:30-9:40
登壇者:赤羽雄二 氏(BINARYSTAR株式会社 アドバイザー・インキュベーションマネージャー)
2.NEO|ブロックチェーン第3世代が生み出すエコシステムの全体像 (ENG)
9:40~10:00
登壇者:John Wang 氏(NEO EcoGrowth リーダー)
3.Ethereum Enterprise Alliance (EEA)|エンタープライズブロックチェーンにおいて新たなスタンダード確立の重要性 (JP)
10:00~10:20
登壇者:石黒一明 氏(エンタープライズ・イーサリアム リージョナルヘッド)
4.対談: Consensys |De-FI と トークンの未来像とは (ENG)
10:20~10:45
登壇者: Ejaaz Ahamadeen 氏(Consensys,)Nicole Nguyen 氏(Infinity Blockchain Ventures アジア地域マネージャー)
5.OmiseGO|開発環境が整ったセカンド・レイヤーソリューションとは (ENG)
10:45~11:05
登壇者:Pong Cheecharern 氏(OmiseGo テクニカル・プロダクトマネージャー)
6.Animoca Brands|ブロックチェーン・ゲームにおけるブランディングの重要性 (JP)
11:05~11:25
登壇者:Gen Kanai 氏(Animoca Brands)
<2部>
7.Coinstreet|STOの可能性と挑戦 (ENG)
12:25~12:45
登壇者:Sam Lee 氏(Coinstreet 創業者CEO)
8.RSK|ビットコインと共に想像する未来 (ENG)
12:45~13:05
登壇者:Henry Sraigman 氏(RSK 東南アジア地区マネージャー)
9.パネルディスカッション Q&A: De-Fiの時代における常識とは (ENG)
13:05~13:30
モデレーター:Norbert Gehrke 氏(FinMirai ジェネラルパートナー) 
パネリスト:Heslin Kim氏(Tokeny Head of Asia)、Soravis Srinawakoon氏(Band Protocol, CEO 共同創業者)、Gustav Arentoft氏(MakerDAO ビジネス開発)
10.Metaverse|(ENG)
13:30~13:50
11.Ontology|エコシステムの成長を省くむ障壁を乗り越える為の具体策 (ENG)
13:50~14:10
登壇者: Andy Ji 氏(Ontology 共同創業者)
12.Dapp.com|Dappsの世界のトレンドをご紹介 (JP)
14:10~14:30
登壇者: 藤岡紀光 氏(Dapp.com Japan Lead)
<3部>
12.Band Protocol|スマートコントラクトが活躍する未来におけるDecentralized Oracleのユースケースとは (ENG)
14:30~14:50
登壇者:Soravis Srinawakoon 氏(Band Protocol CEO兼創業者)
13.Blockstack|悪のまかり通らない時代の幕開け (ENG)
14:50~15:10
登壇者:Xan Ditkoff 氏(Blockstack プロダクションパートナー兼 Blockstack PBC)
14.パネルディスカッション:ブロックチェーンプロトコルとプラットフォームの未来とは (JP/ENG)
15:10~15:50
モデレーター:Norbert Gehrke 氏(FinMirai ジェネラルパートナー) 
パネリスト:山田宗俊 氏(SBI R3 Japan)、Andy Ji 氏(Ontology 共同創業者)、吉田洋介 氏(EMURGOジャパン 代表取締役社長)、平山毅 氏(IBM Japan デジタルイノベーション事業開発部 部長, エバンジェリスト/チーフアーキテクト)
15.Harmony|ブロックチェーンは研究から開発/実証へ、億単位のユーザが使用する技術とは? (ENG)
15:50~16:10
登壇者:John Whitton 氏(Harmony)
<小休憩>
16.MakerDAO|オープンソースで銀行のいらない経済とは (ENG)
16:30~16:50
登壇者:Gustav Arentoft 氏(MakerDAO ビジネス開発長)
17.パネルディスカッション:日本とアジアにおけるSTOの展望 (JP)
16:50~17:15
モデレーター:松山雄太 氏(TECHFUND 共同創業者 CEO)
パネリスト:河崎純真 氏(レヴィアス株式会社 CTO)、井垣孝之 氏(BINARYSTAR インキュベーションマネージャー)
18. Dapper Labs |Dapp 開発者の視点から見たシャーディングとは (ENG)
17:15~17:35
登壇者:Dieter Shirley (Dapper Labs CTO)
19.Infinity Blockchain Labs|事業創造にある課題とインフィニト (JP)
17:35~17:55
登壇者:山本純矢 氏(Infinity Blockchain Labs Taiwan CEO)
※1部-2部及び2部-3部の部毎の間に小休憩をはさみます。
※講演内容及び登壇者は予告なく変更する場合があります。
------------------------------------------------------------------
CAPTION: BINARYSTAR and Asia Blockchain Review are ready to deep dive into the blockchain and crypto landscape at Unblock Tokyo, welcoming all players and members of the blockchain and crypto community in Japan and beyond to discuss what the future holds for the industry and how to prepare for what's to come.
Unblock Tokyo is set to become the largest gathering of blockchain innovators, representing the top 40 most influential blockchain companies from around the world. Our speakers, including the minds behind OmiseGO, MakerDAO, Blockstack, Harmony, Ontology, Dapp.com, RSK and NEO will spotlight the latest project updates and ambitious roadmaps, while sharing their insights into the most pressing topics of the crypto and blockchain industry, such as the evolving STO landscape in Japan and Asia as well as the rise of Decentralized Finance.
The state of blockchain and cryptocurrency in Japan has come a long way, with regulators initiating a regulatory sandbox for emerging technologies and issuing operating licenses for 19 digital asset exchanges. On the business side, 100 Japanese manufacturers have joined forces to share critical production data on a blockchain platform, in a bid to elevate the entire Japanese manufacturing industry.
BINARYSTAR and Asia Blockchain Review are seizing this opportunity to discuss current affairs in Asia and the future of the blockchain industry. Join us in October for the culmination of several occurrences in the flagship event: Unblock Tokyo.
Confirmed Speaker Line-up: OmiseGO, MakerDAO, Harmony, Ontology, Blockstack, RSK, Dapp.com... 
Stay tuned for more exciting speakers to be confirmed!
-------------------------------------------------------------------------------------------------------------------------------------
EVENT INFORMATION
Venue: BINARYSTAR - 11F, Kiraritoginza, 1-8-19, Ginza, Chuo-ku, Tokyo, 104-0061, Japan
Date: October 5th, 2019
-------------------------------------------------------------------------------------------------------------------------------------
Event agenda:
9:00 - 9:30
Registration & coffee
9:30 - 9:40 * EN
Opening Remarks to Unblock Tokyo -Yuji Akaba, BINARYSTAR Advisor and Incubation Manager
9:40 - 10:00 * EN
NEO: Decoding the Future- John Wang, NEO EcoGrowth Lead
10:00 - 10:20 *JP
Enterprise Ethereum Alliance: Importance of creating a new standard in enterprise blockchain- Kazuaki Ishiguro, Japan Lead, Enterprise Ethereum Alliance
10:20 - 10:45 *EN
Fireside chat with ConsenSys- Ejaaz Ahamadeen, Product Lead, ConsenSys
Moderator :
Nicole Nguyen, Head of Asia Pacific, Infinity Blockchain Ventures
10:45 - 11:05 *EN
OmiseGO's Plasma: Building a production ready layer 2 solution, Pong Cheecharern, Technical Product Manager
11:05 - 11:25 *EN
Animoca Brands: The importance of branding to Blockchain-based gaming projects, Gen Kanai, Head of Asia
11:25 - 12:25
Lunch break
12:25 - 12:45 *EN
Coinstreet: Opportunities and Challenges of STO - Samson Lee, Founder & CEO
12:45 - 13:05 *EN
RSK: Building the Future on Bitcoin- Henry Sraigman, South East Asia
13:05 - 13:30 *EN
Panel discussion: De-Fi
Panelists:
Heslin Kim, Head of Asia, Tokeny
Soravis Srinawakoon, CEO and co-founder, Band Protocol
Gustav Arentoft, Business Development (Europe), MakerDAO
Moderator:
Norbert Gehrke, General Partner, FinMirai
13:30 - 13:50 *EN
Ontology: Ticket to Noah's Ark – Ontology's Solution to Overcoming the Barriers of Ecosystem Growth - Andy Ji, Co-founder
13:50 - 14:10 *EN
Dapp.com: Global trends in dapps and blockchain games , Kazuaki Fujioka, Japan Lead
14:10 - 14:30 *EN
Networking break
14:30 - 14:50 *EN
Band Protocol: Use Cases of Decentralized Oracle on Mass Smart Contract Adoption -Soravis Srinawakoon, CEO and Co-founder
14:50 - 15:10 *EN
Blockstack: The Era of Can't Be Evil- Xan Ditkoff, PBC Production Partner
15:10 - 15:50 * Both
Panel discussion: The future of Blockchain Protocols and Platforms
Panelists :
Yosuke Yoshida, CEO, Emurgo
Andy Ji, Co-founder, Ontology
Munetoshi Yamada, Director, SBI R3 Japan
Moderator:
Norbert Gehrke, General Partner, FinMirai
15:50 - 16:10 *EN
Harmony: Bring Blockchain Research to Production for Billions - John Whitton, Ecosystem Architect
16:10 - 16:30
Networking Break
16:30 - 16:50
MakerDAO: An open source, bank free monetary ecosystem - Gustav Arentoft, Business Development Manager
16:50 - 17:15 *JP
The STO situation in Japan and Asia
Panelist:
Jun Kawasaki, CTO, Levias
Takayuki Igaki, Incubation manager, BINARYSTAR
Moderator:
Yuta Matsuyama, CEO, TECHFUND
17:15 - 17:35 * EN
Dapper Labs : Sharding from a Dapp Developer's Perspective- Dieter Shirley, CTO,
17:35 - 17:55 * JP
Infinity Blockchain Labs Taiwan: The Solution to New Blockchain Businesses - Junya Yamamoto, CEO
17:55 -
Networking Party
______________________________________________________________________
ORGANIZERS
BINARYSTAR is the largest Japanese Blockchain Business Hub, bringing together the best startups and the world's largest corporations. BINARYSTAR's goal is to embrace innovation within a partner business strategy in a structural way. We help companies create and support corporate venture teams (corporate startups) that are developing new business concepts outside their core business.
Asia Blockchain Review is the largest initiative for media and community building in Asia for blockchain technology. ABR aims to connect all blockchain enthusiasts on a regional scale, facilitating the technological underpinnings of blockchain through a range of group discussions, technical workshops, conferences, and consulting programs.
Follow Asia Blockchain Review for more event updates:
Telegram: https://t.me/asiablockchainreview
Facebook: https://www.facebook.com/pg/asiablockchainreview
Twitter: https://twitter.com/abr_blockchain
LinkedIn: https://www.linkedin.com/company/asia-blockchain-review/
Website: https://www.asiablockchainreview.com/