Description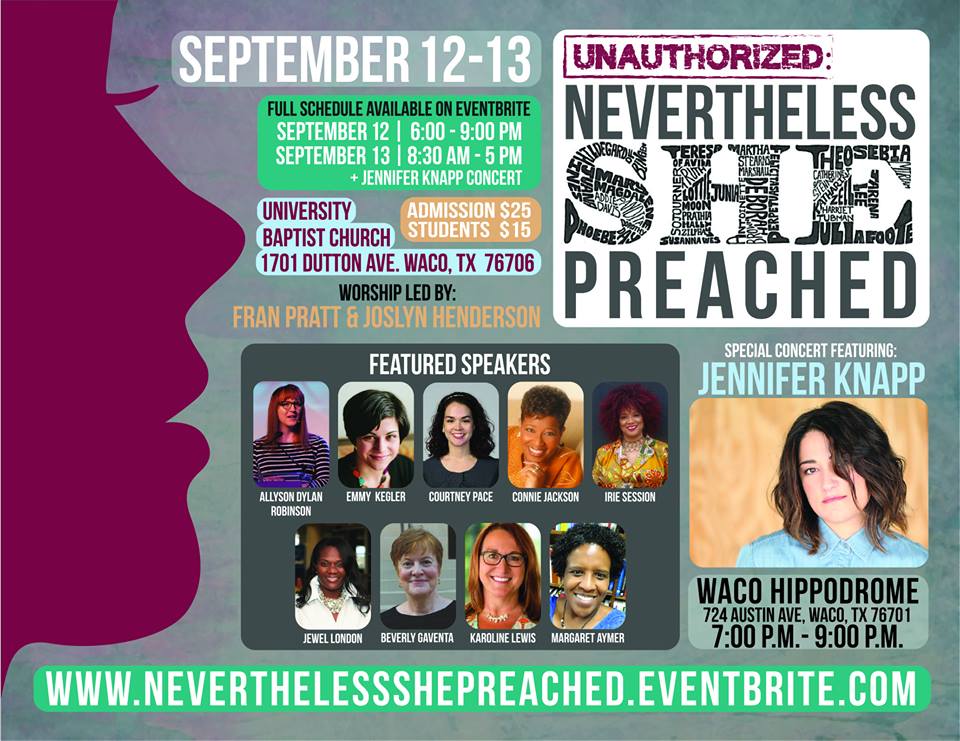 Unauthorized: Nevertheless She Preached is a dynamic grassroots event in Waco, Texas, celebrating women's voices in the pulpit. After centuries of underrepresentation and misrepresentation in our pulpits, churches, denominational leadership, and seminaries, we who have so often been silenced stand together to celebrate our voices. In the spirit of the brave women who have gone before us, we add our voices to theirs—in praise, in partnership, in proclamation, and in protest.
We hope you can join us for this two day event, beginning on Sept. 12th at 5:30pm, and continuing through 9:00pm on Sept. 13th.
Featured proclaimers include: Rev. Dr. Karoline Lewis, Rev. Dr. Margaret Aymer, Dr. Beverly Gaventa, Rev. Emmy Kegler, Rev. Dr. Irie Session, Rev. Allyson Dylan Robinson, Rev. Connie Jackson, Rev. Dr. Courtney Pace, and Rev. Jewel London! Workshops led by Jennifer Knapp, Emma Wood, Debra Bell, and others.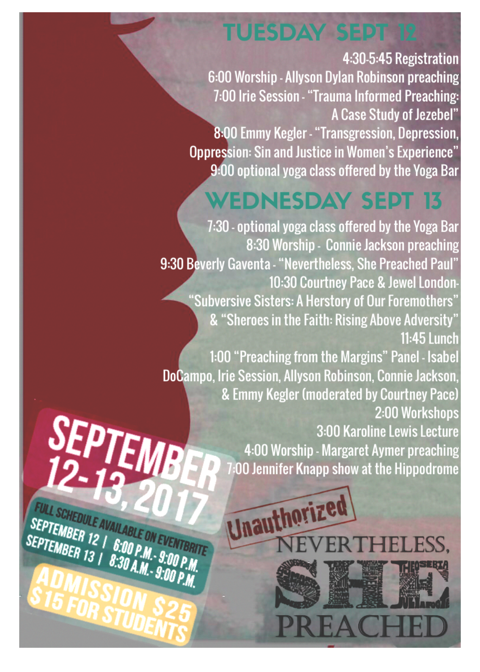 Jennifer Knapp event admission is included in registration. *Limited public tickets will be available, as well.
The $25 registration fee ($15 for students) will go directly toward travel and housing for our guest preachers, as well as venue fees and things like nametags. We do not want this fee to be prohibitive for anyone, so please feel free to use the "pay what you can" option!
*The first 100 registrations will receive a FREE "Nevertheless, She Preached" tote bag. :)
Keep up with what's going on at facebook.com/neverthelessshepreached
Make a donation to this grassroots event at gofundme.com/neverthelessshepreached
----------
If you're coming in from out of town, we've got some hotel deals for you! Home2 Suites and Comfort Suites have great guest ratings and are about 5 min from our venues.
Home2 Suites by Hilton - $109 per night
Book online through this link, or call (254) 752-4400.
http://home2suites.hilton.com/…/ACTHTHT-GUC-20…/index.jhtml…
Comfort Suites - $92 per night
Book online through this link, or call (254) 537-0413.
https://www.choicehotels.com/reservations/groups/PB9HE8