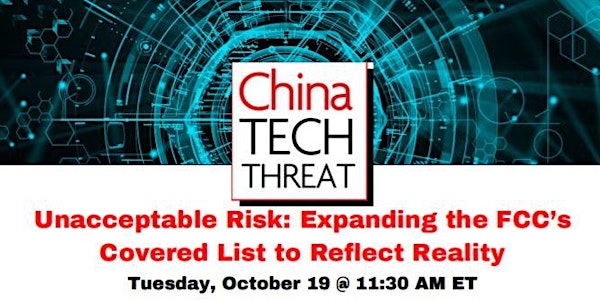 Unacceptable Risk: Expanding the FCC's Covered List to Reflect Reality
Unacceptable Risk: Expanding the FCC's Covered List to Reflect Reality
About this event
Click HERE to watch the event at 11:30 am Eastern.
Have a question for the speakers? Email it to info@chinatechthreat.com.
-----
Spoiler alert: It's not a list any company wants to be on. The 2019 Secure and Trusted Networks Act directs the Federal Communications Commission (FCC) to establish a "Covered List" of communications equipment and services that pose an unacceptable risk to the national security of the United States or the security and safety of United States persons. Only a handful of companies are on the list. Given what we know about entities affiliated with the People's Republic of China, others could be added.
FCC Commissioner Brendan Carr will join CTT's Roslyn Layton and other prominent national security experts for a discussion about the agency's current proceeding on the matter and where we go from here.
Speakers: