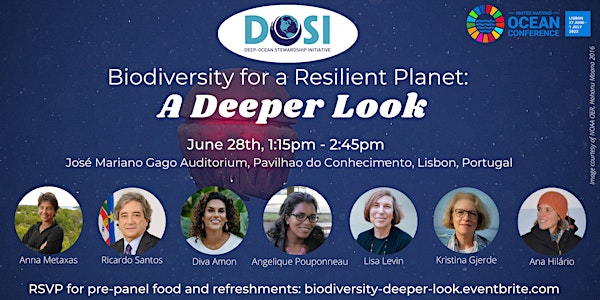 UN Ocean Conference Side Event Panel: Biodiversity for a Resilient Planet
Welcome! We are excited for you to join us as we explore how deep-ocean life supports our planet and discuss how to protect it.
When and where
Location
Pavilhão do Conhecimento - Ciência Viva nº1 Largo José Mariano Gago 1990-073 Lisboa Portugal
About this event
The deep ocean contains over 90 percent of the living space for life on Earth, and its remarkable biodiversity is critical for human well-being. While it can seem remote and unchanging, this deep-sea biodiversity faces clear and increasing threats from climate change, mining, fishing, and pollution. To make sure deep-ocean life can keep supporting a livable planet, we need new partnerships and policy solutions that make good use of the latest ocean science. Those solutions will be the topic of this panel, titled "Biodiversity for a Resilient Planet: A Deeper Look."
The Panel
This panel, designed for all audiences, will gather top experts to share ideas for scaling up effective management and conservation of the deep sea. Panelists will speak on the following key points:
Important benefits that deep-sea biodiversity provides to people and other life on Earth
Current threats facing deep-sea life
Current policy options for improving conservation of deep-sea biodiversity
How to design and use future science to enable good policy decisions for the deep sea
After a discussion among the panelists, the remaining time will be used for audience questions. Food and refreshments will be available before the panel.
The Speakers
Panelists at this event will include:
Dr Anna Metaxas, Dalhousie University*
Dr Ricardo Serrão Santos, University of the Azores and former Minister of Maritime Affairs, Portugal
Dr Diva Amon, Benioff Ocean Initiative, University of California, Santa Barbara*
Angelique Pouponneau, Alliance of Small Island States (AOSIS)
Dr Lisa Levin, Scripps Institution of Oceanography*
Kristina Gjerde, International Union for the Conservation of Nature (IUCN)*
Dr Ana Hilário, Centre for Environmental and Marine Studies, University of Aveiro; Challenger 150 Co-Lead*
*DOSI Core Team member
The event will be moderated by Brandon Gertz, DOSI's Communications Lead.
Important Details for Attendees
This panel will be held on June 28th from 1:15pm to 2:45pm Lisbon time. The venue is the José Mariano Gago Auditorium of the Pavilhao do Conhecimento, 600 meters South of Altice Arena (see directions below). As this event will be held outside of the UN Ocean Conference "Blue Zone", no accreditation is needed to attend. Before the panel begins, refreshments will be offered in the venue's atrium.
Best wishes,
The Deep Ocean Stewardship Initiative (DOSI) and partners: University of California San Diego, Universidade de Aveiro, IUCN, Challenger 150, AOSIS, Ciencia Viva, the Deep Ocean Observing Strategy (DOOS), Okeanos, and Arcadia Fund
Directions to the Panel Venue from Altice Arena