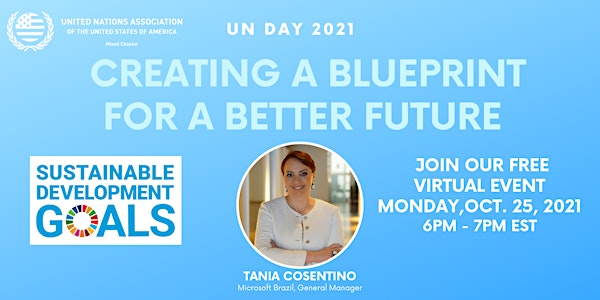 UN Day - Creating a Blueprint for a Better Future
UN Day 2021: Creating a Blueprint for a Better Future
About this event
Join the United Nations Association Miami Chapter as we celebrate UN Day 2021: Creating a Blueprint for a Better Future.
We are honored to present our Keynote speaker, Tania Cosentino, Microsoft Brazil General Manager and UN SDG Pioneer. She will present on how organizations can harness the Sustainable Development Goals (SDGs) to drive growth, address risk, attract capital and focus on purpose while benefiting the wider community.
We are also very pleased to be joined by Kaysie Brown, Vice President for Policy and Strategic Initiatives at the UN Foundation who will speak about progress on the SDGs and the need for accelarated action to be taken.
This is a free and virtual event. Zoom link to be shared prior to the event.
Translations into Spanish and Portuguese will be available.
We look forward to welcoming you to this exciting online gathering! For questions please contact MiamiUNAUSA@gmail.com or visit our website: https://unamiami.org
About Tania Cosentino
Tania Cosentino has been Microsoft Brazil General Manager since January 2019. Under her management, the company created in 2019 the Women Entrepreneurship (WE) program, with focus on encouraging female entrepreneurship in technology-based startups that have at least one woman among the company shareholders. In 2020, Microsoft Brazil was considered the Best Company to Work for by Great Place to Work. Tânia has over 35 years of professional experience, mostly in multinationals in the electrical and industrial automation sectors. At Schneider Electric, she developed a successful executive career for 19 years, being the first Brazilian woman to assume the presidency of Schneider's Brazilian subsidiary. In 2013 she became president for South America and in 2018 she assumed the global vice presidency of quality and customer satisfaction. The executive is an active leader of the HeForShe and WEP (Women Empowerment Principles), UN Women and Global Compact programs. She was recognized as one of the 10 pioneers in acting on the Sustainable Development Goals of the UN Global Compact in 2017 and also received the Women's Leadership Award from CEBDS (Brazilian Business Council for Sustainable Development). In 2021, she received Executivo de Valor award, in IT & Telecom category, offered by Valor Econômico newspaper, one of the most important business newspapers of Brazil.
About Kaysie Brown
Kaysie is Vice President for Policy and Strategic Initiatives at the UN Foundation, where she is responsible for coordinating policy issues across the organization and identifying new trends and opportunities for the Foundation to advance its mission. Kaysie also helps to stand up special initiatives such as the Business & Sustainable Development Commission and the World Benchmarking Alliance.
Kaysie most recently served as Head of Policy Planning and Special Advisor at the UN Foundation. Prior to that, she held the role of Chief of Staff and Senior Advisor to the U.S. Special Coordinator for the Sustainable Development Goals. Previously, she worked at the State Department on policy development and program design on conflict prevention and response. She has written extensively on multilateralism, the intersection of security and development, and conflict management.
Supporters: University of Miami, POH - Power of the Heels, SIM- Social Impact Movement, GMBSFL Grupo Mulheres do Brasil South Florida, WAC- World Affairs Council Miami, Interpret2B, Briyah Institute, Office of Changemaking at Miami Dade College.