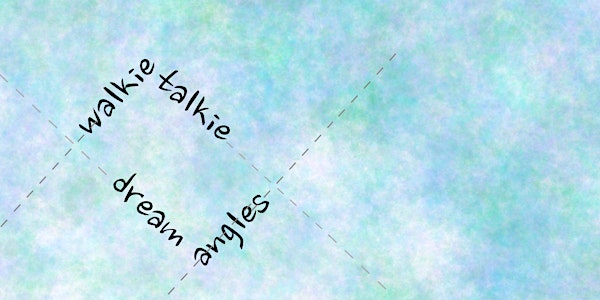 U-GRUVE AR / Creative Tech Week 2017: Interactive Sound Walk, Part 2
By Memetic Arts and New York SoundWalkers
Date and time
Sunday, May 21, 2017 · 4 - 6pm EDT
Location
Washington Square Park The Arch 5th Avenue / Washington Square North New York, NY 10012
Refund Policy
Contact the organizer to request a refund.
Description
"walkie talkie dream angles", An Interactive Sound Walk by Dafna Naphtali
We will experience the other-worldly, interactive soundscape that is "Walkie-Talkie Dream Angles", composed by electro-acoustic composer/performer Dafna Naphtali in collaboration with Richard Rodkin, creator of U-GRUVE AR, who produced a customized version as a dedicated, standalone, iPhone app.

While originally created for the 2016 NoiseGate Festival, the piece has been updated with new sonic material for Creative Tech Week 2017, a city-wide festival devoted to New York's burgeoning Art/Tech scene which runs from May 12 -21, 2017.
"walkie talkie dream angles" occupies Washington Square Park, one of the City's most popular, and home to the iconic Washington Square Arch. The majesty of the Arch aside, the Park itself consists of a multitude of microcosms, from the Fountain, to the dog-runs, playgrounds, and the famous chess plaza, all of which provide a rich backdrop for musical experimentation.
Ms. Naphtali, who is both a professor and former student of New York University Steinhardt, describes the work:
"'walkie talkie dream angles' is an opportunity to bring a favorite urban environment of mine to musical life and present it in a unique and individual way. With pre-recorded environmental sounds from the area that I will audio-process, I layer these sounds with my voice, and use some thoughtful strategizing about site-specific listening, interactivity and attention span."
Ms. Naphtali will be on hand to discuss her process for planning and composing the piece, as well as answer questions from the group.
We'll find a local venue after the soundwalk to relax and discuss the experience over food and drink. Please join us for this sonic exploration of one of the City's most rich and diverse public spaces.
NOTE:
To experience the piece, you will need to download the wtda app on the iTunes App Store. It is NOT currently available within the U-GRUVE app, so you must download it separately.
More Information On:
Walkie Talkie Dream Angles (on u-gruve.com)
About the organizer
Memetic Arts is a New York City-based digital media publisher whose apps explore and showcase the potentials of creative technology.