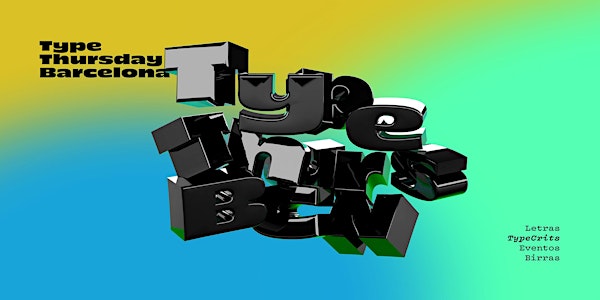 TypeThursday BCN ☛ Octubre 2022! @BAU
TypeThursday BCN ☛Octubre 2022! @BAU
When and where
Location
BAU, Centro Universitario de Diseño de Barcelona 118 Carrer de Pujades Espai Polivalent 08005 Barcelona Spain
Refund Policy
Contact the organizer to request a refund.
Eventbrite's fee is nonrefundable.
About this event
TypeThursday Barcelona
El acceso al evento está sujeto a aforo.
Serán todxs bienvenidoxs a otro evento más de Type Thursday en BAU, donde charlaremos de letras, como siempre, para aprender de otras experiencias y expandir nuestras fronteras creativas alrededor de la tipografía, el lettering, la caligrafía, etc.
En esta edición tendremos la presencia de Laura Meseguer, que nos contará un poco sobre el programa de la Escuela Tipo.G dedicado diseñadores que tienen el interés en profundizarse en el ámbito de la creación y aplicación tipográfica.
El programa del evento será:
18h30: Hora de socialización, y ¡nosotros pagamos la primera cerveza!
19h00: Presentación de Laura Meseguer
19h40: Valedora, de Cecilia del Castillo
19h50: Quebrada, de Claudia Senlle
20h00: Tosca, de Neža Kovač
20h10: Balanza, de Neus Sáez
20h20: Trobada, de Nazaret Abril
20h30: Más tiempo para socializar, ¡seguro que después de las presentaciones te apetece hablar con alguna de las personas que participaron!
21h00: Cerramos, hasta ahora!
¿Sientes curiosidad? Pués fijate en como son los eventos en otras sedes de TypeThursday en el resto del mundo.
TypeThursday Barcelona es una reunión bimensual para diseñadores que ven letras cuando cierran los ojos. Nos gusta pensar que somos como una superfamilia tipográfica: Atraemos a amantes locales del diseño de letra en todas sus disciplinas y con cualquier nivel de experiencia. Unos periodos de socialización siguen y preceden al evento principal, un corrección en grupo a la que llamamos Type Crit.
¿Y qué narices és una Type Crit?
Brevemente: Es una crítica amistosa de proyectos relacionados con las formas de letra. No te preocupes, no ponemos nota. Sí bebemos cerveza.
Detalladamente: La Type Crit es una correción grupal de hasta cuatro proyectos en curso que impliquen el diseño de letras o uso de tipografía. Puedes dar, recibir o simplemente escuchar feedback —¡tu elección!—. La discusión está moderada por nuestro Jefe de Diálogo de TypeThursday y nos enorgullecemos de crear un espacio agradable en el que compartir críticas y consejos constructivos que mejorarán tu habilidad con el diseño de letras.
FAQs
¿Quién debería asistir?
Cualquier persona que adore las letras y desee formar parte de esta comunidad activa y dinámica alrededor del diseño y creación de letras. Las nuevas caras siempre son bienvenidas.
¿Cómo puedo asistir o sumar preguntas para ser respondidas en el evento?
Solo suscribiéndote a este evento a través de tu entrada gratuita o con colaboración si lo deseas.
Las preguntas puedes enviarlas contactando al organizador o a través de nuestras Redes Sociales Instagram o Twitter en todas estamos como: @typethursdaybcn
¡Tengo más preguntas! ¿Cómo puedo contactar con los organizadores?
Por favor, escribe a barcelona@typethursday.org para solucionar cualquier duda.
❦
Muchas gracias a BAU Centro Universitario de Diseño de Barcelona por patrocinarnos y seguir creyendo en nosotros.