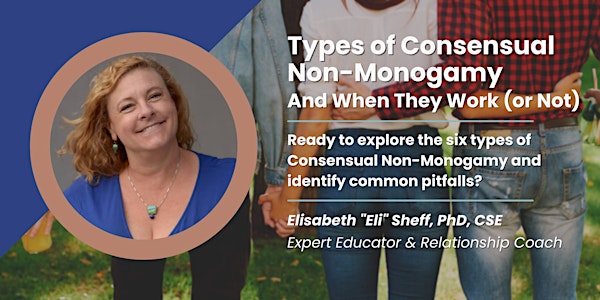 Types of Consensual Non-Monogamy & When They Work (Or Not)
Ready to explore the six types of Consensual Non-Monogamy and identify common pitfalls?
About this event
This session begins with defining Consensual Non-Monogamy (CNM) and contrasting it with cheating/adultery. Then it explores the primary types of Consensual Non- Monogamy practiced in the United States: Open Relationships, Polygamy, Swinging, Polyamory, Monogamish Relationships, and Relationship Anarchy. Next the presentation looks at who tends to select each lovestyle, what makes them work well, some common pitfalls, and how practitioners deal with the pitfalls.
Here's what you can expect to learn in this virtual workshop:
How to describe six types of consensually non-monogamous relationships.
How to distinguish between consensual and non-consensual non-monogamy/cheating.
How to compare types of CNM to analyze which one might be better in which kind of circumstance.
How to identify common issues that arise for people in CNM relationships.
Note: You can join this event or other upcoming events for FREE with our 14-day trial membership.
"We were in various forms of a polyamorous relationship for over a decade before we decided to formally divorce. "Divorce" felt like a misnomer for our intentions and experience, so we searched for different models and found Eli's research. It helped us greatly to think through our experience!
We called her up for a consultation and had a great talk that has laid the groundwork for a productive process of dividing up our assets while still maintaining our sense of intimacy and closeness.
We highly recommend talking with her if you find yourself in a similar space!"
- P. & G.
Facilitated by: Elisabeth "Eli" Sheff, PhD, CSE, Expert Educator & Relationship Coach
Dr. Elisabeth Sheff is one of a handful of global academic experts on polyamory and the foremost academic expert on children in polyamorous families. Specializing in diversity and underserved populations, Sheff is an expert witness, relationship consultant, public speaker, and author.
Her first book, The Polyamorists Next Door: Inside Multiple-Partner Relationships and Families (2014 hardback and ebook, 2015 paperback and audiobook), details Sheff's findings from the first 15 years of the Polyamorous Families Study.
Stories from the Polycule: Real Life in Polyamorous Families (2015), Sheff's second book, is an edited collection of stories from people in polyamorous families.
Sheff's third book, When Someone You Love Is Polyamorous: Understanding Poly People and Relationships is a brief introduction to polyamory using empirical evidence to start a conversation.
With a Ph.D. in Sociology, Sheff is a pioneer of the academic study of polyamory. Sheff has also published over 20 peer-reviewed articles and chapters in academic journals and books. Dr. Sheff has taught at the University of Colorado, University of Montana, Georgia State University, Oglethorpe, and Emory University.
Dr. Sheff has given scores of radio, podcast, print, and television interviews with sources from The New York Times, ABC News, and CNN to The Atlantic, New York, and Shape magazines. She has appeared on National Geographic Television's Taboo and Sunrise, a morning show in Australia. As a blogger for Psychology Today, Sheff makes academic research easily accessible to everyone.
Video recording of the live event will be available for later viewing if you are unavailable. Simply e-mail hello@leveleduplove.com.
Note: You can join this event or other upcoming events for FREE with our 14-day trial membership.