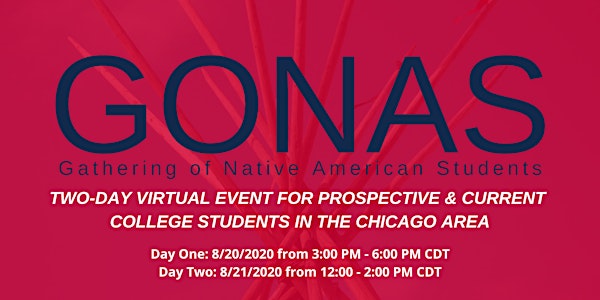 Two Day Virtual Event, Gathering of Native American Students 2020
EVENT DATES, TIMES, & INFORMATION BELOW
About this event
We are excited to host our annual Gathering of Native American Students (GONAS) 2020. This year's theme is "cultural sustainability through community involvement." GONAS is for Indigenous high school juniors, seniors, and college undergraduate and graduate students in the Chicago area. However, all are welcome.
This two-day virtual event will focus on building collaborative relationships among students who are interested in higher education and community organizations that support their academic endeavors. Through online activities, students will share their perspectives on higher education and explore resources and opportunities to get involved with the greater Chicago Indigenous community.
GONAS is free to attend! Given our current health climate, we have decided to host GONAS virtually over two days.
8/20/2020 from 3:00 PM - 6:00 PM CDT: Community Involvement Keynote Speaker & Community Resource Panel
Keynote Speaker:
Community Resource Panel:
American Indian Center Inc.
American Indian Education Program, Chicago Public Schools
Chicago American Indian Community Collaborative
Chi-Nations Youth Council
Native American House, The University of Illinois at Urbana-Champaign
Native American Support Program, The University of Illinois at Chicago
Northwestern University
St. Kateri Center
The Newberry
8/21/2020 from 12:00 - 2:00 PM CDT: Cultural Sustainability
Tipi Demonstration:
Chi-Nations Youth Council, Young Native Leaders with Chicago Public Schools and St. Kateri Center, and Native American & Indigenous Student Organization - the University of Illinois at Chicago, will construct a Tipi on the University of Illinois at Chicago campus. Construction of Tipi will be broadcasted for all to enjoy.