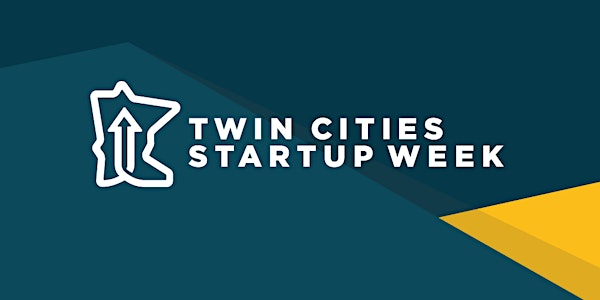 Twin Cities Startup Week 2018
When and where
Location
Twin Cities MN 55406
Refund Policy
Contact the organizer to request a refund.
Description
In every corner of the Twin Cities Metro Area, there is a hacker, maker, artist or entrepreneur whose efforts power the future economic vitality of Minnesota.

At Twin Cities Startup Week, we want to highlight these innovators, and inspire and equip the next generation of entrepreneurs with the tools and connections they need to be successful.

Twin Cities Startup Week is a collection of 200+ events, covering all facets of business and spanning all sectors. This is not your everyday hotel lobby conference. The week stretches all across the Twin Cities, and events are hosted by passionate individuals, community organizations, local business, Fortune 100s and more.

HOW TO REGISTER FOR EVENTS:
Begin by selecting a ticket from the options below
Once you've registered for TCSW using this Eventbrite page, you'll be prompted to create a Sched account; this will grant you access to the complete Startup Week schedule
Explore the schedule and add the event(s) that appeal(s) to you. Sched will allow you to build your own calendar for everything you plan to attend
"Signature Events" and partnering conferences may required an additional ticket (and/or purchase). Please ensure that you've completed their registration requirements to ensure that you have a ticket
TCSW TICKET TYPES:
GENERAL ADMISSION - $25
For first-timers and TCSW veterans alike; this ticket gets you access to the entire caledar of events**, plus some sweet perks.
What's included?
- A TCSW T-shirt
- Free rides on the Lyft Bus
- 1 drink at the Opening & Closing Parties (age 21+)
- Everything from the Freebie package
**Some "Signature Events" and events from partnering conferences may require an additional ticket and/or ticket purchase, and are not included in this package.

VIP ACCESS - $100
It's like a General Admission ticket, but for superheros. With this pass, you can check out all of the same events, plus some saved just for the VIPs. And you can do it all in your new TCSW hoodie!
What's included?
- VIP events
- TCSW hoodie
- 2 drinks at the Opening & Closing Parties (age 21+)
- Everything from the GA and Freebie packages
COMMUNITY CHAMPION - $500
This ticket is reserved for the community champion who understands and fully supports what we're building. It's not about the perks, it's about the mission. Thank you for helping us do what we do.
What's included?
- Everything from the GA, VIP and Freebie packages
- Recognition for your contribution
MANOVA SUMMIT ALL-STAR PASS - $500 (LIMIT 100)
In partnership with Twin Cities Startup Week, the MANOVA Summit has offered a screaming hot deal (normally $850) on a full access pass to the first annual MANOVA Summit, happening the (Oct 8 to 11).
What's included?
- All access pass, including meals and keynote speaker presentations from:
Former Senior Policy Advisor for Nutrition Policy to President Obama - Sam Kass's - luncheon presentation on "

Creating a Culture of Health and Wellness"

Former Acting Administrator for the Centers for Medicare and Medicaid Services - Andy Slavitt - discussing "Health Care Reform in the Age of Trump
Arianna Huffington's closing speech on the ideas that inspired her best-selling book - The Sleep Revolution: Transforming Your Life, One Night at a Time
MANOVA's Grand Opening Night Dinner at the Armory
- And everything from the TCSW Community Champion package
FREEBIE - $0
Registration fees should never stand in the way of participation. If you're a student, nonprofit leader or just strapped for cash, this ticket is for you.
What's included?
- Access to registration, and the TCSW app
- Free coworking access
- Free fitness classes
- Lyft discount