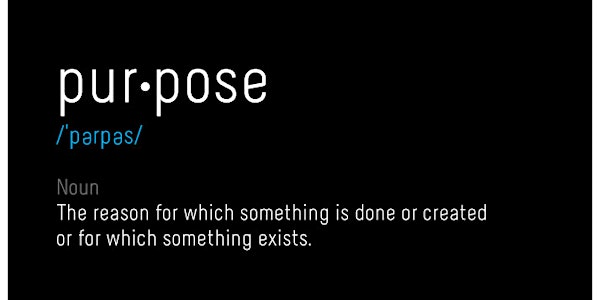 Multiple dates
Turn Around Tuesday! PUR: 501 Find Your Purpose in 15 Minutes
By Derrick Drakeford, Ph.D., Principal Investigator at PurposeU
Date and time
September 19, 2016 · 6pm - September 22, 2026 · 10pm PDT
Description
PUR:501 Finding Your Purpose in 15 Minutes is a Purpose University Course

This online interactive course can be taken from your smart phone, tablet, or any computer. The course walks the participant through a series of critical questions in the "finding your purpose activity", from the book Finding Your Purpose in 15 Minutes by Derrick Drakeford, Ph.D.

YOU WILL LEARN:
1. How to identify the people/cause you were born to help
2. To examine pain and its connection to purpose

3. To identify your internal peace process
4. To identify your Passion, Talent, and Giftedness

5. How to rreate your Purpose Proposition Statement

*After you get your eventbrite ticket we will email you a pre-and post course survey and the private online course link and password.
+First complete the following 3-minute IRB pre-course consent survey.
Pre-Course Consent Survey Required
After this course students who are interested can launch their purpose-driven start-up through our 24 hout curriculum. For more information see this video

About the organizer
Dr. Derrick Drakeford is a Social Entrepreneur. Derrick started his business from the unemployment line in 2002.  Derrick is CEO of Drakeford, Scott, and Associates LLC. a  community-minded consulting firm, and President of Purpose University (www.learnpurpose.org). Derrick has served as a faculty member of North Carolina Central University in the Masters in Public Administration Program,  an instructor at UNC-Chapel Hill, and the Director of Freshman Studies at Shaw University. Derrick has consulted with nonprofit organizations, schools, businesses, and churches for 22 years. Derrick has a Ph.D. from UNC Chapel Hill his doctoral reseach was on success factors of college presidents.
Derricm has a BS in Political Science from Bethune-Cookman University; a Masters in Public Administration from the University of North Carolina's School of Government; a Certificate in Nonprofit Management from UNC's School of Social Work; a Certificate in Proposal Writing and Fundraising for Nonprofits from the Center on Philanthropy at Indiana University. Derrick's publications include:
1)Finding Your Purpose in 15 Minutes,
2) Fundraising for Nonprofits
3) Starting Your Business from the Unemployment Line,
4) Jada Goes to Pre-School: A Book on Transitions,
5) P5: The Five Secrets to Successful Grant and Bid Proposals,
6) The 2 Laws of Standardized Testing, and
7) Inclusion:The Art of Story-Listening