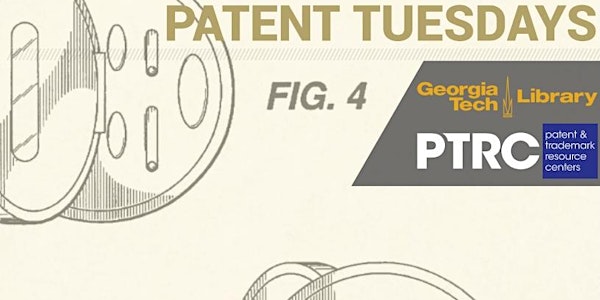 Tuesday Patent Class
When and where
Location
Georgia Tech Library Crosland Tower, Room 2130 266 4th Street Northwest Atlanta, GA 30313
Description
You have an invention and want protect it before talking to anyone about it. You have a business and want to make products without infringing other's patents. You are a student and want to know more about patents. Welcome to the class. A good patent search will help you identify prior art references that are critical to the patentability of your invention, or potential obstacles to the development of your products. In this hands-on class, you will learn the patent basics as well as patent search strategies through patent search examples. The class contains two parts (handouts included.):
Part One: Introduction to patents (including patentability requirements, identification of patent documents, patent classifications and patent search strategies)

Part Two: Patent search exercises (including classification search using USPTO's PatFT/AppFT, and EPO's Espacenet; Hybrid search using classifications and keywords)
Prerequisites: Preview the Basic patent training for independent investors and small businesses (40 min.) and the 7-Step patent search strategy (39 min.) videos by the USPTO before coming to class.
These classes, offered by the Georgia Tech Patent and Trademark Resource Center (PTRC), Georgia Tech Library, are open to everyone on the Georgia Tech campus as well as in the public. All are welcome. For more information, please email: patentscoordinator@library.gatech.edu
Location of Classes:
Georgia Tech Library
Crosland Tower, Room 2130
266 4th Street NW, Atlanta, GA 30332
Directions & Parking Information
Visitors, please use one of the visitor parking lots on campus. The closest parking spaces are in Visitor Area 2 or Area 3 near the Student Center (350 Ferst Dr. NW, Atlanta, GA 30313). More questions about directions? Call the library services desk at 404-894-4500.
If someone drops you off, please use this address for easy access to the Crosland Tower building: 221 Bobby Dodd Way NW, Atlanta, GA 30332.
Atlanta, GA 30332