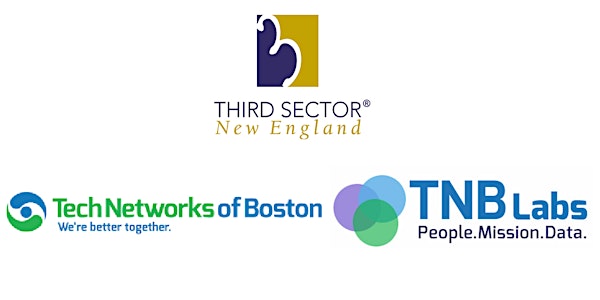 TSNE, TNB, and TNB Labs Super Roundtable: Hands-On Approaches to Data Story...
Location
Boston NonProfit Center
89 South Street
Boston, MA 02111
Sales Have Ended
Registrations are closed
Thank you for your interest this Super Roundtable session! We are sorry to inform you that this Roundtable session is currently booked to capacity. We strongly urge you to add yourself to the waiting list; we have a very good track record of finding seats for nonprofit professionals on the waiting list.
Description
Dear Colleagues and Friends,

Third Sector New England (TSNE), Tech Networks of Boston (TNB), and TNB Labs (TNBL) are pleased to invite nonprofit professionals to our inaugural Super Roundtable, which will have an extended format and bring back Rahul Bhargava as the featured guest, in response to popular demand. The setting will be the Jonathan Spack Conference Center at the Boston NonProfit Center, and the topic will be hands-on approaches to data storytelling.

The doors will open at 8:00 am, and a complimentary breakfast will be served. This will give all participants an opportunity for professional networking before the program begins.

Here's what Rahul says about this session:

"You're hearing about data-driven storytelling everywhere. But how do you do it? How do you tell stories with data in creative ways to achieve some goals with the audiences you are speaking to? This session will introduce hands-on approaches to moving from data, to story, to a presentation of that story that convinces people. This is hard work, but we'll make it fun with a variety of hands-on approaches. Bring your background, your brain, your wisdom, and your creativity; together we'll improve our ability to tell compelling stories with data to drive change on the issues you care about."

The portion of this event that Rahul is leading will include a number of small group activities. Here's what you'll do:


Build a language for criticism of data-driven stories


Gain familiarity with a set of techniques for presenting data-driven stories


Practice picking appropriate stories and techniques based on audience and goals



Learn through experience how to have fun while working with data

Here's a little more about Rahul:

Rahul Bhargava is a researcher and technologist specializing in civic technology and data literacy. He creates interactive websites used by hundreds of thousands, playful educational experiences across the globe, and award-winning visualizations for museum settings. As a Research Scientist at the MIT Center for Civic Media, Rahul leads technical development on projects ranging from interfaces for quantitative news analysis, to platforms for crowd-sourced sensing. He has a special interest in how new technologies are introduced to people in settings focused on learning. Rahul is a drummer and father based in Somerville, MA.

Please note:

1) This will be a professional development opportunity for nonprofit professionals who want to learn with and from their peers in other organizations.

2) This session is for employees of nonprofit organizations. It is not designed to meet the needs of vendors, volunteers, students, consultants, job-seekers, and others.

3) Priority in registration will be given to those who are employed by nonprofit organizations that hold full membership in the Massachusetts Nonprofit Network.

4) Participation in this session is free of charge for nonprofit professionals. However, you must have a confirmed reservation in order to attend.

5) If this session is booked to capacity by the time you seek to register for it, please go ahead and put yourself on the waiting list. We have a good track record of finding seats for nonprofit professionals on the waiting list.

We hope that you can join us for a vigorous and informative conversation, in which you will be welcome to share your knowledge and experience with your peers.

Best regards from Deborah
Deborah Elizabeth Finn
Chief Strategic Officer
TNB Labs, LLC
P.O. Box 2073
Framingham, MA 01703

617-504-8188
definn@tnblabs.org
www.tnblabs.org
Follow us on Twitter and Facebook!