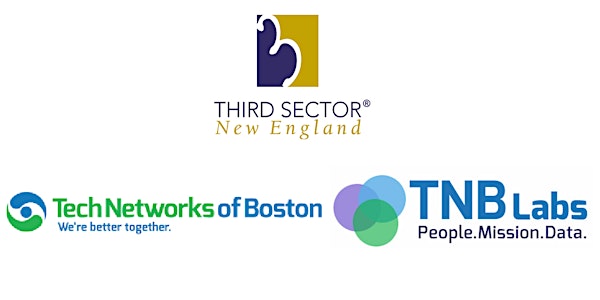 TSNE, TNB, and TNB Labs Super Roundtable: From Data to Decisions at Your No...
Location
Boston NonProfit Center
89 South Street
Boston, MA 02111
Sales Have Ended
Registrations are closed
Thank you for your interest this Super Roundtable session! We are sorry to inform you that this Roundtable session is currently booked to capacity. We strongly urge you to add yourself to the waiting list; we have a very good track record of finding seats for nonprofit professionals on the waiting list.
Description
Dear Colleagues and Friends,

Third Sector New England (TSNE), Tech Networks of Boston (TNB), and TNB Labs (TNBL) are pleased to invite nonprofit professionals to a Super Roundtable, which will have an extended format and bring back Michael Johnson of UMass-Boston as the featured guest, in response to popular demand. The setting will be the at the Boston NonProfit Center, and the topic will be moving from data to decisions at your nonprofit organization.

The doors will open at 8:00 am, and a complimentary breakfast will be served. This will give all participants ample opportunity for informal professional networking before the program begins.

Here's what Michael says about this session:

"In recent years, discussions about 'data analytics,' 'big data' and 'performance management' have tended to focus on organizations' needs to collect, store, analyze, and make productive use of mostly-quantitative data to ensure that their activities are best-aligned with their missions. Without minimizing the importance of training, software and hardware selection, and organization design, there is also a need for organizations to make the best decisions they can using all data that are available – including qualitative data that may be hard to capture in information systems.

"The goal of this Super Roundtable is to enable organizations to improve their decision-making ability. The focus will be on decision-making that is inspired by real world problems, readily available data, evidence of program characteristics and impact, and inspired by standard, commonly-taught decision models. Decision problems can address long-term, strategic concerns, as well as shorter-term tactical (occasional) and operational (frequent) concerns.

"There are many decision problems that nonprofit organizations routinely solve. This involves asking what problem our organization really wants to solve. For example, which one of multiple long-term programmatic initiatives is likely to best balance multiple organization goals and objectives? Or, in the shorter-term: If we plan to move our office, which candidate facility location should we choose? What local economic development investments will provide the best support for our community's businesses? Which particular blighted properties in our neighborhood should we attempt to acquire for redevelopment?

"Skilled and experienced professional staff make decisions every day that benefit their organizations and the communities they serve. However, it can be difficult to know whether a particular decision is the 'best' one, and how the impact of various decision alternatives can be measured. It is also challenging to include local stakeholders in decision processes that affect them. The field of decision science, also known as 'decision analytics' or 'management science' or 'policy analysis', can help individuals and organizations, whether trained in quantitative methods or planning or policy science or not, to define decision alternatives and metrics, choose a most-preferred course of action, and analyze the impacts of a decision choice.

"In this Super Roundtable session, we will explore how nonprofits can make better decisions that strengthen their organizations and the communities they serve. We will provide examples of decision analytics that reflect the experiences of nonprofits, and organize an extensive hands-on session in community-focused decision-making. This will be a limited-tech (but tech-friendly) event – most of the hands-on work will require only pencil and paper, as well as enthusiasm and creativity. We hope you will leave this event with new insights and skills in empirical, evidence-based decision modeling."

Here's a bit more about Michael:

Michael Johnson is an associate professor in the Department of Public Policy and Public Affairs, University of Massachusetts-Boston. Michael's research focuses on community-engaged data analytics and decision science for government and nonprofit organizations. His application-area interests include housing and community development, service provision, and facility location. Michael's current work addresses identification of metrics for economic development success for community-based organizations and community-focused decision support for declining regions and blighted neighborhoods. His teaching experience includes quantitative methods, geographic information systems, and urban housing policy.

Michael received a B.S. in mathematics and French from Morehouse College, master's degrees from Georgia Institute of Technology and University of California Berkeley, and a Ph.D. in operations research from Northwestern University. He is a member of the board of directors of the Institute for Operations Research and the Management Sciences (INFORMS), and serves as co-director of the Boston node of the Urban Research-Based Action Network (URBAN.Boston) and president of the Boston chapter of the National Forum for Black Public Administrators (NFBPA-Boston). He lives in Boston with his wife and two sons.

Please note:

1) This will be a professional development opportunity for nonprofit professionals who want to learn with and from their peers in other organizations.

2) This session is for employees of nonprofit organizations. It is not designed to meet the needs of vendors, volunteers, students, consultants, job-seekers, and others.

3) Priority in registration will be given to those who are employed by nonprofit organizations that hold full membership in the Massachusetts Nonprofit Network.

4) Participation in this session is free of charge for nonprofit professionals. However, you must have a confirmed reservation in order to attend.

5) If this session is booked to capacity by the time you seek to register for it, please go ahead and put yourself on the waiting list. We have a good track record of finding seats for nonprofit professionals on the waiting list.

We hope that you can join us for a vigorous and informative conversation, in which you will be welcome to share your knowledge and experience with your peers.

Best regards from Deborah


Deborah Elizabeth Finn | Senior Strategist
Tech Networks of Boston
1 Wadleigh Place | South Boston, MA 02127
Phone: 617.504.8188 | Fax: 888.527.9333
deborah@techboston.com | techboston.com
We are a Certified B Corp! | Visit our Boston Techie Blog
Follow us on Facebook, Twitter, and LinkedIn!