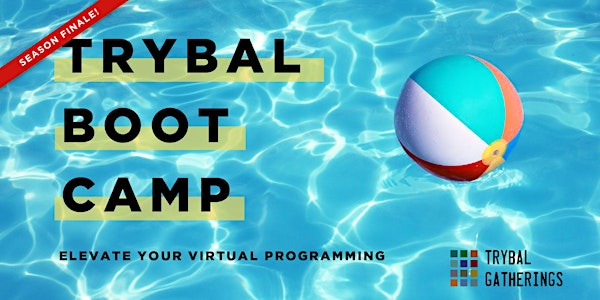 Trybal Boot Camp | Session 4
Join an experiential, camp-style gathering that trains you to harness critical skills in virtual facilitation and remote experience design.
About this event
LIMITED SPOTS AVAILABLE!
Camp isn't a place, it's a philosophy. To camplify your programming means to bring the magic of connection, relationships, and meaning to the user experience…no matter the sector, demographic, or season! Trybal Boot Camp is for anyone looking to spice up their virtual game. You don't need to be a camp professional to be a masterful online facilitator. But it is essential to know the latest Zoom tricks, fresh facilitation techniques, and how to build culture within the confines of a screen...and beyond.
Rank your top elective choices in the registration form. Electives will be assigned first-come, first-serve!
Learn more: https://www.daycampbootcamp.com
TICKET INFORMATION
After reserving your spot, you will receive an order confirmation email from Eventbrite, Trybal's ticketing partner
Enrollment is subject to availability without notice.
Keep an eye out for Pre-Boot Camp emails confirming your elective choices
NEED HELP?
Email: hello@trybalgatherings.com
Phone: 202.536.2929