About this Event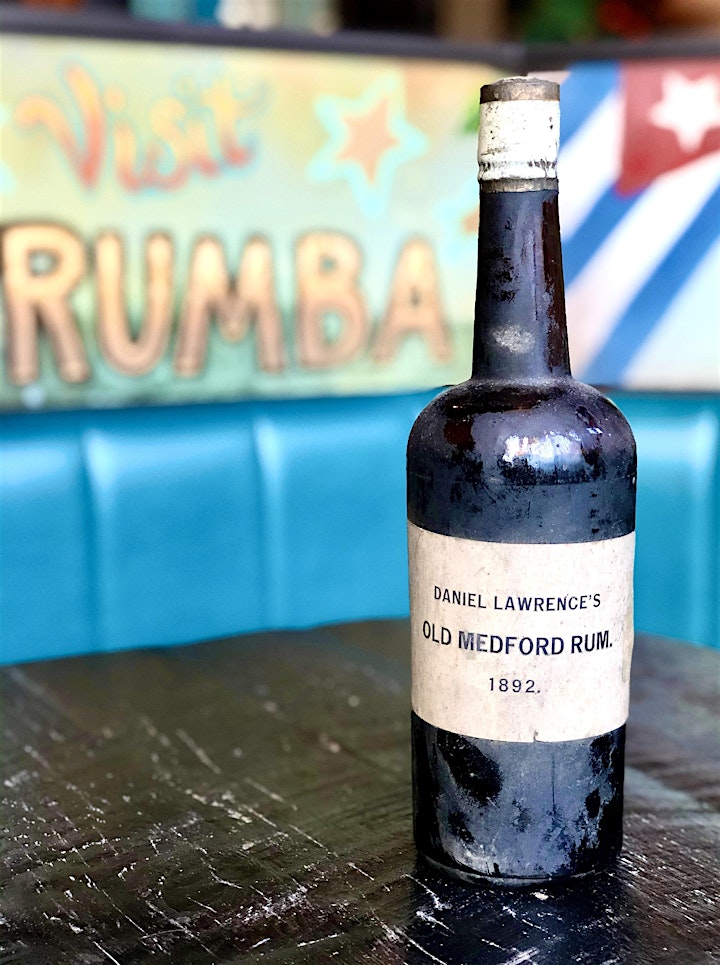 Recently a close friend of the owner came to us with an incredible bottle of Daniel Lawrence's Old Medford Rum dating back to 1892. It was in his mother's wine cellar and had been a gift to his father in the 1960's. After doing some research, we found out some cool info on the bottle:
The Daniel Lawrence Distillery once prospered. Its high regard resulted in Daniel Lawrence rum selling at twice the price of other New England rums and fifty percent more than other Medford rums. Medford once supported four rum distilleries, the first dating to 1715; by 1830 it was down to just one, the Daniel Lawrence Distillery.
(http://www.medfordhistorical.org/medford-history/about-medford/medford-rum/ https://www.nationalgeographic.com/culture/food/the-plate/2015/04/10/rum-the-spirit-that-fueled-a-revolution/ )
We couldn't keep this rich piece of rum history to ourselves, so we are hosting a curated release experience that is worthy of such a remarkable find!
Join us for:
- A three quarter ounce pour of Daniel Lawrence's Old Medford Rum 1892. We have had this bottle's authenticity verified by David Wondrich, one of the premier authorities on cocktail and spirits history.
- A celebratory welcome punch with Privateer rum, inspired by the classic original 1888 Medford Rum Punch
- Speaker, Maggie Campbell: President and Distiller at Privateer Rum. We have flown Maggie in from Ipswich, MA to Seattle specifically to speak at this event. We believe she is picking up where historical Old Medford Rum left off, with high quality and masterfully distilled rum.
- A flight of Privateer Rums; widely regarded as some of the best rum in the world. Wayne Curtis, author of And A Bottle of Rum has this to say, "Perhaps the most impressive new craft rum I've come across in recent years is Privateer Rum, distilled in Ipswich, Massachusetts." Paul Pacult, renowned spirits expert states, "…flavor and quality heights rarely seen in domestic rums and only a handful of Caribbean region rums as it all comes down to perfect balance between alcohol, acidity, wood usage, and flawless distillation… Superstar master distiller Maggie Campbell now has established a new standard…"
- Three courses of New England inspired food created by our chef, Alan Bochi
This is truly a once in a lifetime Rum experience! Who can say they have tried a 128 year old bottle of one of America's historically greatest rums! Not to mention an opportunity to hang out with some of the most knowledgeable rum experts! An evening not to be soon forgotten.