Description
This is a beginner level, crash course in Front-End Engineering. Front-End Software Developers focus on the user experience and visual interface of a website or application. You'll get a glimpse into what a Front-End Software Developer does and learn how you can turn coding into a career.
You should be comfortable with navigating the basic operations of a computer; such as copying and pasting text, navigating the internet through a browser and typing.
Schedule:
Friday, February 21: 10:00am - 4:30pm

During lunch, there will be a Turing School info Q&A session with alumni, current students and staff. Bring your questions!
Additional information on workshop location, parking and logistics are located at the bottom of this page. Lunch is included with your ticket purchase.


What You Will Learn?
Front-End Engineering
You'll learn the basics of front-end engineering. We'll cover HTML, CSS, and JavaScript. We'll cover how to create, style, and add interactivity to web pages.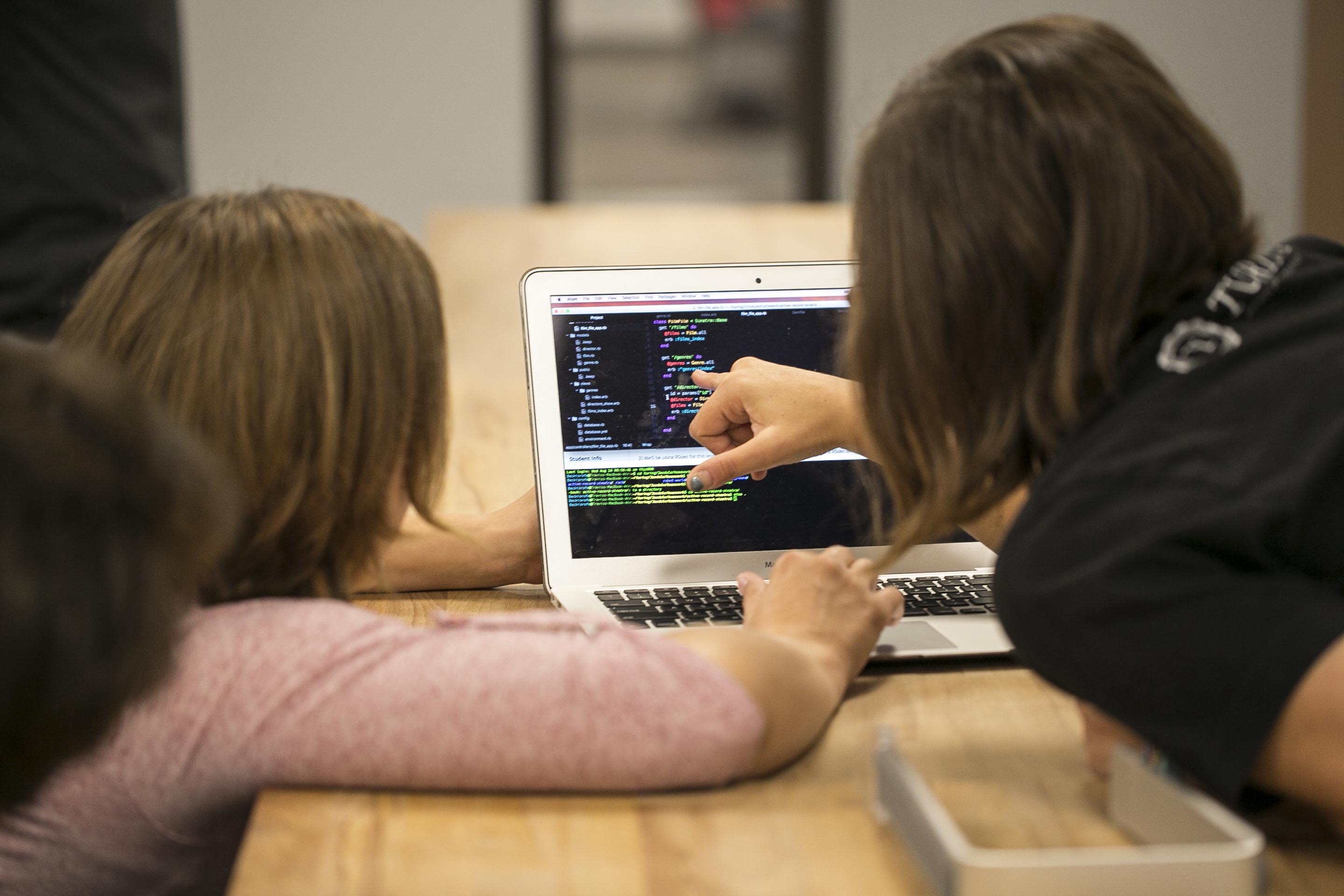 Why You, Why Now?
Because you have absolutely nothing to lose! If you've ever thought about it - try it. Don't waste another day, come explore with us.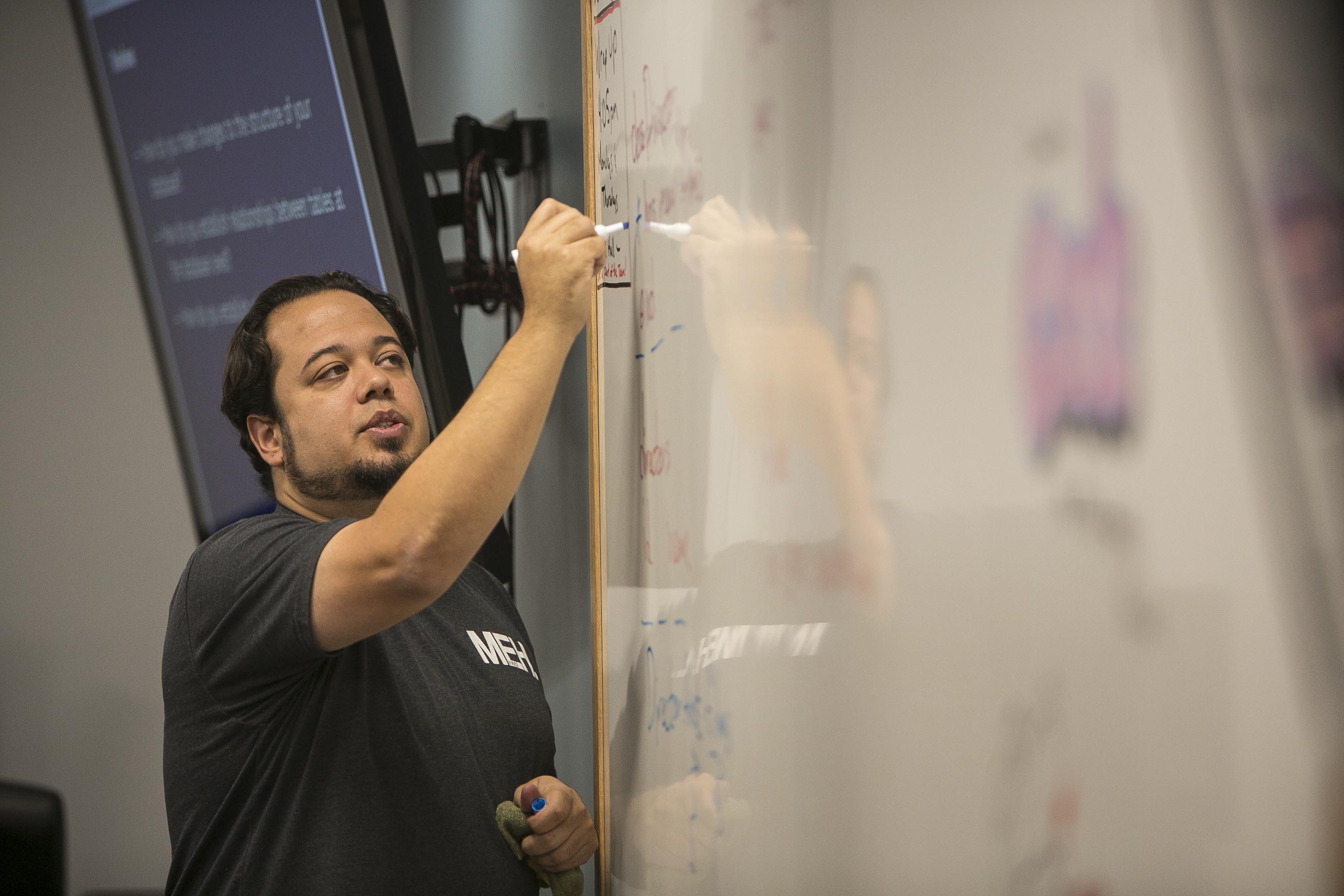 Follow-Ups
​If you attend the workshop and decide to apply to Turing School, you'll receive $500 off the cost of your tuition if you're accepted.




FAQ
Don't see the answer you need below? Questions? Email Anna Kummerlowe at anna@turing.io
1. Do I need to bring a computer?
You will need a computer for this class. It does not matter what the operating system is as long as you are able to access the internet through a browser. However, if you do not have one, a limited number of loaner computers are available for the class. Email Ramiro at ramiro@turing.io if you need to reserve a loaner.
2. Where do I park?
The attached garage to Turing is $20.00 on week days. We recommend checking out the websites spothero.com and parkingpanda.com to reserve a spot at a cheaper rate. Metered parking is not a reliable option as you would need to move your car every 2 hours to avoid a ticket. We are also located in downtown Denver along several RTD bus routes and a 5 minute walk from Union Station.
3. Where is this workshop located?

This event will be held at our school in the Guaranty Bank building on 17th & Market. Once you arrive, take the elevator up to the 3rd floor conference room. There, someone will be waiting to help you register for the workshop. During lunch, you will get a chance to see our school, which is located in the lower level of the building.
4. Is the space accessible?
Yes, we have an elevator to our space and all classrooms are accessible.
5. I want to attend but I can't afford it. Are there any scholarships available?
We are offering scholarships on a limited basis for students with financial need. Please contact anna@turing.io for more information.
6. When should I arrive?
Please arrive by 9:50 to register and get settled.
7. Are kids welcome?
Generally individuals aged 17+ can keep up with the class and are very much invited. Unfortunately the venue does not have enough space for child care, so younger ones will need to spend their day somewhere else.
8. I've already practiced some code as a hobby or through Codecademy - will I still benefit from this course?
This course is designed for people who are brand new to code and have never tried it before. That doesn't mean that those with some experience aren't welcome or will not benefit from it, but some parts may be a review.
9. What is the refund policy?
If for any reason you can't make it to the event, tickets are refundable up to 24 hours before. If the event has passed then we are happy to transfer your ticket to an upcoming Try Coding.
*Cancellation of events are dependent on a variety of factors including registrations, inclement weather and pressing needs that come up. If we do cancel your Try Coding workshop, you will be notified more than 24 hours in advance, credited back your registration payment and sent the schedule of other events.
10. What should I bring to the workshop?
Your computer, computer charger and a water bottle. Coffee and lunch are included with your ticket purchase!
About Turing School of Software & Design:
Since 2014, the Turing School of Software & Design has offered top-quality training for people who want to become professional software developers and designers. With an immersive and supportive program Turing aims to unlock human potential through building an inclusive community to help us realize our vision of a world powered by technology where the people building it represent the people using it.