About this Event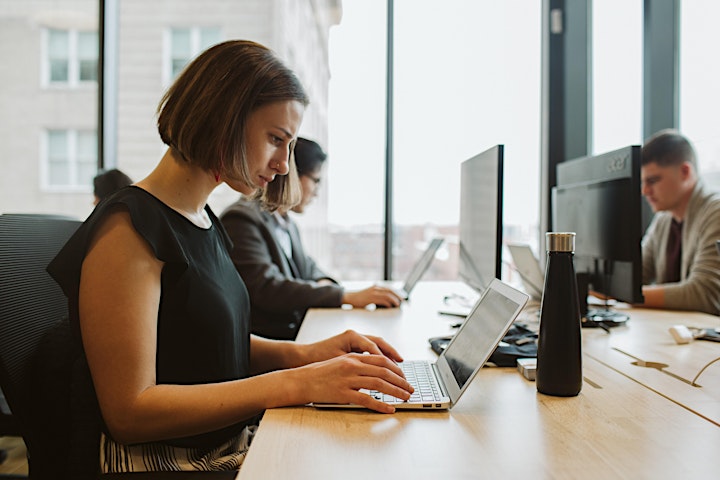 Presented by Project Shift Software Engineering Fellowship, this is a full day, beginner level, crash course in Front-End Engineering. Front-End Software Developers focus on the user experience and visual interface of a website or application. You'll get a glimpse into what a Front-End Software Developer does and learn how you can turn coding into a career.
Schedule:
Saturday, February 8: 10:00am - 4:30pm
Additional information on workshop location, parking and logistics are located at the bottom of this page. Lunch is included with this ticket price.
What You Will Learn?
Front-End Engineering
You'll learn the basics of front-end engineering. We'll cover HTML, CSS, and JavaScript. We'll cover how to create, style, and add interactivity to web pages.
Is this for me?
Because you don't need a special degree to become a software engineer, everyone has the potential to do it, but it's only going to work for those who enjoy it. So come give it a shot and see if you like coding. You have nothing to lost.
Follow-Ups
​If you attend the workshop and decide to apply to Project Shift, you'll receive $500 off the cost of your tuition if you're accepted.
FAQ
Don't see the answer you need below? Questions? Email Aaron Hayslip at aaron@projectshift.io
1. Do I need to bring a computer?
You will need a computer for this class. It does not matter what the operating system is as long as you are able to access the internet through a browser.
2. Where do I park?
There is plenty of garage parking downtown. Here is map of the garages and walking path to Project Shift: http://bit.ly/parking-ltcrdu. On the weekends, many of the garages are free.
3. Where is this workshop located?
At WeWork, in the One City Center (the tallest building in downtown Durham). Enter the front doors of the One City Center off Corcoran St. and take the elevator to the 4th floor. We'll meet you there!
4. Is the space accessible?
Yes, we have an elevator to our space and all rooms are accessible.
5. When should I arrive?
Please arrive by 9:50 to register and get settled.
6. Are kids welcome?
Generally individuals aged 18+ can keep up with the class and are very much invited. Unfortunately the venue does not have enough space for child care, so younger ones will need to spend their day somewhere else.
7. I've already practiced some code as a hobby or through Codecademy - will I still benefit from this course?
This course is designed for people who are brand new to code and have never tried it before. That doesn't mean that those with some experience aren't welcome or will not benefit from it, but some parts may be a review.
9. What is the refund policy?
If for any reason you can't make it to the event, tickets are refundable up to 24 hours before.
*Cancellation of events are dependent on a variety of factors including registrations, inclement weather and pressing needs that come up. If we do cancel your Try Coding workshop, you will be notified more than 24 hours in advance, credited back your registration payment and sent the schedule of other events.
About Project Shift Software Engineering Fellowship:
Project Shift was birthed out of a passion to create a student-first, transparent alternative to the Computer Science degree. With an immersive software engineering program and robust career services, Project Shift aims to help RDU build a top-notch, inclusive tech community.
To learn more, visit projectshft.io