Description
Teachers Make Great Developers!
Whether you're interested in changing your career or gaining skills to help your students navigate the 21st century, coding is great to add to your teacher toolkit. You already have the critical thinking foundation, the capacity to learn things quickly, and the ability to do 50 things at once for 8 hours a day - you're well on your way to becoming a software developer!
The Turing School of Software & Design has scheduled a one day workshop for educators across the Denver Metro Area (scheduled over DPS Fall break) to learn and apply programming skills. There's no risk, and we promise it will be worthwhile!
Turing has had 60 plus students and alumni in our program who were former teachers and are now either working in or on their journey to the software developer world. One shares her story here.
We also know first-hand that educators need more technology in the classroom. We realize the tremendous value of educators crossing over into the technology field, helping to develop and construct solutions to problems they often see themselves.
Me? Seriously?
Don't let the field itself intimate you. The myth is that every programmer starts hacking away in a basement at the age of 6. The reality is that many programmers come from backgrounds like education, music, history, and the military. Our mission is to equip great people with the skills to succeed in programming careers.
To find out for real you need to get your hands dirty. Join Turing School for a teacher-focused workshop where you'll start writing code and working through the development process.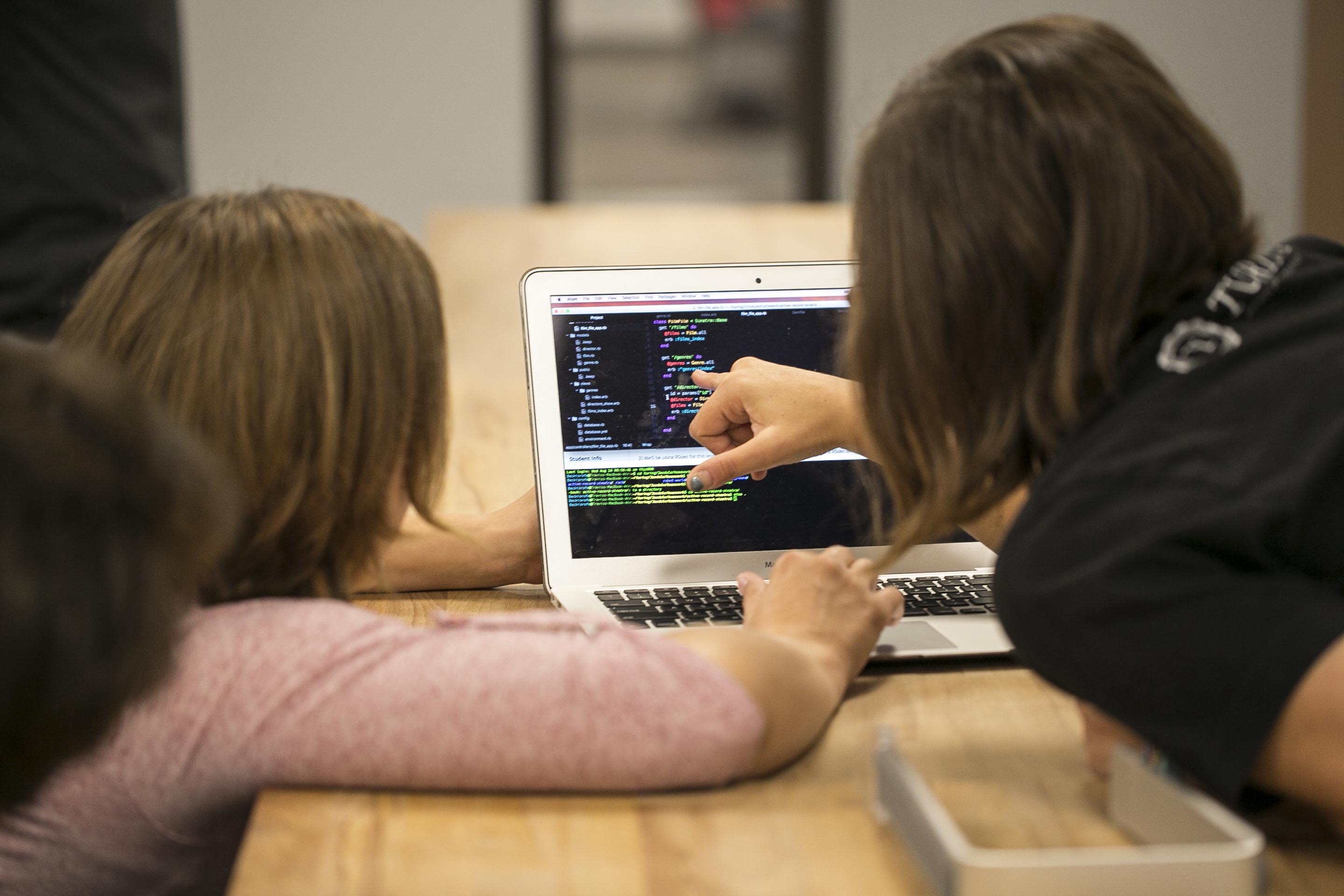 In this Try Coding workshop we're starting with the fundamentals. No previous experience or knowledge about programming is needed.
What Will I Learn in One Day?
At Turing we offer two different programs of study and we typically run these workshops in the same way: splitting between back-end and front-end.
Think about loading the Amazon.com web page: the front-end engineers wrote the code to present products, built the interface for adding things to your cart, and make the page load quickly in your browser. The back-end engineers wrote the code to figure out which products to recommend, to charge your credit card, and to send the confirmation emails after a purchase.
In this workshop, you'll get an overview of both Front and Back End development, tailored just for teachers. We'll use JavaScript with HTML to build a piece of ed tech you can use in your classroom.
On Turing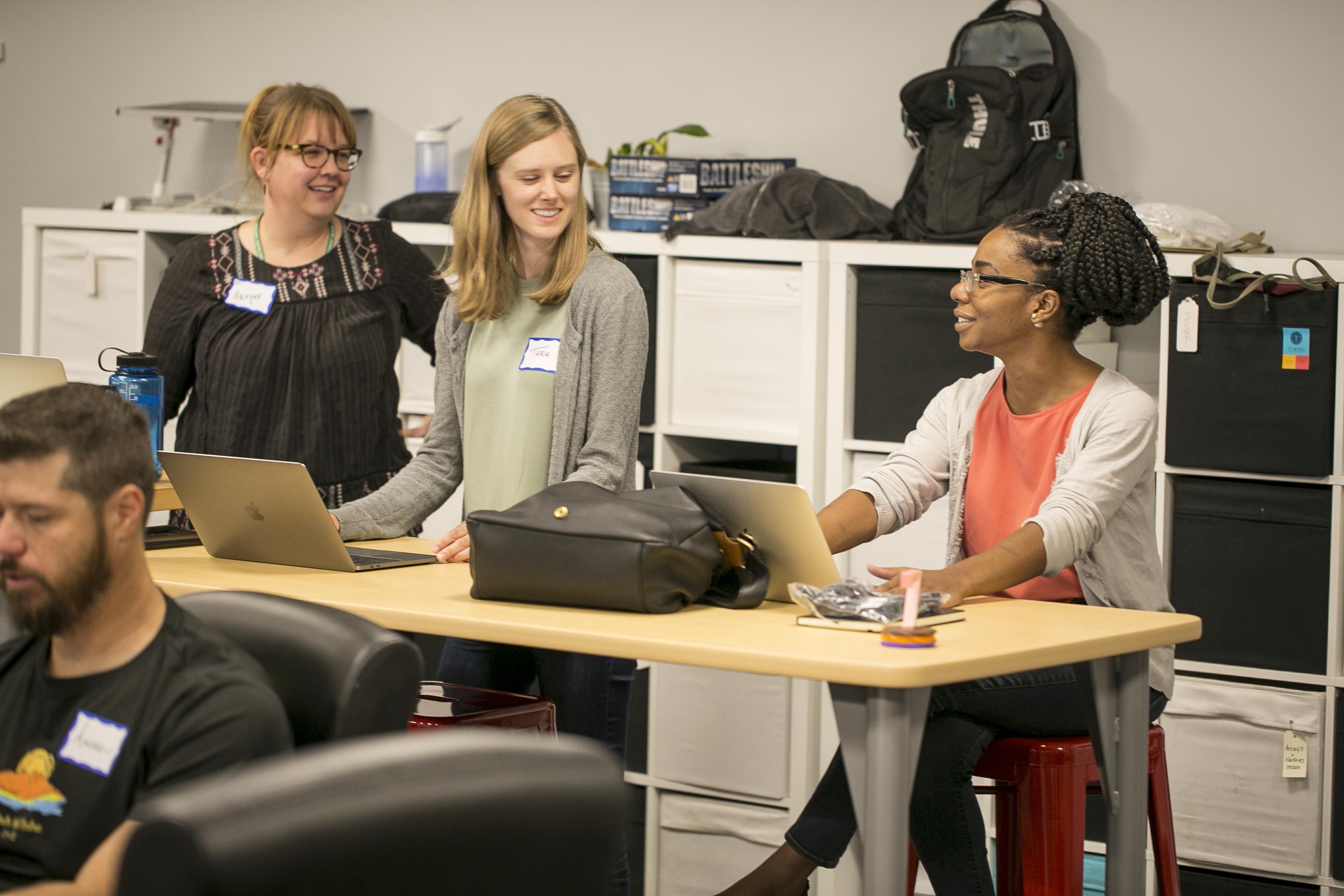 Turing is a growing, thriving community helping each other become more than what we thought possible. Turing instructors blend a deep knowledge of education pedagogy and classroom experience with expertise in software development. During this workshop, you will learn more about our institution - our values and learning approach. We hope you might consider continuing your learning journey with us.

Nuts & Bolts
Doors will open at 9:30 and we'll have coffee on-hand

We'll talk and work until about 12 when we break for a catered lunch

After lunch we'll talk and work until 3:45

At 3:45 we'll talk about next steps to keep learning and look at how to become a student at Turing

At 4pm we'll be done and available for 1-on-1 questions

At 4:30 doors close
Follow-Ups
​If you attend the workshop and decide to apply to Turing School, you'll receive $500 off the cost of your tuition if you're accepted.
FAQ
Don't see the answer you need below? Questions? Contact Erin Williams at erin@turing.io
1. Do I need to bring a computer?
You will need a computer for this class. It does not matter what the operating system is as long as you are able to access the internet through a browser. However, if you do not have one, a limited number of loaner computers are available for the class. Contact ramiro@turing.io if you need to reserve a loaner.
2. Where do I park?
The attached garage to the building is $17 on Mondays, and we are a 10 minute walk from Union Station.
3. Is the space accessible?
Yes, we have an elevator to our space and all classrooms are accessible.
4. I want to attend but I can't afford it. Are there any scholarships available?
We are offering scholarships on a limited basis for students with financial need. Please contact erin@turing.io for more information.
5. When should I arrive for the Try Coding event?
Please arrive by 9:45 on Monday morning to register and get settled.
7. Are kids welcome?

Generally people high-school age or older can keep up with the class and are very much invited. Unfortunately the venue does not have enough space for child care, so younger ones will need to spend their day somewhere else.