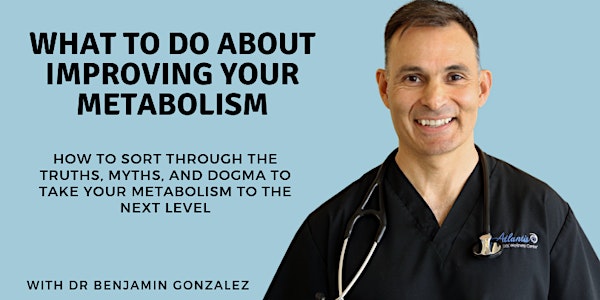 Truths, Myths, and Dogma: What to do about improving your metabolism
Location
Dawson's Market
225 North Washington Street
Rockville, MD 20850
Description
You may already understand the many metabolic factors that lead to weight gain. It's one thing to know what they are in theory, but it's a whole other issue to recognize your own micronutrient deficiencies and apply that knowledge practically in your own life. This workshop will help you identify and sort through all the myths, dogma, and controversy surrounding how your metabolism functions, whether your need micronutrient supplementation, and how to take your next steps forward in helping your metabolism function in the most optimal way.

"Dr. G" is undoubtedly one of the leading and most cutting edge functional medicine practitioners in the United States (see full bio below). Absolutely do not miss this opportunity to come ask your burning questions and learn from a true expert.

***************************************************************************
Benjamin Gonzalez, MD is Founder and Medical Director of Atlantis Medical Wellness Center (https://atlantismedcenter.com/). He is an Integrative and Functional Health Provider professionally born out of the necessity to optimize patient care. He has been on the leading edge of medicine since graduating from the University of Arizona College of Medicine. He is board certified physician in Emergency Medicine and 2017 Board Eligible in Obesity Medicine with a background in Molecular Genetics and Medical Nutrition.

Dr. Gonzalez is renowned for his expertise in Clinical Nutrition with a focus on Exercise Nutrition and Weight/Metabolism Management and is trained in the advanced techniques of Hormone Replacement Therapy, Aesthetic and Age Management, Integrative, and Functional Medicine. He has multiple certifications in advanced laser surgery, laser assisted and ultrasound-assisted liposuction and is a Member of the American Society for Laser Medicine and Surgery, Sexual Medicine Society of North America, and the International Society for Sexual Medicine. He has been teaching these subject to other practitioners for over 15 years.

Dr. Gonzalez developed the Boston 2017 Metabolism and Obesity Medicine Symposium Curriculum and has written the definitive white paper on the evolution of the obesity crisis in the U.S. His book "The Athena Factor" discussion women's health in our current U.S. health care system is due to release in the Fall of 2019.

Dr. Gonzalez spent 15 years as an Emergency Medicine staff physician at Walter Reed Army Medical Center and Associate Professor at Hershey Penn State Medical Center teaching his craft to other physicians. His love for helping others led him to serve 24 years active military service, including a year-long tour in Iraq as Chief of the busiest trauma center during the beginning of Operation Iraqi Freedom. He has earned multiple awards including The Bronze Star and Teacher of the Year at Penn State Hershey Medical Center.

Dr. Gonzalez continues to teach other physicians on the subjects of Emergency and Trauma Care, Functional Medicine, Nutrition Care from the Physician's Perspective, Laser Surgery Techniques, Weight Management, and The Truths and Myths of Diets and Supplements, Medicine and Nutrition in Diet, and advanced Hormone Replacement Evaluation and Therapy. Dr. Gonzalez believes in the overall integrative and functional approach to maintaining your health that includes proper nutrition, exercise, and well-being.

Dr. Gonzalez is a private pilot, concert violinist, and practices what he preaches by participating in triathlons, foot races, Kettlebell Competitions and holds 1st Degree Black Belts in Karate and Tae Kwon Do and 2nd Degree Black Belt in Kung Fu. His caring and gentle treatment has earned him a reputation as a physician who truly cares about his patients' overall health.
*******************************************************************************
This event is hosted by Rachel Raba, organizer of the Meetup group Natural Living for Busy Professionals. Know you should be taking better care of yourself (or your family), but feel like you're too busy/overwhelmed/stressed to figure out how to do it? Or daunted at the thought of trying to fit in anything new?
Looking for a vibrant, supportive community to walk with you on your wellness journey? This group is for those who want to learn more about or dive deeper into natural health and wellness. We share simple tips and strategies that you can take home and incorporate immediately. And we learn from some of the best natural health and wellness practitioners in the DC metro area.

Topics for upcoming group meetings:

natural stress reduction & management

mindfulness and meditation

natural illness prevention & response

nutrition

meal planning & prepping

essential oils/aromatherapy

DIY cleaning and personal care products

natural skincare

herbalism/using herbs for wellness

urban or small space gardening

energy work

functional medicine

sprouting/soaking nuts & seeds

getting more fit

yoga
We truly hope you will come and create your healthier life with us! Because we are too busy not to be healthy! Click here to check out our upcoming events!