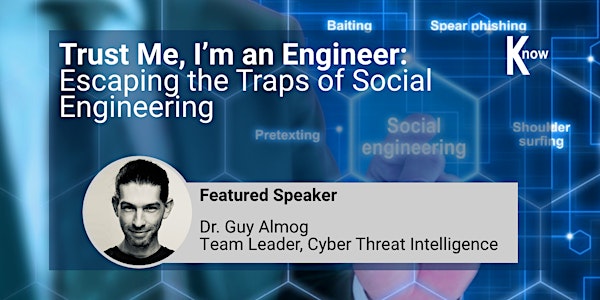 Trust Me, I'm an Engineer: Escaping the Traps of Social Engineering
Trust Me, I'm an Engineer: Escaping the Traps of Social Engineering
When and where
Date and time
Tuesday, January 31 · 9 - 10am PST
About this event
Social engineering is one of the most primitive, yet effectively dangerous tools in the threat actor's toolkit.
In this webcast, we'll examine several common "methods" of social engineering, as well as the best practices to protect individuals and organizations from such attacks.
Key topics include:
Social engineering
Information security
Multi-factor authentication
Phishing
Social media scams
Partner Speaker:
Dr. Guy Almog
Team Leader, Cyber Threat Intelligence
Cyberint
Click here to learn more.
About the organizer
The Knowledge Group provides a series of live webcasts which examine trends, regulatory, and technology changes across a variety of industries. Its mission is to produce unbiased, objective, and educational live webcasts that examine industry trends and regulatory changes from different perspectives. The goal is to deliver a unique multilevel analysis of an important issue affecting business in a highly-focused format.