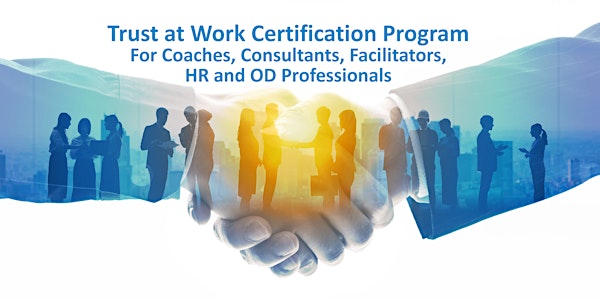 Trust at Work® Certification Program Fall 2022
Building trust is a competency that can be learned, improved and practiced. Strong trust amplifies the value of everything else you do.
Refund Policy
Contact the organizer to request a refund.
Eventbrite's fee is nonrefundable.
About this event
Fall 2022 Program Dates
Program Starting Winter 2022
Module I - Five Sessions: Oct. 4, 11, 18, 25, and Nov. 1, 2022
Module II - Two Sessions: Nov. 8 and Nov. 15
Course sessions are 1.5 hours long and begin at 9:00am PT / 12:00pm ET
Pricing (prices in USD)
Module I: Early registration price $675 until Sept. 19, 2022/ Full price $875
Module II: Early registration price $295 until Oct. 24, 2022/ Full price $395
Module I & II Combined: Early registration price $775 until Sept. 19, 2022/ Full price $1,075
Register for the course by purchasing a ticket for the Module(s) you would like to attend. To register for Module I only, select that ticket type. To register for Module II only, select that ticket type. If you want to register for both modules now you will save by selecting the ticket type Module I and II Combined.
About the Program
The Trust at Work® Certification Program is a virtual course delivered in real time on the Zoom platform. Participants will have opportunities to engage and interact with the course leaders and each other in a virtual conference room setting.
If you are a leader or you coach, consult to, facilitate for, train, or provide HR and OD services for leaders and teams this course is for you.
The program has two modules. You can register for either module separately or for both at once (and save) as best meets your needs.
In both modules sessions are conducted live using the Zoom virtual meeting platform. Sessions include teaching, exercises, role-play, demonstrations, and lively discussion among all participants. Graduates of the program have access to a library of exercises, slide presentations, and an extensive curated bibliography of articles, books and podcasts on trust.
Click here for more detailed information about the program content or to request a conversation with one of the course instructors.
Trust at Work Module I
Module I consists of five1.5-hour sessions delivered over five consecutive weeks. It is a deep dive into the art and practice of helping people build and sustain strong, lasting trust relationships in the workplace. It expands on the trust-building framework and process described in The Thin Book of Trust by Charles Feltman. In this module we cover self-trust, building trust between individuals, building trust for teams, and creating a culture of trust for extraordinary performance. Upon completing Module I you will be able to use the trust building framework to support individuals in building, maintaining and repairing strong trust at work; help teams increase innovation and productivity by increasing team trust; and design and deliver powerful workshops and trainings focused on trust-building. You will receive 7.5 ICF CEUs for Module I.
Trust at Work Module II
Module II consists of two 1.5 hour sessions delivered over two consecutive weeks. It focuses on administering, interpreting, debriefing, and working with results from the Triscendance Trust Assessment for Leaders and Teams co-developed by William Benner and Richard Hews. This team assessment is based on the trust framework covered in the Trust at Work module. If you work with teams and you believe your clients can benefit from increasing trust, this module will certify you in using this powerful trust assessment tool.
What Previous Participants Say About the Certification Program
This certification program was a valuable investment of my time and money. What I received in return outweighs the initial cost to participate, by a long shot. The materials, exercises, references, distinctions and support we were given demonstrate to the highest degree the care and incredible generosity of the program leaders. The learning and teaching we received was from a top-notch panel of experts that I trust deeply and fully. Not only did we explore trust at work, but we were able to explore trust in our personal lives as a foundation upon which to build a greater understanding and application of the distinctions for client teams and organizations. Thank you for creating such a powerful and valuable learning series!
Laura McCafferty, Inspired Coaching & Development
As a long-time fan of "The Thin Book of Trust" and having used this work with many of my clients in 1:1 coaching, facilitation and team-work, taking this course added a new layer of understanding. Charles, William and Richard are incredibly generous teachers and facilitators, sharing their wisdom, knowledge and experience and very quickly created a space of trust - where the participants could learn and grow together. The support from the three of them, interaction between sessions, and the resources provided are like no other course I've participated in. I'm deeply grateful and look forward to continuing to learn and grow with this community.
Ila Edgar, Founder, Big Change Inc.
The Trust at Work Certification Program is a presentation of Trust at Work®
Charles Feltman, author, The Thin Book of Trust: An Essential Primer for Building Trust at Work
William Benner, co-developer, Triscendance Trust Assessment for Leaders and Teams
Trust at Work® is dedicated to building trust for good.
FAQ
1. What are the session dates and times for the program?
The dates for Module I are Oct. 4, 11, 18, 25, and Nov. 1, 2022. Dates for Module II are Nov. 8 and 15, 2022. All dates are Tuesdays. All sessions start at 9:00am PT/12:00noon ET and last for 1.5 hours.
2. How will the sessions be conducted?
We use the Zoom virtual meeting platform. You will be able to log in to each session by clicking a link you will receive in an email invitation. The information can also be entered on most digital calendars as an appointment.
3. Do I have to install Zoom software on my device ahead of time?
No. Zoom is a web-based application that does not require you to install software on your device.
4. What kinds of devices can I use to attend the sessions?
Zoom supports a wide range of devices and operating systems. You can also dial in by phone. For a list of supported devices and operating systems click here.
5. What will the sessions be like?
The course's virtual sessions will be conducted very much like sessions in a physical space such as a hotel conference room. You will be able to interact with the session facilitator and other participants. You will learn from a combination of slides, live question and answer interactions, facilitated discussions with the whole participant group, and small group discussions in virtual breakout rooms.
6. Do I have to attend every session in order to be certified?
We consider the participation in the course sessions critical to learning this material. We also understand that life happens, so you can still earn certification if you miss up to two sessions in Module I. For Module II you will have to attend at least one of the sessions live.
7. What is the refund policy?
You can get a full refund if you cancel up to seven (7) days prior to the start of Session 1 of each module. If you have enrolled in both modules as a package you will be entitled to a full refund if you cancel seven (7) days prior to the start of Module I.