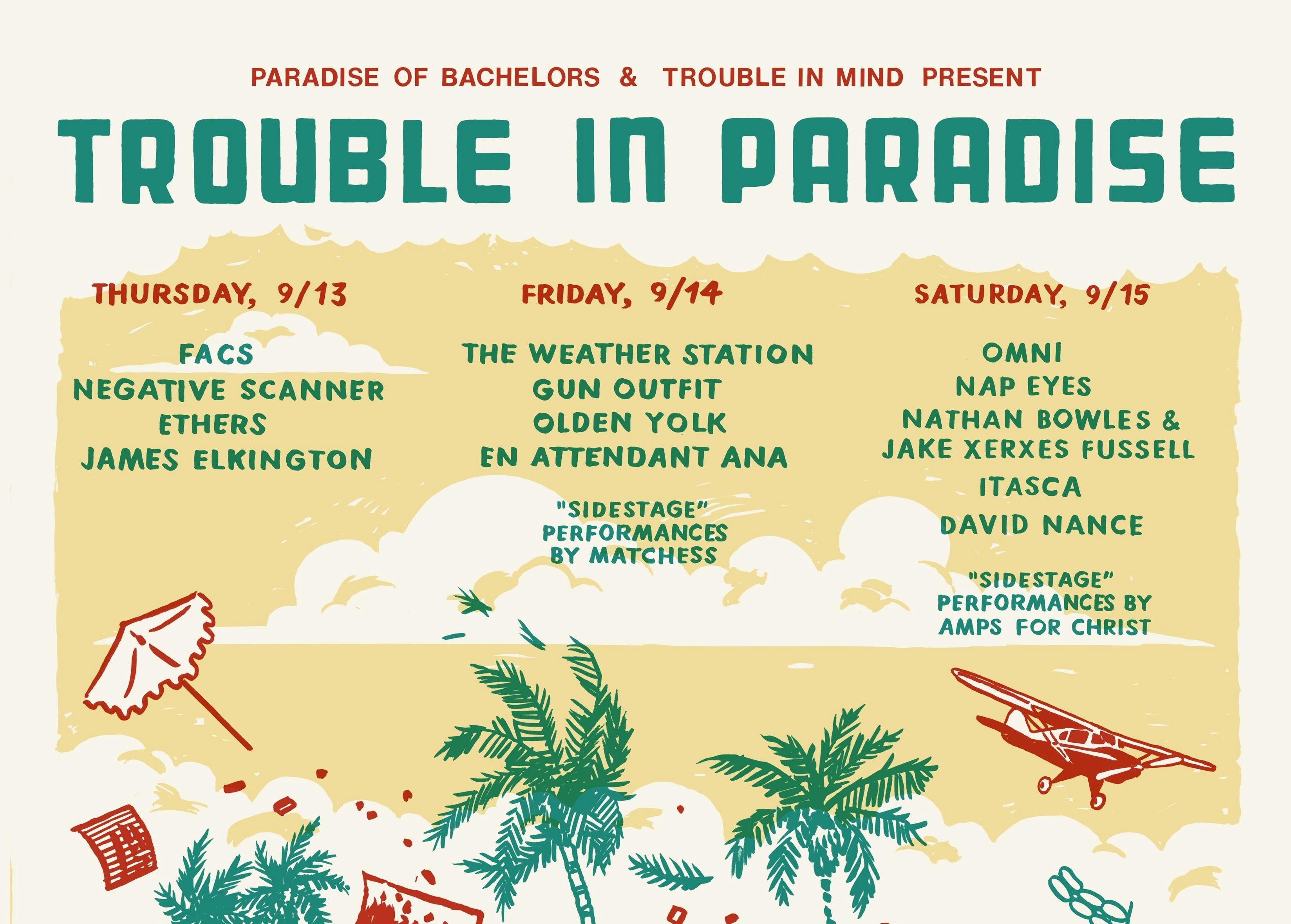 About this Event
$30 // 21+
-------------------
Get your hands on a 3 day pass to the most anticipated collaborative record label fest in the Midwest! Trouble In Paradise!
Trouble in Mind and Paradise of Bachelors, in cooperation with the venerable Chicago venue the Empty Bottle, are proud to present Trouble in Paradise, a three-day festival showcasing a simpatico sampling of both record labels' critically acclaimed and wide-ranging international rosters.
Over the course of several years trading records, intel, and jokes, Chicagoans Lisa and Bill Roe of Trouble in Mind and Brendan Greaves and Christopher Smith of Paradise of Bachelors (based in Chapel Hill, North Carolina) have developed an abiding appreciation for each others' curatorial aesthetic, ethics, and shared bemusement about the shit business of music. Together they got a wild hair to hatch a plan for a festival that felt more like a party. It was, above all else, an excuse to bring together many artists who have never before graced the same stage—and to call something Trouble in Paradise.
The lineup, which features an array of artists including The Weather Station, Omni, Nap Eyes, and FACS, among many others, explores the shared terrain between the respective realms of one label named for a classic blues song and another named for a Herman Melville story. Apparently that means a dedication to compelling songwriters, guitarists, and sounds spanning unhinged rock and roll, architectonic pop, and the frontier fringes of folk and country.
Special thanks to our festival partners, Tito's Handmade Vodka, Altos Tequila & 805 Beer for supporting TROUBLE IN PARADISE! We've whipped up a special menu just for the weekend -- don't get stranded without a drink in your hand!