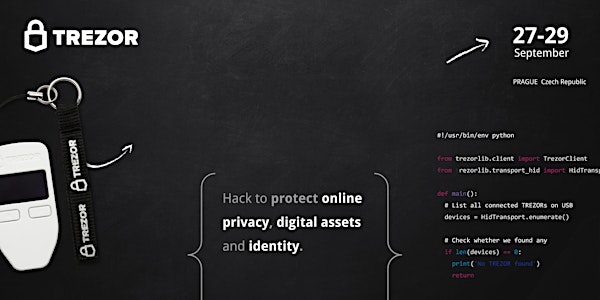 TREZOR 2 HACKATHON
When and where
Location
Paralelní Polis Dělnická 43 170 00 Prague Czechia
Description
Hack security and online privacy with La Crème de la crème of Bitcoin Cryptography and the new TREZOR wallet.
Put your hands on the prototypes of TREZOR 2 and its entirely new software stack.
For 50 hours straight, dive into new realms of online security and privacy. You will be guided and mentored by four of the most renowned security hackers and crypto experts - Andreas M. Antonopoulos, Johoe, Slush and Stick.
WHAT IS TREZOR?
TREZOR pioneered end-user Bitcoin security and established itself as the quality benchmark for hardware wallet security since its official launch in 2014. TREZOR is the most trusted and ubiquitous bitcoin hardware wallet in the world with customers in 100 countries. But TREZOR is much more than an ultimately secure bitcoin wallet!
Last year, TREZOR introduced the passwordless login to websites with an easy to integrate TREZOR Connect API. TREZOR may also be used for secure SSH login or admin access to Wordpress websites. Recently we have introduced TREZOR Password Manager, another security application for TREZOR.
TREZOR 2 IS COMING!
The next generation of TREZOR introduces new and exciting hardware features and a completely revamped software stack.
TREZOR 2 is a personal security device ideal for protecting digital money, smart assets, online privacy and great for encrypting documents, data or communication - all with a simple button click.
Our new software stack opens up some great opportunities for developers: with a basic knowledge of JavaScript or Python, you can create just about any application with TREZOR-level security or integrate TREZOR as a security component to your favorite service:
Protecting digital money with TREZOR: make websites and services managing bitcoin, ethereum, litecoin, DASH and other cryptocurrencies more secure.
Protecting digital identity: any websites dealing with private or sensitive user information will benefit from integrating TREZOR.
Protecting data: encrypt documents and communication with TREZOR with a simple button-press.

HACKING TOPICS
We'll be focusing our efforts on three main categories. Get inspired by the following topics or feel free to bring up your own project idea.
A) Hacking TREZOR
Explore possibilities of our new hardware

Security review and bug hunting
B) TREZOR Infrastructure
Login with TREZOR to websites (e.g. Drupal, Wordpress client side etc.)
Improve support for other cryptocurrencies such as Ethereum
Smart contracts and smart asset apps
Easy to use secure messaging / email with GPG
Encryption of file documents and / or entire disks
Login to Windows, Linux, Mac (e.g. PAM)
Improve TREZOR support for mobile apps
C) TREZOR Design
Introduce a great UX for TREZOR firmware, websites or apps
Create stunning hardware design
Design useful and cool accessories
OUR WORLD-CLASS MENTORS

Andreas M. Antonopoulos - Bitcoin and security expert, author of Mastering Bitcoin and a great mentor and speaker, Founder of Third Key Solutions
Dr. Jochen Hoenicke (johoe) - ethical hacker, TREZOR cryptographer and post doctoral researcher at the Freiburg University in Germany
Marek Palatinus (slush) and Pavol Rusnak (stick) - hackers, inventors and core developers of TREZOR. Stick is a highly regarded security expert and privacy activist with a slight fetish for hi-tech experimental, new media interactive installations. Slush invented and operates the first Bitcoin mining pool - Slush Pool and designed the Stratum protocol.
PROGRAM
Tuesday 27 September, 6.30 pm
Kick-off presentation of the new TREZOR 2 hardware and software stack

Presentation on security and coding

Creation of teams and projects
Wednesday 28 September
Thursday 29 September
Hacking ends at 8 pm

At 8.30 pm we announce the winners
Enjoy an entire week of hacking in Prague!
TREZOR Hackathon is followed by the Hackers Congress by Paralelni Polis from Sept 30th - Oct 2nd. Without changing the venue, you can enjoy talks of great speakers on privacy, security and free society topics. Early bird tickets will be available soon.
---
FAQs
Where can I learn more about TREZOR?
Visit our User Manual or our Developer's Guide. Feel free to check out our Github repo too.
Do I need to know to code?
If you want to develop software, a basic knowledge of JavaScript or Python will be enough for you to join.
If you want to design UI or accessories, you only need your creativity and your computer.
Do I need to bring my own TREZOR hardware wallet?
No. You won't need to have one at all.
I'm not a hacker myself but I want to support the hackathon.
Feel free to share this event with your friends who like programming and security.
Do I need to come with a team?
No, you can either hack solo or find your team on site. Please let us know if you require any assistance in finding a joinable team.
Do I have to bring my printed ticket to the event?
No, only bring your event confirmation number for check-in.
Are there ID requirements or an age limit to enter the event?
None of such. We are open to anyone regardless age, gender, color or preferences.
Where can I contact the organizer?
Please write to hackathon@satoshilabs.com.
Is my ticket transferrable?
No. If you can't arrive, please let us know. The new participant needs to create an online registration for them self.
Can I update my registration information?
Yes, please contact hackathon@satoshilabs.com.