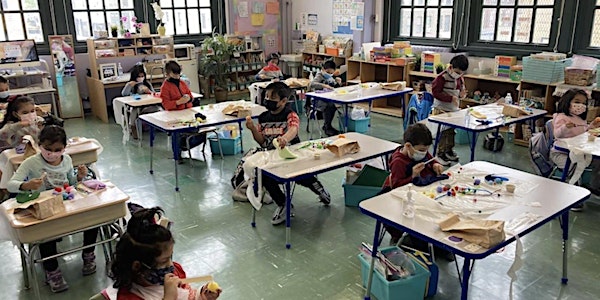 Trauma Informed Teaching for D75 Populations
Professional development workshop for arts educators to learn about incorporating trauma informed practices into D75 classrooms.
Date and time
Thursday, April 27 · 7 - 9am PDT
About this event
TRAUMA INFORMED TEACHING FOR D75 POPULATIONS
Professional Development Workshop hosted by Brooklyn Arts Council
Co-facilitated by Emily Miller & Allie Marotta
This workshop will introduce teaching artists and educators to the concept of trauma informed teaching and offer practical strategies to incorporate this method into D75 classrooms. Students in D75 cohorts (meaning students that have IEP's, are disabled, or are neurodiverse) experience trauma that is categorically different from those in general education settings, and a trauma informed approach will help educators create warm and enriching environments for students to feel safe while engaging with the arts. The goal of this practice is for students to feel seen, heard, and accepted as their whole selves and to feel that their arts education programming is created by and for them.
Thursday, April 27th, 10am-12pm EST, Zoom
Zoom link to be distributed via Eventbrite on the day of the event.
Please email tmuhammad@brooklynartscouncil.org with any accessibility or accommodation needs.
Emily Miller (they/them/theirs) is an organizer, advocate, and therapist in unceded Lenapehoking land (Philadelphia, PA). Emily was diagnosed with insulin-dependent diabetes at age 8 and has had to ration insulin and supplies multiple times in their life.They are a founding member of Mutual Aid Diabetes (MAD) and led the development ofMAD's trauma-informed peer support process. Emily uses their own intersectional experience as a disabled, fat, queer person of color to inform their clinical work, having worked extensively with survivors of trauma, survivors of domestic and sexual violence, and those struggling with addiction and serious mental illness. Emily currently works asa therapist for chronically homeless women with substance use disorders and mental illnesses and utilizes a trauma-informed, harm reduction approach to ensure client safety while ultimately empowering clients to choose recovery on their own terms. Emily holds a Masters of Science in Clinical Mental Health Counseling from VillanovaUniversity. They seek to create accessible health care to help diabetics and other disabled/chronically ill folks heal from the trauma forced on them by the hands of the medical industrial complex.
Allie Marotta (she/her/hers) is a NYC-based arts educator, administrator, and collaborative theatre maker specializing in immersive, experiential, and devised theatre. Allie has taught for various arts organizations throughout NYC and NJ including Marquis Studios, Queens Theatre, Jamaica Center for Arts and Learning, Wingspan Arts, Falconworks Theatre, George Street Playhouse, and more. Allie has extensive experience teaching and developing curriculum for neurodiverse and disabled students and has worked in many D75 schools as well as ICT classrooms and self contained classrooms. She is a NYC staff correspondent for No Proscenium and a founding creator of experiential theatre company You&I. Allie is disabled and is a healthcare and disability patient advocate. She works with grassroots organizations NY #insulin4all, Mutual Aid Diabetes, and the Campaign for NY Health. Education: MA Contemporary Performance Practices (RHUL), BA Acting, BA Directing (Pace University). www.allie-marotta.com
About the organizer
Brooklyn Arts Council supports and promotes artists and cultural groups in Brooklyn.