Ongoing Discussion Topic: Not One More: Processing the repeated and senseless violence against trans bodies.
About this event
BACH Therapeutic Counseling Services, LLC in conjunction with Heart 2 Heart Counseling and Consulting, LLC is offering a FREE bi-monhtly support group session for transgender, non-binary and gender nonconforming communiy members. This group is being facilitated by Alaiyia Nicole Williams, MSW, LCSW and co-facilitated by LCSW, Michael L. Benjamin-Robinson.
Ms. Williams is a Licensed Clinical Social Worker - Psychotherapist, who specializes in working with Transgender and Gender-Non-Comfirming individuals. Ms. Williams is a black woman of trans-experience who has a great understanding of the inequality, stress, and mental health concerns that plague her community. In addition to her passion for trans mental health, Ms. William's passion for working with disenfranchised people of color and members of all races from marginalized communities, drives her overall journey for social justice and equality.
Once you have registered for this free support group session you will recieve an email detailing how to particpate in the session. If you have questions or need more information please contact us at thebachgroup2015@gmail.com.
___________________________________________________________________________________________________
Frequently Asked Questions
Where will this event be held?
You will receive information to participate in this session virtually once you have completed registration and on the day of the session. The information will be sent to you via email.
 How can I contact the organizer with any questions?
All questions, comments, and concerns should be sent to the organizers at thebachgroup2015@gmail.com
What is the refund policy?
This sesssion is free and therefore no refunds will given for non-particpation or cancellations. All BACH sessions must have no less than 2 participants registered in order to proceed. In the event that less than 2 people have registered for a session and the session is less than a day away the registered individuals will be contacted via email prior to the sesson time.
Does the name on my ticket or registration need to match the person who attends?
Yes, the name and email address on your ticket must match the name of the person who is attending.
Can I update my registration information?
Yes, you can update your registration information at any time prior to the session date.
Is my registration fee or ticket transferrable?
No, this event registration is non-transferrable. Please contact the event organizers at thebachgroup2015@gmail.com for more information.
Session Cancellations and Rescheduling: All BACH TCS must have no less than 2 participants registered in order to conduct a group talks discussion. In the event that less than 2 people have registered for a workshop and the workshop is less than 1-day away the registered individuals may be contacted and given the option of receiving a refund (excluding fees) or transferring the registration to another date.  If the workshop is canceled due to inclimate weather, technological difficulties, etc. all registered individuals will be notified of when the event will be rescheduled.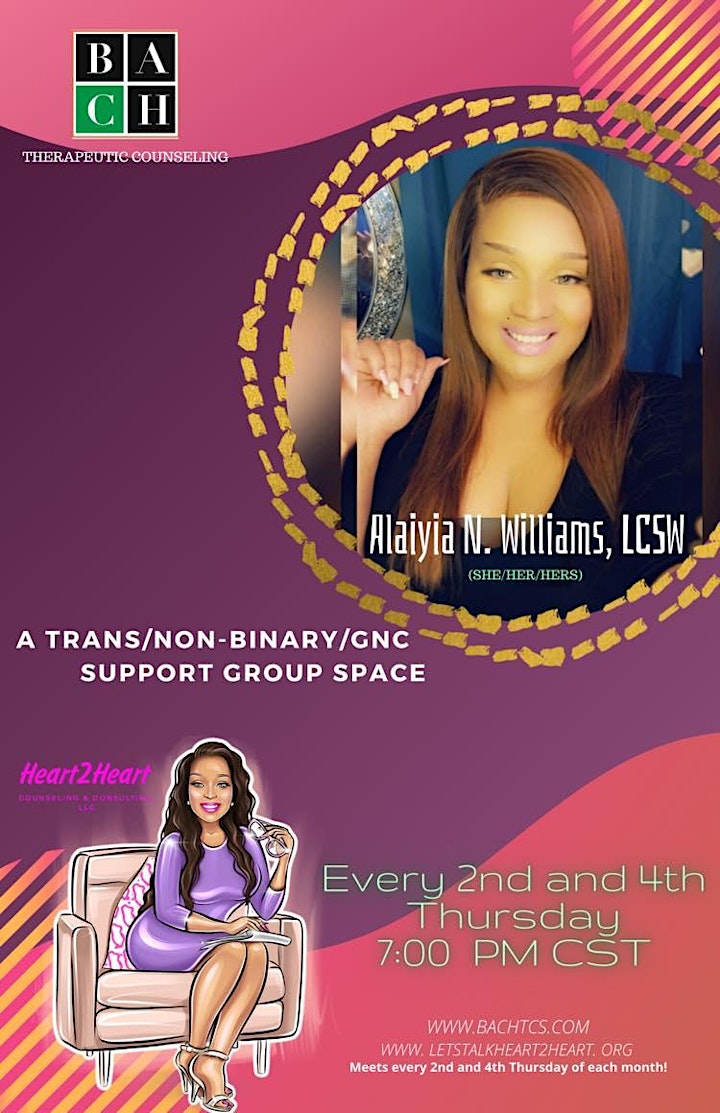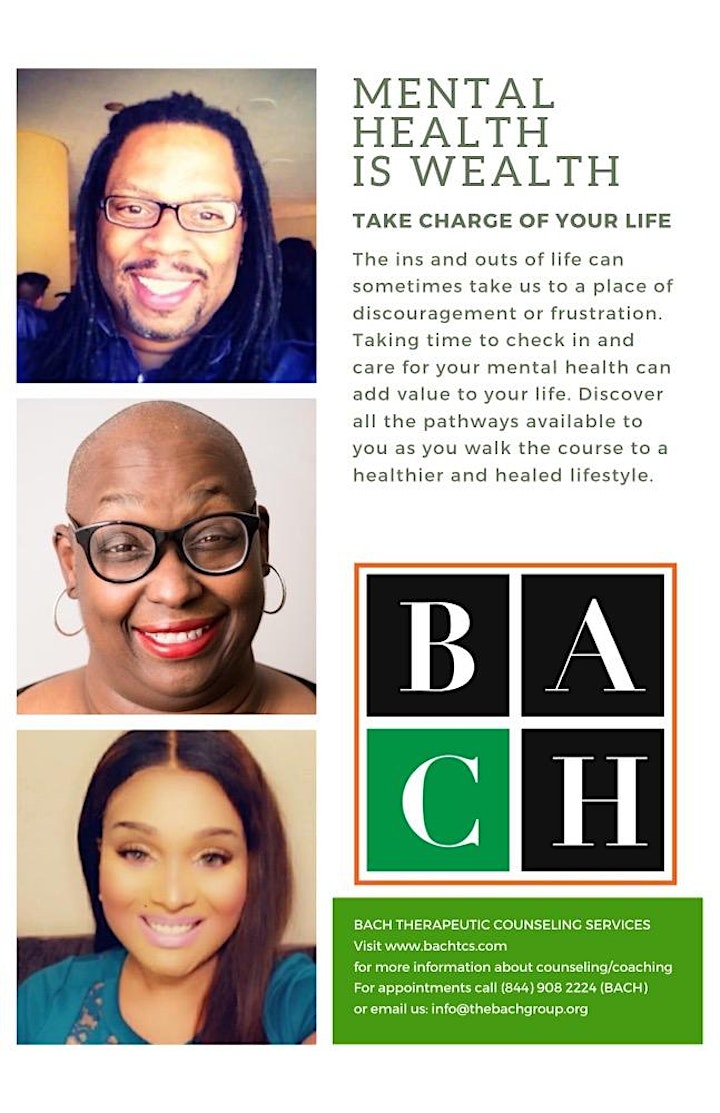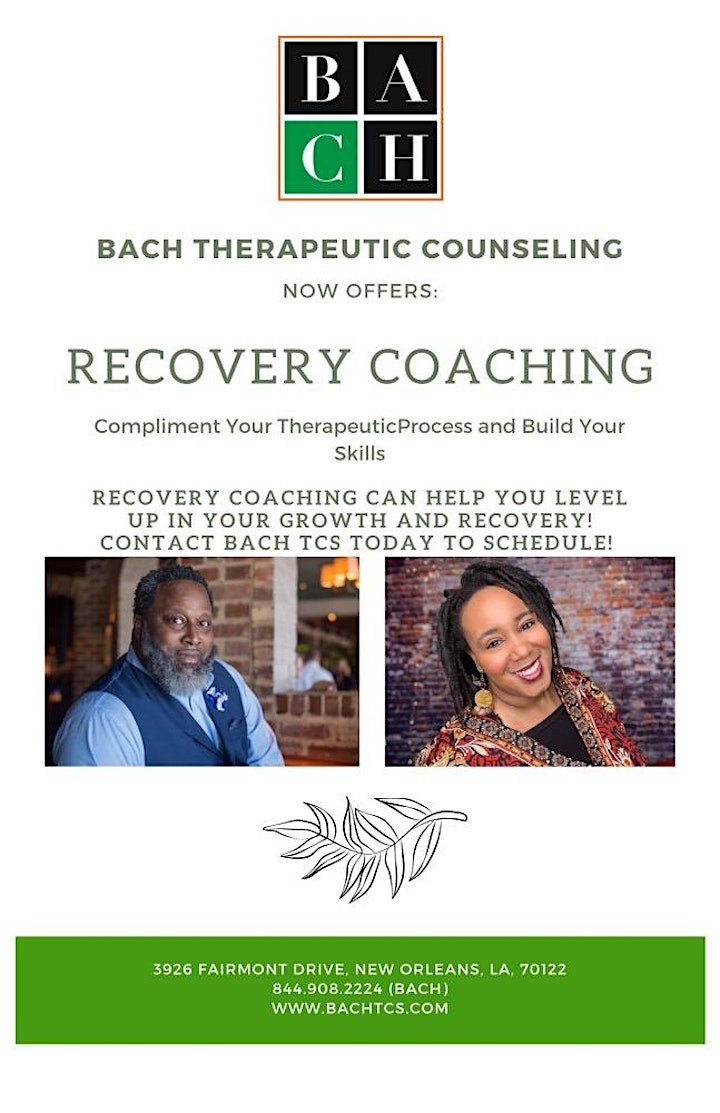 Organizer of Trans/Non-Binary/GNC Support Group
_________________________________________________________________________________________
Trans/Non-Binary/GNC Support Group
BACH TCS is offering a free bi-monhtly support group session for transgender, non-binary and gender non-conforming individuals. Session are held every 2nd and 4th Thursday of the month. Please contact us at thebachgroup2015@gamil.com for more information. (Lead Facilitator: Alaiyia N. Williams)
2018 Social Work Code of Ethics Update 
With emergent technological advances over the last two decades, the profession could not ignore the necessity for more clarity around the complex ethical issues that arise with the use of various forms of technology. The NASW Code of Ethics contains 19 new standards and revisions to several longstanding standards developed to address ethical considerations when using technology. The NASW Code of Ethics continues to be the most accepted standard for social work ethical practice worldwide. The NASW Code of Ethics offers a set of values, principles and standards to guide decision-making and everyday professional conduct of social workers. It is relevant to all social workers and social work students regardless of their specific functions or settings. (Lead Facilitator: Kelly D. Waterman)
License Master Social Worker (LMSW) Exam Preparation
Have you taken the Bachelors or Masters' level social work examination (or the ASWB exam) one or more times only to come away feeling defeated because you failed the test by only a few points. Are you thinking, "What am I missing?" or "What am I doing wrong?". If this is you, the BACH LMSW Exam Prep Workshop may be able to help. Studies have shown a person can improve their standarized test scores by as much as 20% percent when they use and or improve test taking skills and strategies. Your score will not significantly increase by simply continuing to retake the test. Scores increase by either increasing your knowledge of the test material or of the test structure/procedures. This workshop will provide an opportunity to increase your knowledge in both areas. While The BACH Group does not guarantee a passing score we do provide an innovative shared learning approach that can help increase your score. (Lead Facilitator: Michael L. Benjamin-Robinson)
Grant Writing 
In Mr. Benjamin-Robinson's 20 year history of working in non-profits, his grantwriting career includes writing grants on the local, state and federal/national level and has resulted in millions of dollars of funding for community based organizations, services, programs and jobs throughout Mississippi and Louisiana. In 2004 he independently garned nearly $100,000 in grant funds to start the first LGBTQ resouce center/safe space in Jackson, Mississippi. From 2004-2007 Michael secured nearly $80,000 (in-kind and direct) in funding to hold Mississippi's first offical Black Pride event, a 3-day convening of Black LGBTQ individuals for the purposes of celebrating ethnic and same-gender loving pride. While Michael no longer leads this effort, the event, now known as Jackson Black Pride is still held annually in Jackson, Mississippi. (Lead Facilitator: Michael L. Benjamin-Robinson)
Starting A Non-Profit Agency
Michael L. Benjamin-Robinson has over 20 years of experience working for non-profit organizations. His career has afforded him the opportunity to not only develop programs but also work on organization and board developement. He has lead the development and growth of several oragnizational projects including substance abuse/mental health counseling, youth/ peer support counseling and various evidenced-based behavioral health intervention programs. In 2004 he founded Pride of Mississippi Incorporated, a non-profit agency that provided the state with it's first offical LGBTQ resource center and safe space. From 2004 - 2007, Pride of Mississippi held the state's first offical Black pride celebration. This 3-day convening of Black LGBTQ individuals and their allies was created for the purposes of promoting ethnic, gender and sexual orientation pride while fostering the self-efficacy of community members through education, skill developement and social support. Today, he is the Program Director of CROPs, the non-profit agency of The BACH Group and the primary clinician for BACH Therapeutic Counseling Services. (Lead Facilitator: Michael L. Benjamin-Robinson)