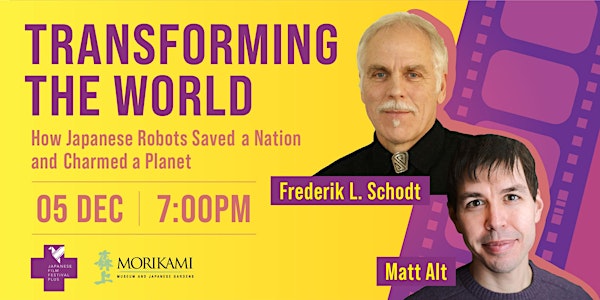 Transforming the World: How Japanese Robots Saved a Nation
Co-organized by the Japan Foundation, New York and Morikami Museum and Japanese Gardens ・ Talk by Matthew Alt and Frederik L. Schodt
About this event
The Japan Foundation has announced JFF Plus—a new online Japanese film festival in response to the ongoing worldwide coronavirus pandemic, which is preventing regional audiences from experiencing Japanese cinema in movie theaters. The virtual film festival will run from Friday, December 4 through Sunday, December 13, 2020.
We have teamed up with the Morikami Museum and Japanese Gardens to bring you this virtual lecture.
Saturday, December 5th, 2020
Time: 7:00pm (EST)
Cost: FREE
Location: Virtual Lecture*
(*The link to the event will be e-mailed to you upon registration)
Its infrastructure devastated by World War II, Japan's economic engine cranked back to life thanks to the power of imagination, from intricate toys to thrilling comics and anime. As Japan's creative geniuses honed their crafts, increasingly immersive products and virtual escapes began profoundly transforming lifestyles around the globe -- and making Japan the planet's factory of dreams. Join Matt Alt and Fred Schodt as they discuss the influence of Japanese robots in pop culture, fantasy robot genres such as autonomous android robots and "drivable" robots, and about real-world robots inspired by childhood dreams.
Matt Alt is the co-founder of AltJapan Co., Ltd., a Tokyo-based entertainment localization company. With more than twenty years' experience working alongside Japanese game, manga, and other content creators, he brings a unique perspective from inside Japan's pop-cultural production machine. His writing has appeared widely in print and online at The New Yorker, Slate, Wired, CNN, BBC, Vice, and more. His latest book is Pure Invention: How Japan's Pop Culture Conquered the World (Crown Publishing, 2020).
Frederik L. Schodt is a writer and translator. He has written numerous books on popular culture, technology, and history. Among other books, Frederik L. Schodt is the author of Inside the Robot Kingdom: Japan, Mechatronics and the Coming Robotopia, and The Astro Boy Essays: Osamu Tezuka, Mighty Atom, and the Manga/Anime Revolution. He is the translator of robot-related manga such as the 23 volume Astro Boy series, Ghost in the Shell and Pluto, as well as Yoshiyuki Tomino's Mobile Suit Gundam novels. In 2009 he was awarded the Order of the Rising Sun, Gold Rays with Rosette, and in 2017 he won the Japan Foundation Award. His latest book is My Heart Sutra: A World in 260 Characters (Stone Bridge Press, 2020).