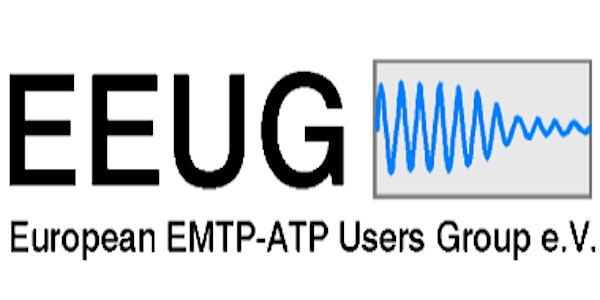 Transformer Modelling in ATPDraw and EMTP-ATP
This virtual session organized by EEUG e.V. will cover Transformer Modelling in ATPDraw and ATP-EMTP, with focus on core nonlinearities
About this event
"European EMTP-ATP Users Group e.V." (EEUG e.V.) was established in 1994, closely related to the Can/AM EMTP Users Group. Its purpose is to organize courses, meetings, and act as a communication center for EMTP-ATP software users. Members receive free updates of the ATP program and other related programs each year.
The annual EEUG Meeting gathers members and users of EMTP-ATP in a sharing event for knowledge and practical cases for software applications.
Due to the current COVID-19 situation, the 2020 EEUG Meeting has been postponed. Keeping the spirit of the meeting as a moment of exchange and collaboration is important, therefore we would like to invite you to a series of virtual sessions, as webinars.
- Introduction to transformer modelling in mid-frequency range (50/60 Hz and up to kHz range).
- Data input and model validation of multiple winding transformers.
- Modelling options to consider core nonlinearities, residual flux and hysteresis.
- Importing model data from external sources, the importance of "final slope".
- Validation of nonlinear transformer models.
- Application examples:
o Magnetizing inrush phenomena
o Voltage dip assessment when energizing large GSU transformer and renewable generation transformers simultaneously in a windfarm
o Sympathetic inrush current phenomena
o Tips&tricks about how to get missing data and how to fit simulations and measurements, and how to use on-screen steady state probe and built-in plotting options of ATPDraw in validation of our transformer models.
László Prikler received his Master of Science degree in electrical engineering from the Technical University of Budapest in 1986 and joined to the academic staff of the Department of Electric Power Engineering. Mr. Prikler is a member of IEEE Power and Energy and Industry Applications Societies and the Hungarian Electrotechnical Association. He is an honorary member of IPST (International Conference on Power Systems Transients) Steering Committee and served as chairman of the European EMTP-ATP Users Group Association. His research and development competence and interests include insulation coordination, analysis, simulation and measurement of power systems disturbances, modeling and simulation of distributed energy systems, real-time simulation and modelling. Recently he contributed to setting up the Smart Power (PHIL) lab of the university.
Registration to the event is free, but the number of participants is limited. based on a first come, first served basis. The registered participants will receive the necessary links to participate the event by e-mail two (2) days before the event.
IMPORTANT NOTICE: The webinar will be audio and video recorded. When registering for this webinar you agree on the audio and video recordings and processing of this event. Publication of the recordings might be on the publicly available EEUG website.