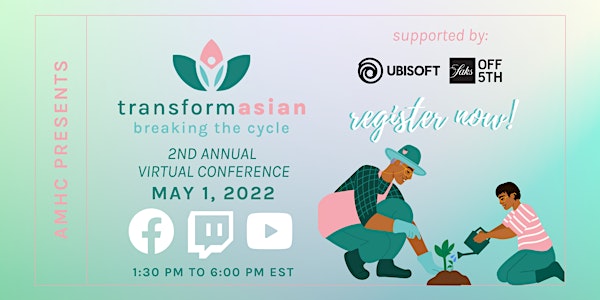 TransformAsian 2022: Breaking the Cycle
Asian Mental Health Collective (AMHC) is excited to present our 2nd annual virtual conference, TransformAsian 2022: Breaking the Cycle.
Refund Policy
Contact the organizer to request a refund.
Eventbrite's fee is nonrefundable.
About this event
Asian Mental Health Collective (AMHC) is hosting our 2nd annual virtual TransformAsian conference, and we are excited to connect thousands of individuals around the world on their mental health journeys. The name "TransformAsian" alludes to transformations, and our belief in the power of change and the importance of celebrating recovery. This year, we are excited to share more personal stories and professional experiences focused on Asian mental health.
The TransformAsian 2022 theme - "Breaking the Cycle" - speaks to our commitment to destigmatize mental health issues important to Asian communities. Hear from speakers on topics such as internalized stigma, intergenerational trauma, and the model minority myth, as well as from special guests and performers.
Date: May 1, 2022
Time: 1:30 PM - 6:00 PM EST / 10:30 AM - 3:00 PM PST
Location: Tune in live through Facebook, YouTube, or Twitch
Agenda
Welcome | 1:30PM EST
Meditation | 1:40PM EST
Self Panel | 1:55PM EST
Performance | 2:40PM EST
Community Panel | 2:55PM EST
Performance | 3:44PM EST
Society Panel | 4:10PM EST
Fireside Chat | 4:55PM EST
Closing | 5:55PM EST
Speakers
*View full speaker details on event page here
Fireside Chat
In our Fireside chat, speakers will highlight themes from the three pillars of self, community, and society. As they share about their experiences and their work, they will talk about where we go next as a community.
Michelle Zauner - Author, Crying in H Mart & Singer, Japanese Breakfast
Michelle Zauner is best known as a singer and guitarist who creates dreamy, shoegaze-inspired indie pop under the name Japanese Breakfast. She has won acclaim from major music outlets around the world for releases like Psychopomp (2016) and Soft Sounds from Another Planet (2017). Her most recent album, Jubilee (2021), earned two GRAMMY nominations for Best New Artist and Best Alternative Music Album. Her first book, Crying in H Mart, an unflinching, powerful memoir about growing up Korean-American, losing her mother, and forging her own identity, is a New York Times Best Seller. She's currently adapting the memoir for the screen for MGM's Orion Pictures.​
Cathy Park Hong - Author, Minor Feelings
Cathy Park Hong is an award-winning poet and essayist whose book, Minor Feelings, is a searching work that ruthlessly reckons with the American racial consciousness. Hong weaves together personal stories, historical context, and cultural criticism to ultimately create an emotional and impactful exploration of Asian American personhood. Minor Feelings is the 2020 recipient of the National Book Critics Circle Award for Autobiography. Hong is the author of several books of poetry, and is the recipient of notable awards such as the Windham-Campbell Prize. In her moving talks, she offers a fresh and honest perspective on race and Asian American identity, discusses how poetry and writing can be a means for understanding ourselves and our world, and comments on the ways politics and culture are influenced by art—and vice versa.​
Jeanie Chang (Moderator) - LMFT and Founder of Your Change Provider
Self Panel
Understanding what it means to develop a positive self identity as an Asian American is a complex process. In the Self Panel, panelists will share their experiences in overcoming internalized stigma and reconnecting with their culture unapologetically for themselves and others.
Ryan Alexander Holmes - Actor & Content Creator
Sara Stanizai - Therapist & Coach
Linda Thai - Therapist, Coach, Educator & Speaker
Keali'i Kauahi - Doctoral Candidate, Clinical Psychology
Christian De Luna (Moderator) - Asian Mental Health Collective
Community Panel
Although many Asian American communities carry generations of trauma, our stories are seldomly shared. In this panel, we will highlight those narratives and begin breaking down the barriers that prevent us from having open conversation between generations.
Diana Chao - Executive Director, Letters to Strangers
Monica Modi Khant - Executive Director, Asian Pacific Institute on Gender Based Violence (API-GBV)
MeeWha Alana Lee - Actor & Painter
Valerie Uy - LMFT
Dr. Mengchun Chiang (Moderator) - Clinical Psychologist
Society Panel
Far too often, the Asian American diaspora is seen as a monolith that is doing "well" across measures of "success" - our challenges are diminished. Our final panel will feature panelists discussing the pressures of existing and persevering in a Eurocentric society, while trying to create space for our communities.
Russell Jeung, PhD - Professor of Asian American Studies and Co-Founder of Stop AAPI Hate
Dr. Helen Hsu - Clinical Psychologist
Emma Broyles - Miss America 2022
Jason Chu - Rapper, Activist, Educator
Dr. Jeannie Celestial (Moderator) - Licensed Clinical Psychologist, Author & Consultant
------
Thanks for your TransformAsian 2021 donations!
------
About Asian Mental Health Collective
Asian Mental Health Collective (AMHC) is a volunteer-run nonprofit that aims to normalize and destigmatize mental health within Asian communities by making mental health conversations and treatment available, accessible, and approachable. Our services and programs support our mission by providing individuals with opportunities to:
Connect with their inner selves
Create supportive and empathetic communities
Collaborate with mental health professionals and organizations
Celebrate their Asian mental health stories
To learn more, visit us at www.asianmhc.org