Trans-Atlantic Workshop on Public Private Partnerships for Big Data
Description
Trans-Atlantic Workshop on Public Private Partnerships for Big Data Research & Innovation and Workforce Development
The NSF Big Data Innovation Hubs invite you to an invitation-only workshop to be held in Versailles, France, on November 20, 2017, in conjunction with the European Big Data Value Forum 2017, and in collaboration with the EU Big Data Value Association (BDVA), PICASSO Project, and INRIA. The European Big Data Value Forum will be held in Versailles on November 21-23, 2017, and is jointly organized by PICASSO project and the BDVA. For more information, see http://bit.ly/VersaillesWorkshopInfo.
The goals of the first workshop are to bring together academic and industry actors from the United States (US) and the European Union (EU) to:
(1) Discuss effective models and practices for supporting academia-industry collaborative research programs in Big Data/data science research and innovation, with particular focus on public-private partnerships (PPP) in the application domains of smart cities, transportation, health, environment, and food-energy-water;
(2) Provide presentations to exchange ongoing Big Data research and innovation efforts in the US and EU, encourage peer-to-peer discussions between NSF and EU funded project leads, and identify opportunities for direct bilateral research and innovation collaborations (at the project level and between individual researchers) and open-source data sharing between the US and the EU, especially between the NSF Big Data Hub & Spoke projects and the European BDV PPP Lighthouse projects along the verticals listed above; and
(3) Discuss effective models and practices for bridging data science workforce needs with the developing academic discipline of data science.
This workshop is sponsored by the National Science Foundation Big Data Hub & Spoke Program.
The South Hub will also be hosting a Welcome Reception at 6pm on the evening of Sunday, November 19 at the Hotel de France in Versailles.
For more information email Lea Shanley (lshanley@renci.org) for US participants or Andres Metzger (andreas.metzger@paluno.uni-due.de) or Nikos Sarris (n.sarris@atc.gr) for EU participants.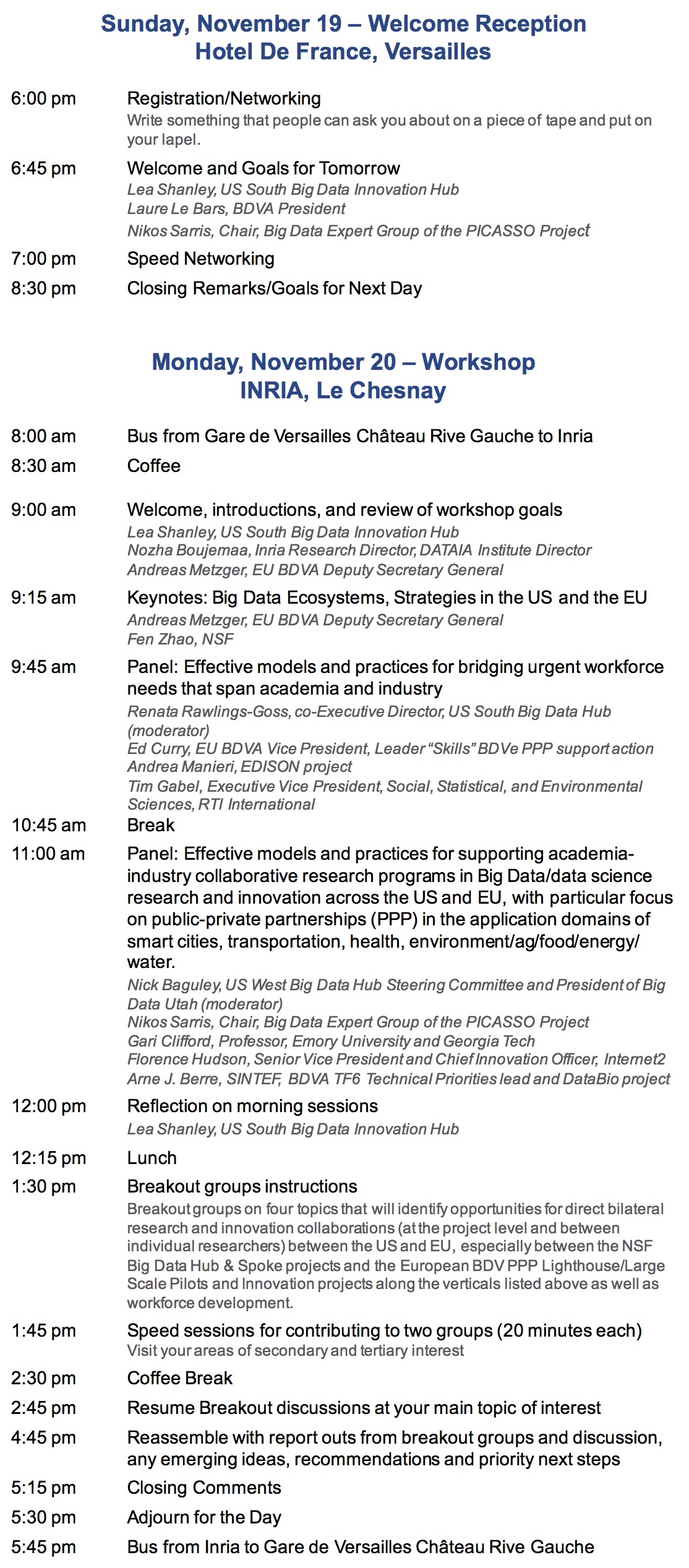 Getting to Versailles from Paris and Hotels in Versailles: http://www.european-big-data-value-forum.eu/venue/. Getting to INRIA: https://www.inria.fr/en/centre/head-office.