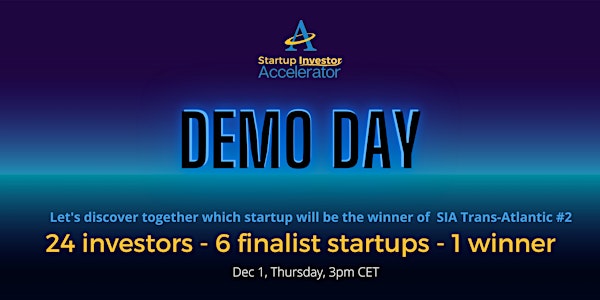 Trans Atlantic Angel Conference Program Final Demo Day Event
The "Demo Day" of the Trans Atlantic Angel Conference Training program, where our Investor Cohort will select the final investment.
Refund Policy
Contact the organizer to request a refund.
Eventbrite's fee is nonrefundable.
About this event
The Trans Atlantic Angel Conference is a "learning by doing" program where new Angel Investors learn about Angel Investing by doing an Angel Investment.
Across 3 months, 25 Angel Investors together reviewed 60+ companies who shared company financials, business strategies, customer references, and operating plans. We held individual and group investor discussions, where we evaluated, selected, debated about, and did meaningful due diligence.
This Demo / Pitch Night is the end of the program. It is an exclusive virtual reception during which participating companies have the opportunity to pitch to an audience of entrepreneurs, mentors, investors, and community members.
The 6 finalist companies will present. The Due Diligence teams will outline what they explored in the process of due diligence. And then the Angel investors will select a company to make an investment in. The audience is invited to also vote for an Audience Award.
Many Angel Groups will be invited to attend. Many will be there. There will be time to network and engage with other attendees. This is an online event.
The finalist startups are
🔵 Bovi - https://bovi.ag/ - autonomous logistics for specialty crops, eliminating strenuous tasks for orchard workers by transforming standard tractors into labor-saving machines
🔵 EyeKnow AI - https://www.eyeknow.ai/ - automatically detecting aggression and violence between caregivers and the helpless using a blend of computer vision, AI, and CCTV footage
🔵 Gaston - https://www.gogaston.io/ AI-powered food personalization app allowing users to find and order foods that match their dietary and nutritional requirements
🔵 ipHaus - https://www.iphaus.co/ - a new way to build sustainable, affordable housing with modular panels that make construction 50% faster
🔵 MachineryScanner - https://machineryscanner.com/ - one-stop online marketplace and review system for heavy equipment and trucks
🔵 S.Lab - https://www.instagram.com/i_lab_s/ - disrupting the $13 billion polystyrene market with packaging made from hemp and mycelium (mushroom root).