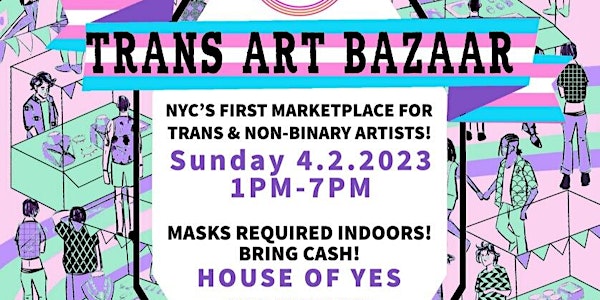 TRANS ART BAZAAR - SPRING EDITION
House of Yes presents Trans Art Bazaar, featuring all types of vendors!
Date and time
Sunday, April 2 · 1 - 7pm EDT
Location
House of Yes 2 Wyckoff Avenue Brooklyn, NY 11237
About this event
Trans art Bazaar is NYC's first Trans and Non-Binary Artist market! This event supports 80+ trans/NB vendors from around the country while bringing together the trans/NB communities of New York!
We can't wait to see you here again!
*masks are required for the indoor portion of the market*
::: VENDORS :::
@Virgin.chains
@deadnametattoo
@Lorre_NYC
@____tyst
@diSLAYbled
@colliding_eyes
@evanericsonart
@ashehle
@Fusedreams
@Tina_b_draws
@salpal.c
@scolarice
@nodoubtleather
@queercrochetcorner
@unfoundfable
@Ratdecayy
@Tyger_crafts
@sacred_drip
@florianfrancis_
@couldbenisi
@sinful.twin
@aimeenorwich
@Liahbean
@darb.garb
@geo.rae.crochets / @geo.kes (personal)
@Qtpocmentalhealth
@eltechichijewelry
@fussylouisejewelry
@embroiderugh
@picklebabybakes
@nicartanddesign
@partslut
@Thevainbeauty
@bonk.lol @bee__daddy @freshlittlesalad
@slugbabywares
@avitalarttt
@willbaaske.art
@coleslawvegan
@Bryanjmckinney
@boujiesaurusboutique
@draculadco
@em.throws
@theprincepeacock
@Howlmarin
@kidsibling
@vmontes_
@Penjoyment
@babieclownshop
@sirpluswherehouse
@fuzzydewdrop & @fuzzyfriendzfrevr
@Pinkgabbercat
@minty.acid
@degrade.center
@sms_tarot
@Venus_Invictus
@jacquidugalpottery & @jacquidugal
@kourtneyskush420
@thems_earrings
@k8hedrick
@Lochnessmakes
@i_look_great_with_rugs
@allegrapronesti
@catskimvenience
@snapdrags
@queercommodities
@sapphicgraphix
@Sharkboystuff
@queercandleco
@kloart_
@sam.sankey
@chellychichi @seaweed.nyc @gemineye_insights
@starflightartworks
@Skullingway
@atomic_demon_art
@ashleylportfolio
@sticksnstonespress
@ratshackstuff
@Thegraveyardrave
** Free All Day | All Ages Welcome! **
Subscribe to our email list for first access to events & tickets: bit.ly/YESEMAILS
* * * SAFER SPACES POLICY * * *
House of Yes is a space for everyone to feel welcome. We have a zero tolerance policy for harassment, unwanted touch, and discrimination. Always ASK before touching anyone at our events. If someone is making you uncomfortable, speak to a security guard or ask for a manager. We will believe you, and we will help. All restrooms in our venue are gender neutral. The entrance to the venue is ADA accessible. Strobe lights are used during performances and parties. Find out more at houseofyes.org/SAFER
About the organizer
NO REFUNDS // Refunds will not be issued unless cancellation occurred on behalf of the event organizer.
TICKETING POLICY // All events are 21+ with valid ID. We only guarantee the validity of your ticket if purchased directly from Eventbrite or Resident Advisor. Any tickets purchased second-hand or via third party vendors cannot be validated or accommodated in the event of an issue (fake or duplicate tickets). Reselling a ticket above face value goes against the spirit of the event - Don't do it!