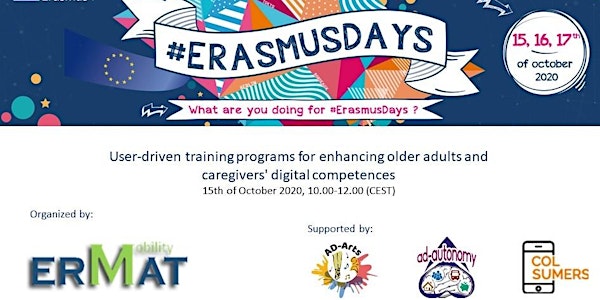 TRAINING PROGRAMS FOR ENHANCING OLDER ADULTS & CAREGIVERS COMPETENCES
USER-DRIVEN TRAINING PROGRAMS FOR ENHANCING OLDER ADULTS AND CAREGIVERS' DIGITAL COMPETENCES
About this event
Organized by: ERMAT E+ project
Hosted by: AUTH Medical Physics Laboratory
Date: 15/10/2020, 10-12 CEST
Join Online: https://global.gotomeeting.com/join/485598557
The event will focus on the presentation of Erasmus+ projects that design and implement training actions for the improvement of (digital) skills for older adults and their formal and informal caregivers, aiming to support Healthy Aging and Independent Living.All actions are created using user-centered approach.
This event will give the opportunity to participants for sharing knowledge, experiences, best practices and ways for business exploitation.
Discover the Erasmus + project of this organization:
ERMAT main objective is to increase the competences of Elder People with Reduced mobility, Informal and Formal Caregivers on the application of Assistive Technologies for improving Quality of Life.