Trainer Certification Course: How to Present "Training from the BACK of the...
Description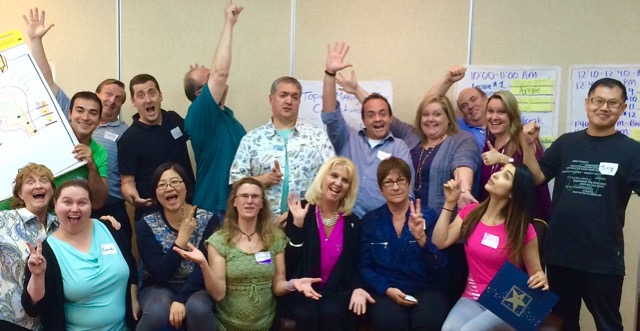 Please note that this certification/licensing course is a 10 hour in-person class, with arrival required the evening before class for a pre-class session. Please book your travel accordingly to give yourself plenty of time for all sessions!
April 14th – 5PM – 6PM – 1 hour pre-course meeting
April 15th – 8AM – 6PM – 10 hour certification course
If you have any questions about the course times, please feel free to contact Nicole Fleming, Operations Coordinator, The Braintrust Consulting Group, nicole.fleming@braintrustgroup.com
Class Overview:
This 1 - day trainer certification course is designed to give you the professional training skills you need to present Sharon Bowman's 2 - day train-the-trainer class "Training from the BACK of the Room". Along with individualized instruction, guided practice, instructor and peer coaching and feedback, you will receive a complete facilitator's guide and slide set for the 2 - day train-the-trainer workshop. Plus, you'll receive a year of free coaching from Sharon to help polish your "Training from the BACK of the Room" presentation skills.
This exciting 1 - day certification course is being offered for the seventh time in the United States and registration is limited to 15 participants. Register early as this class fills up quickly. Upon the successful completion of this course, you will be licensed to deliver "Training from the BACK of the Room" to your own clients, customers, company, and country.
You will join an exceptional group of global trainers when you become a Certified Trainer for "Training from the BACK of the Room!"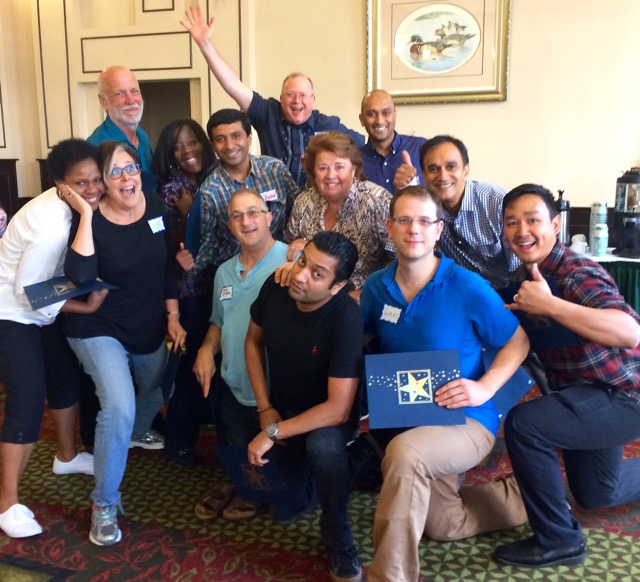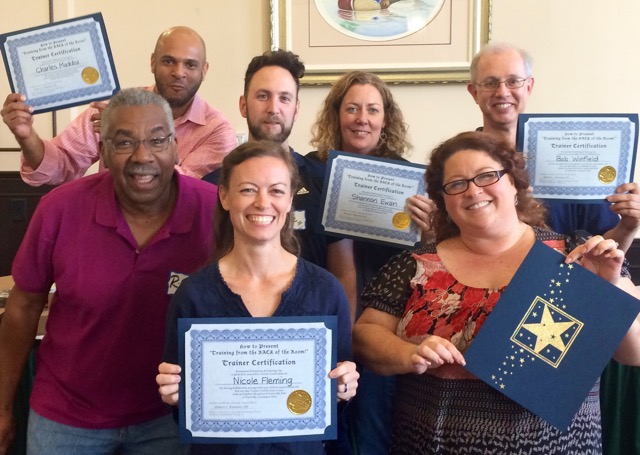 Limited to 20 seats... Sign-up now in order to ensure your spot is reserved!
7 PDUs Awarded 7 SEUs Awarded
What others are are saying about the class:
"Fun, energetic, very educational - Sharon is an excellent facilitator with a wealth of knowledge about adult learning." - Carmen
"Sharon uses a high-energy style of delivery that keeps you engaged and on the edge of your seat; a valuable investment of my time." - Susan
"Inspiring, high energy, applicable! You will leave with ideas, practical tools, and a positive spirit!" - Anu
"Great ideas and a wonderful experience! Our training will benefit immensely from this information and experience." - Shearon
"Truly outstanding - Wow! Sharon is a true inspiration to us all." - Jim
"Very dynamic! Once again, Sharon has given us great ideas to bring our training alive." - Michelle
Who should attend?
Teachers/Trainers

Speakers/Presenters

Agile Coaches & Trainers

Anyone who needs to engage an audience!
Prerequisites:
Completion of Sharon's 2 - day train-the-trainer workshop "Training from the BACK of the Room!"
Completion of short writing assignments to demonstrate comprehension of concepts covered in the 2 - day workshop (Writing assignments will be sent upon registration)
Completion of assigned readings (List will be sent upon registration)
Creation of a short, written (Or video-taped) lesson plan using a topic you teach and using the 4Cs lesson design "map" as your guide (Specific lesson plan requirements will be sent upon registration; your plan will be posted on Sharon's social media Ning site for peer review and feedback.
To Earn this Training Certification, You Must:
Complete all required prerequisites
Attend and participate in the 1 - day certification course on April 15, 2018 in Minneapolis, MN (10 hours of contact time, and attendance at the pre-course meeting on April 14, 2018 from 5:00pm - 6:00pm)
Present a short, live lesson in-class for instructor and peer review and feedback, and receive a passing score on the presentation assessment rubric
Commit to being an active member of a master training group of certified "Training from the BACK of the Room" trainers for one year – a group that supports its members with free online coaching, feedback, problem-solving, and encouragement, when asked to do so
Learning Outcomes
After completing the prerequisites and actively participating in the course, and after presenting a live lesson in-class for instructor and peer review and feedback, you will be able to:
Deliver the 2 - day train-the-trainer program "Training from the BACK of the Room"; by using the official facilitator's guide and slide set for this 2 - day train-the-trainer workshop. You will also be able to customize this 2-day program to fit the training needs of your audiences
Teach others about Accelerated Learning, current brain science behind effective instruction, the "6 Trumps" (6 learning principles based on brain science), and the 4Cs training design and delivery model - all crucial components for successful, brain-based training
Assist others in acquiring brain-based instructional and training skills.
Continually improve your own training skills by receiving ongoing feedback, encouragement, and coaching from your master training group of certified "Training from the BACK of the Room" peers
Receive 1 year of free coaching from Sharon Bowman, via email, phone, social media, or Skype
Access a continuously updated digital database of resources: websites, slide presentations, books, articles, videos, and other sources related to effective, brain-based training
About The Instructor: Sharon Bowman
Sharon turns passive listeners into active learners with her high-energy, hands-on approach to teaching, training, and learning. Her classes and seminars are practical, useful, memorable, and fun. Over 150,000 of her popular books are now in print.
Sharon has been a professional speaker, author, teacher, and trainer for over forty years. She works with people who want to fine-tune their information-giving skills, and businesses and educational institutions that want to offer exceptional in-house staff development programs.
Sharon delivers interactive keynote and conference sessions, and customized train-the-trainer programs.
President, Bowperson Publishing & Training

Author of seven popular training books

Professional speaker and corporate trainer

Staff development consultant and instructor for school districts and colleges

Past Professional Member - National Speakers Association (NSA) and American Society for Training and Development (ASTD)
Organizations That We Have Trained:
American Airlines

Blue Cross Blue Shield

Deloitte

Department of Homeland Security

Earnst & Young

EMC

Emory University
FedEx

Garmin

GE

H&R Block

IBM

McKesson

NASA
Oracle

Raytheon

Thomson Reuters

Tractor Supply

Vanderbilt University

Walmart

Many, many, more...
Cancellation Policy:
In order to receive a refund of your tuition for this class you must notify us no later than 10 business days prior to the class start date.
Privacy Notice:
We may on some occasions share your email address with a limited number of our trusted partners. We do not sell your personal information and we treat your privacy with the utmost regard. Please contact us at info@braintrustgroup.com if you have any concerns.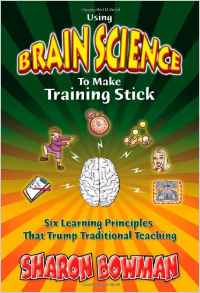 Organizer of Trainer Certification Course: How to Present "Training from the BACK of the Room!"