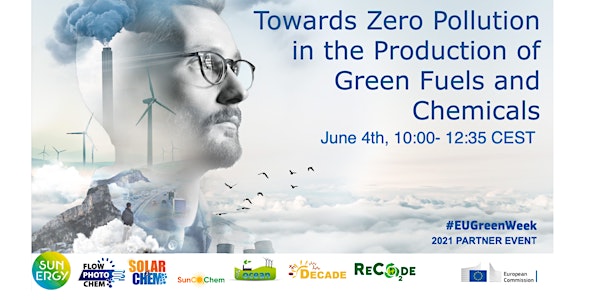 Towards Zero Pollution in the Production of Green Fuels and Chemicals
Using sunlight to manufacture fuels or chemicals from carbon dioxide & water can offer sustainable manufacturing alternatives for industry.
About this event
You can join on Zoom here.
Meeting ID: 822 9086 0898
Passcode: 512839
Even with the progress made in decreasing the pollution impact of the industrial sector in Europe, still, great challenges exist in lowering the carbon footprint by progressively substituting the use of fossil fuels. A paradigm shift is needed in the manufacturing of chemical goods and high value-added products, where disruptive technologies will play a key role to achieve the climate change targets for 2050. The European Commission is investing in those technologies with the aim to develop negative emission solutions and lower Europe's / the industry's carbon footprint.
The coupling of renewable energies with carbon capture and utilisation is one of the envisaged solutions. The research community in Europe is driving this development through a strong collaboration between academia, industry and policy-makers. Solutions for distributed production of chemicals involve direct solar energy conversion technologies, whereas large-scale production requires a more integrated coupling of renewables with catalytic processes.
In this webinar, we will examine which technologies are currently under development in Europe with examples from six recently funded projects.
These projects have received funding from the European Union's Horizon 2020 research and innovation programme under grant agreement Nos 862453, 861151, 862192, 767798, 862030, 768583. The materials presented and views expressed here are the responsibility of the authors(s) only. The EU Commission takes no responsibility for any use made of the information set out.
Agenda
10:00 - 10:10: Welcome & Introductions
10:10 - 10:20: European strategy for a zero-emission industrial sector - Soren BOWADT, Acting Head of Unit, Health and Digital Executive Agency (HaDEA)
Part 1: Direct Solar Energy Conversion Technologies
10:20 - 10:35: Integrated Reactors For The Production Of Green Ethylene - Dr Pau Farràs Costa, National University of Ireland Galway
FLOWPHOTOCHEM project www.flowphotochem.eu
10:35 - 10:50: Photoelectrocatalytic Device For Sun-Driven Carbon Dioxide Conversion Into Green Chemicals - Dr Miriam Diaz de los Bernardos, Eurecat Technology Centre of Catalonia
SUNCOCHEM project www.suncochem.eu
10:50 - 11:05: Advanced Photoelectrocatalytic Devices For Coupling Bio- And Solar-Refinery - Prof Gabriele Centi, University of Messina
DECADE project www.decadeproject.eu
11:05 - 11:15: Break
Part 2: Coupling Renewables with Electrocatalytic Conversion Solutions
11:15 - 11:30: The New C2 Value Chain From Carbon Dioxide Electrocatalytic Reduction - Prof Siglinda Perathoner, University of Messina
OCEAN project www.spire2030.eu/ocean
11:30 - 11:45: Recycling Carbon Dioxide In The Cement Industry To Produce Added-Value Additives: A Step Towards A Carbon Dioxide Circular Economy - Prof Simelys Hernández, Italian Institute of Technology
RECODE project www.recodeh2020.eu
11:45 - 12:00: Training Network For (Photo)Electrocatalytic Conversion Of Valuable Chemicals - Jokotadeola Odutola, Tampere University & Sebastiano Gadolini, Johnson Matthey
SOLAR2CHEM project www.solar2chem.eu
12:00 - 12:15: SUNERGY Initiative: bringing research community together - Frédéric Chandezon, CEA & Linda Veldhuizen, Utrecht University
SUNERGY www.sunergy-initiative.eu
12:15 - 12:35: Panel Discussion and Q&A