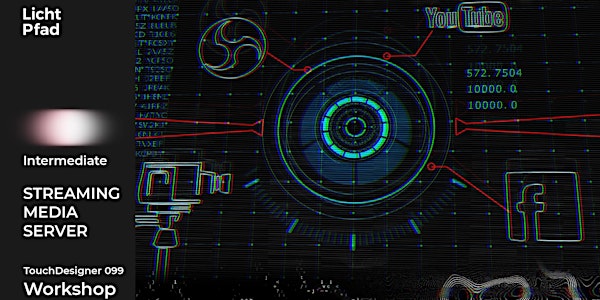 TouchDesigner Streaming Media Server
Licht.Pfad announces a new TouchDesigner workshop forVisual artists who want to stream AV content with brilliant visual
Refund Policy
Contact the organizer to request a refund.
About this event
This workshop aims to give you the theoretical and technical tools to develop your own Mediaserver and Streaming system with TouchDesigner.
The workshop is for intermediate and video-artists that want to improve their skills and develop the system with easy to use interface in TouchDesigner environment.
There is the basic part of this course starting earlier, so you can join both parts with reduced price.
Structure
Workshop will be held Online.
1 day before the event you will receive the Streaming link and invitation to the chatroom.
Next day after the session, you will get the Video-recordings and the project files.
We have 3 Lessons:19. 20, 26 of May from 7 till 11 PM on German time.
Program:
Intro
System Architecture
Concept of Hi level patch abstraction
Model View Controller Paradigm
Inputs
Inputting video - NDI, NDI over Wifi, VideoCapture
Building Source Library
Setting Up Cameras
Setting Kinect 2 & Azure
Setting NDI Sources
Controlling Robot Arm for the Cameras
Color correction of Sources and Presets
Content
Movie and Audio Playback
Building bidirectional Controller
Optimizing Video loading
Building Movie Bins
Blending between videos
Postprocessing effects
Efficient compositing and color Correction using GLSL
Time Management
Synchronizing TD Servers
Using Time Code
Hierarchical Timelines
Keyframe Animation
Parametric Animation
Lookup Tables
Control
Designing the Layout
Using Render Pick, Scripting and Custom Parameters
UI for the End User
Managing Presets, Recalling UI
XML /JSON for Presets
Provide a final result for the Client Player, Privacy Options
Output
Making output layout for physical output
Outputting using NDI/SPOUT
Videostream out