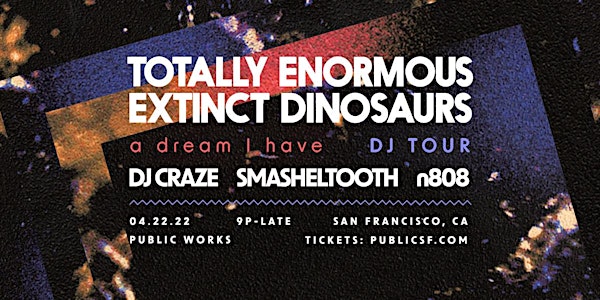 Totally Enormous Extinct Dinosaurs & DJ Craze presented by Public Works
Performers
Totally Enormous Extinct Dinosaurs
DJ Craze, Smasheltooth, N808
Location
Public Works
161 Erie Street
San Francisco, CA 94103
Totally Enormous Extinct Dinosaurs & DJ Craze presented by Public Works
About this event
Friday April 22nd, 9pm - 4am
Main Room / 21+ / Limited Capacity
LINEUP:
➩ Totally Enormous Extinct Dinosaurs
➩ DJ Craze
➩ Smasheltooth
➩ N808
━━━━━━━━━▲━━━━━━━━━
TEED BIO:
Totally Enormous Extinct Dinosaurs, born Orlando Higginbottom, is a producer, songwriter, vocalist, composer and DJ. Now based in Los Angeles, he grew up inOxford, England, where his father was professor of music at Oxford University's NewCollege. Raised on classical music—Rossini, Holst and Gershwin were early favorites—he discovered jungle and drum n' bass as a teen at Oxford's legendary record shop Avid.
Dropping out of university a couple of times led to early demos discovered by Huw Stephens (BBC Radio 1) and Greco Roman Records, where he released several sought-after EPs. His debut album, Trouble, was released in 2012 to great critical acclaim and led to several years touring a now legendary live show.
In the years since, Orlando has DJed all over the world, returning focus to the straight-ahead club music he explored in his youth. He's a rare breed of DJ, happily playing amongst the full spectrum of electronic music line ups-from Richie Hawtin's Minus parties in Ibiza to Damian Lazarus's Rebel Rave events in Mexico, from Disclosure's Wildlife events around the world to LA's legendary Rhonda. Simultaneously he's spent considerable time writing and recording new music for the next chapter of his solo career, working in London, Los Angeles, Marfa, Tokyo, Australia, some forests, New York and beyond. New music is imminent.
━━━━━━━━━▲━━━━━━━━━
When you purchase tickets to this event you'll automatically be signed up for LOCAL 161, our SMS community where you'll get special invites + guestlist + other perks as a thank you for your support. You'll receive about 4 messages per month, message and data rates may apply, and you can text STOP to cancel at any time.