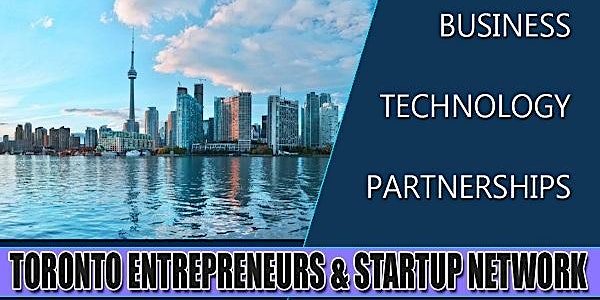 Toronto's Big Business, Tech & Entrepreneur Professional Networking Soiree
Toronto's Big Business, Tech & Entrepreneur Professional Networking Soriee
By Toronto Entrepreneur and Startup Network
Date and time
Monday, April 3 · 6:30 - 8:30pm EDT
Location
Pour House Pub and Kitchen 182 Dupont St Toronto, ON M5R 2E6 Canada
Refund Policy
Contact the organizer to request a refund.
Eventbrite's fee is nonrefundable.
About this event
LIKE FB PAGE FOR FUTURE EVENTS - CLICK HERE 
 MAKE SURE TO RSVP.
 ***TO ATTEND BUT RSVP MUST***
 This is the largest networking mixer for Entrepreneurs , Startups and Business Professionals In Toronto. 
Calling All: Tech Startups ! Entrepreneurs ! Business Owners ! Professionals ! Free-lancers, policy-makers, game-changers, and heroes!
Starting 2023 with Toronto's Best Professional Networking Affair. Please join us for an evening of creativity, inspiration and passionate conversations.
Join & raise a glass - make connections with co-founders, partners, coaches or core team members for your start-up- meet fellow professionals and mingle with makers of great and big ideas - take home treats from growing community and some business cards.
Hosted By - Toronto Entrepreneurs, Startup & Business Coalition.
Ambiance:
- Name Tags will be provided to everyone who attends. We request you put your name and industry on your name tag.
- Make sure you bring enough business cards.
- The dress code is Business Casual.
Timings:
- Event is from 6:30 PM to 9:00 PM..***Arriving on time recommended.
Admission: FREE to attend. Must RSVP.
Drinks Policy: 
One drink minimum (mandatory), it will help support the venue as they are holding space for us.
***Since this is a drinking establishment, all attendees must be 21+.***  
For Sponsorship & Business Queries Email
Moveyourcareer@gmail.com
Your chance to meet new clients and generate more business?
• Do you know that Nearly 100% of people say that face-to-face meetings are essential for long-term business relationships?
• Do you know 92% of people trust personal recommendations more than any other form of marketing?
• Do you want to grow your business?
• Do you want to build long-lasting, strong relationships within a diverse group of professionals?
Covid Restrictions – Attendees To Follow (No Exception)
Attendees Must Be Vaccinated And Carry Proof Of Vaccination
Temperature Checks
Use of Face Masks Encouraged During The Event.
Contact Tracing is Done Through Rsvp Email Provided.
RSVP As Feb 1
First Name Last Name
Yael Morris
Farhan Iftikhar
Henry Awere
Maria Soderman
Olumuyiwa Egbeyemi
MOHAMED FAISAL PEER MOHAMED
Nouri Mahrabe
Karan Gugliya
Joseph Ieraci
Sean Tjia
Stephanie Wood
Alexandra Kapelos-Peters
Negar Kalantari
Faraz Mehmood
Satish Surath
Rudra Sinha
Monireh Ahmad Abadi
Kevin Lobo
Tanvir Singh Ahuja
Trimaan Sethy
Yashika Gakhar
Vaasu Dhand
Evelina Shatilova
Simon-Tresor Shabani
Sandra Ngo
Navid Heidari
priyanka nagpal
Kapil nagpal
Zack Steel
Martha Krol
sid ramesh
Haley Cobran
Ravee S Gohiel
Gwendoline Marco
Kenan Betkas
Sreekumar Radhakrishna Pillai
Shivani Pandey
Jesus Galeana
Luis Ornelas crespo
Mynul Huda Amit
Luis Hernandez
Amanda Zhang
Jing Wang
Muhammad tufail Khan
Ekaterina Lyadova
Eduardo Aire
John Savy
Dhiraj Hariramani
Nancy Liang
Vladyslav Nosovskyi
Kira Day
Arya Shah
Aaron Semo
Chens Group
Parvin Farahzadeh
Kwame Adjei
Trisha Mishich
Jordan Kalev
Monyflicky oloo
Shine Chen
BRUNO FREITAS
Vu Nguyen
Mike Yazdi
Madiane Dianece
Ali Azadpoor
Sanija Dhakal
Ali Azadpour
Charles Easton
Parth Shah
Chi Chiu Lam
MAGALIE ZAFIMEHY
Priya Ram
Farial Karbasi
Jatin Pant
Fatih Camgoz
Kelvin Obakhavbaye
Steven Lerner
David Lawy
Abhinav Jain
rohit Challa
Ajay Suresh
Fatih Sahin
Daria Enenko
Kris Todi
Saeed Shahsavary
Erika Valle
David Minotas
Alan C
Dolly Lalchan
Silviya Velani
Shahwaiz Ali Malik
Dawn Sepehr
Sourav Lnu
JAKE SHERIDAN
abdella mahmoud
Cris C
Achal Ramchandani
Melanie McDonald
Fahim Shahriare Anik
Ishrath ABDULKHADER
John Tan
Mariam D
Daniel C
TAOFEEK ISHOLA OWOYEMI-MUDASHIRU
Israel Olatomiwa ogundipe
Bhaveshkumar Pipaliya
Patrick Isaac
Rahul Khatri
Veera Suraj Abburi
Girish S
Baldo Leburic
Chanelle Dupre
Azmat Zuberi
Jessie Mitri
Saki skaars.k@gmail.com
Paula Wickberg
Vikram Punguru Reddy
Gopal Vilwadri
Dima Storozhuk
DENYS GRANKIN
Kate Kate
Iryna Shmanenko
bency justin
Tianning Ning
Abinash Pattajoshi
Nyasha Makuto
Garv Taneja
Aleksandra Namasa
Nikhil Chullipparambil
Arthur Glenn
About the organizer
Toronto Entrepreneur and Startup Network


Are you looking for co-founders, partners, coaches or core team members for your start-up? Please join us for an evening of creativity, inspiration and passionate conversations by attending one of our events.
For Business Queries - Forwardyourcareer@gmail.com
Facebook Group- TESN
Meetup Group - MEETUP