Location
Nashville Entrepreneur Center
41 Peabody Street
Nashville, TN 37210
Description
Please join us for a Lunch & Learn with Daniel Norton, co-founder and former CTO of LeanKit, who will share his "Top Five Lessons Learned: A Career at the Intersection of Business and Product." As an accomplished software developer, technologist, and business leader, Daniel has a unique perspective and boundless enthusiasm to share from his experience.
This is the first in a series of monthly Lunch & Learns presented by TechFed Nashville in partnership with the Nashville Entrepreneur Center and featuring leaders and doers in Nashville's business, entrepreneurial, and tech ecosystem sharing their experiences in product development. Whether you are a software developer, designer, product manager, marketer, entrepreneur, or business leader, you will gain a deeper understanding of the best ways to design technical solutions for challenging business needs.
Doors open at 11:30am. The program will begin at 12:00 pm, and end promptly at 12:45 pm. Parking is FREE with validation. A light lunch will be provided, courtesy of our sponsors.
Seats are limited.
All members of Nashville's business and tech community are invited to this free seminar. You do not need to be a member of the Nashville Entrepreneur Center to participate.
The Lunch & Learn Series is organized by TechFed Speakers, an initiative of TechFed Nashville which helps connect organizations and events looking for presenters with a curated list of experienced speakers from the Middle Tennessee grassroots tech community. Additional Lunch & Learns are planned for August through November.
Presented By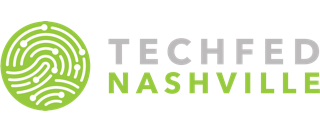 In Partnerhsip With