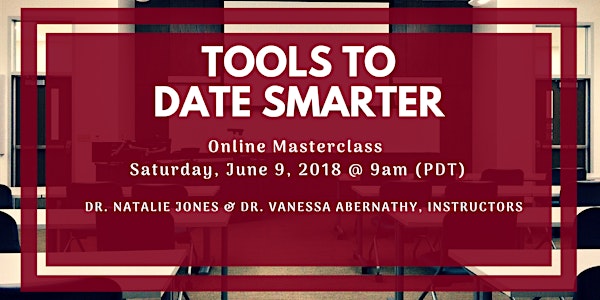 'Tools To Date Smarter' After a Toxic Relationship
Description
Do you have trouble trusting after getting out of an abusive relationship?


You are not alone! We have counseled many clients in our private practices and distance mentoring programs who have struggled with trusting new people and their own instincts after leaving an abusive partner. They worry they will "end up in another abusive relationship." We provide tools to support them in their commitment to healing from toxic relationships and maintaining healthy new relationships.
In our "Tools to Date Smarter" online masterclass we will teach you these same tools of the trade.
You will learn:
Signs of emotional abuse and how it likely impacts you today

How to identify and implement healthy boundaries in your relationships

Strategies for countering an ex who tries to interfere with your new relationships

Tips to Get Back into dating when you are ready and on your terms
You will walk away with tools to help trust your gut and anyone who can appreciate your worth!
'Tools to Date Smarter' is completely online so you can learn in private. We provide a companion workbook at the end of the class for further self-study and FREE access to our private digital community from the time you secure your space in the class until June 23rd. The private digital community gives you the opportunity to ask us anonymous questions and get support from other students. On the journey to healing, having support makes all the difference! If you want to learn and practice the skills to enhance your new life, reserve your space today and let us give you TOOLS TO DATE SMARTER!
~Dr. Natalie and Dr. Vanessa
DISCLOSURE STATEMENT *** 'Tools to Date Smarter' and its related products/ services are provided for psychoeducation and information purposes only. "Tools To Date Smarter' is NOT meant to replace an in-person, supportive therapeutic relationship with a liscensed professional.***
REFUND POLICY: ***Non-refundable registration. Transferable to another student or future event by organizer.***