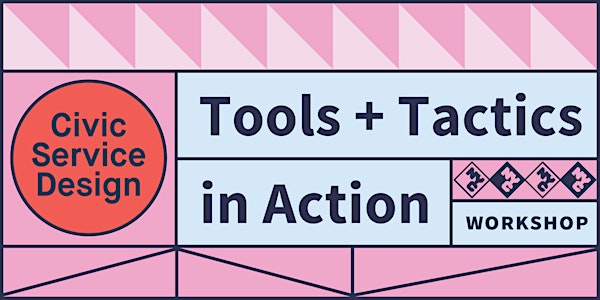 Tools + Tactics in Action Workshop
When and where
Location
DoITT 2 MetroTech Center 4th Floor, Purple Room Brooklyn, NY 11201
Description
The Tools + Tactics in Action workshop gives New York City employees a hands-on introduction to Civic Service Design Tools + Tactics, a service design methodology tailored specifically for the public sector.

The half-day workshop will walk you through all steps of the design process. All participants will walk away with:
An applied understanding of the basics of service design, and how it can be used to improve government programs and services





The ability to identify opportunities to apply Civic Service Design Tools + Tactics in your own context





An understanding of how the Service Design Studio can support your work





Confidence to begin planning a sprint of design research to gain valuable insights from the people who use and deliver your program or service

Tools + Tactics in Action is held every 6 weeks. Attendees can come by themselves or sign up with a team,* and must bring a project, program, service or idea that they would like to use the design process to improve.The workshop includes a 1/2 hour lunch break, so bring your own or we can recommend good spots close by.
*All team members must individually RSVP!
Questions? Reach out to cbauer@nycopportunity.nyc.gov.