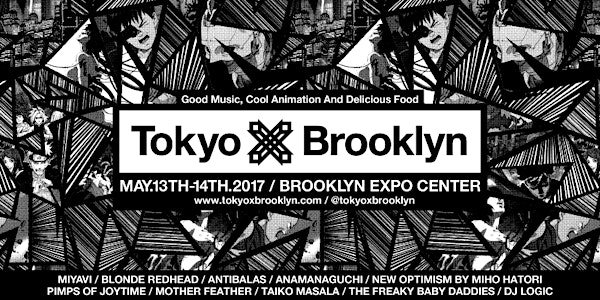 When and where
Location
Brooklyn Expo Center 72 Noble Street Brooklyn, NY 11222
Description
Tokyo x Brooklyn is a two day Pop Culture festival bringing together two cultures, Tokyo and Brooklyn, featuring an incredible lineup of musicians, a delicious array of culinary favorites, innovative technology, artists, and performers. The concept is to bridge the gap between Brooklyn creativity, craftsmanship and Japanese pop culture. Festival attendees will experience much more than just a spectacular music event.
High School Discount - $15/day With Valid Student ID
Free for kids under 12 if accompanied by parent.
SATURDAY MAY 13, 2017
MIYAVI, Blonde Redhead, Anamanaguchi, Pimps of Joytime, Mother Feather, DJ Logic, and Taiko Masala Thunder Drummers

SUNDAY MAY 14, 2017
MIYAVI, Antibalas, Mother Feather, New Optimism (Miho Hatori of Cibo Matto), The Freaky Baby Daddies, DJ Logic (Plus Special Guests), Taiko Masala Thunder Drummers